Truffle-yaki Mushroom Poke Recipe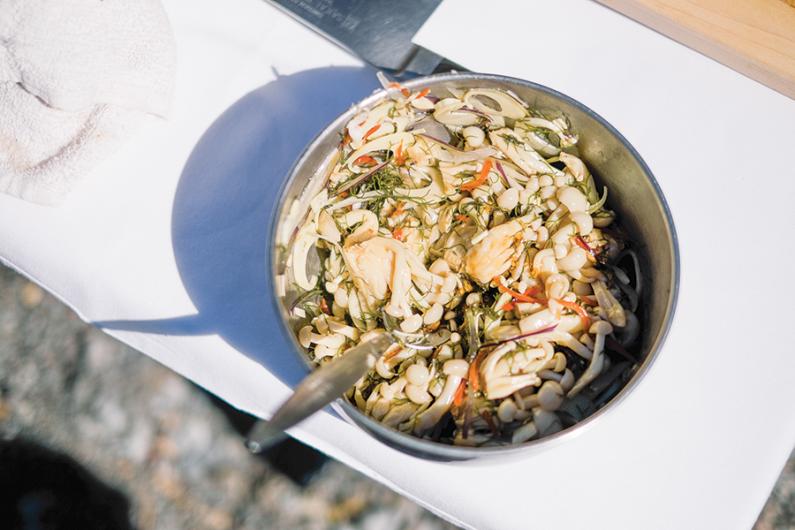 Though poke was always around him while growing up on Oahu, Kanoa Miura didn't find his groove for it until launching his Hilo catering business, Aloha Mondays, and began associating it with work days off. ​
"If there's good fish at the market at a good price, I'll just make my own," says Miura, of poke. "On Saturday, I'll buy a nice slab, put everything together on Sunday morning, go down to Honolii Beach Park and wait for everybody. I kind of see poke as an end-of-the-week reward."
Random refrigerator ingredients and fresh Hawaii Island-grown enoki mushrooms found at the Hilo Farmers Market inspired Miura's poke recipe here. "Poke is a real big part of our life now," he says, of his family—wife, Geana, and two young daughters. "When the girls see me come home with all the stuff for poke, they're excited!"
Truffle-yaki Mushroom Poke
(By Kanoa Miura)
1 ½ lbs. enoki mushrooms (found in Asian markets)
2 oz. sheet of kombu (found in Asian markets)
2 oz. piece fresh ginger, smashed
½ oz. Maui onion, julienned thin
¼ to ½ orange or red bell pepper, julienned thin
3 to 4 grape tomato skins, cleaned and julienned
Black sesame seeds
Green onion, julienned
Truffle-yaki Sauce (see recipe below)
4 cups water
Salt
Place ginger and kombu in 4 cups of salted water and bring to boil, then simmer for 20 minutes before removing ginger and kombu.
After removing ginger and kombu, bring mixture to boil again. Break enoki mushrooms into clusters. When mixture is boiling, place enoki mushrooms in, blanch for 15 to 20 seconds, remove from water and strain.
Make Truffle-yaki Sauce. Add enoki mushrooms, onions, bell pepper and tomato skins to Truffle-yaki Sauce and mix together. Garnish with black sesame seeds and green onion and serve.
Truffle-yaki sauce
1 to 2 tsp. white truffle oil
1 oz. teriyaki sauce
½ oz. mirin (Japanese rice wine for cooking; found in Asian markets)
Salt
Pepper
Combine white truffle oil, teriyaki sauce and mirin in bowl. Add salt and pepper to taste.