What You Need to Know About Traveling to a New Hawai'i
Along with evolving travel policies, this is what to plan for when visiting to a new Hawaiʻi.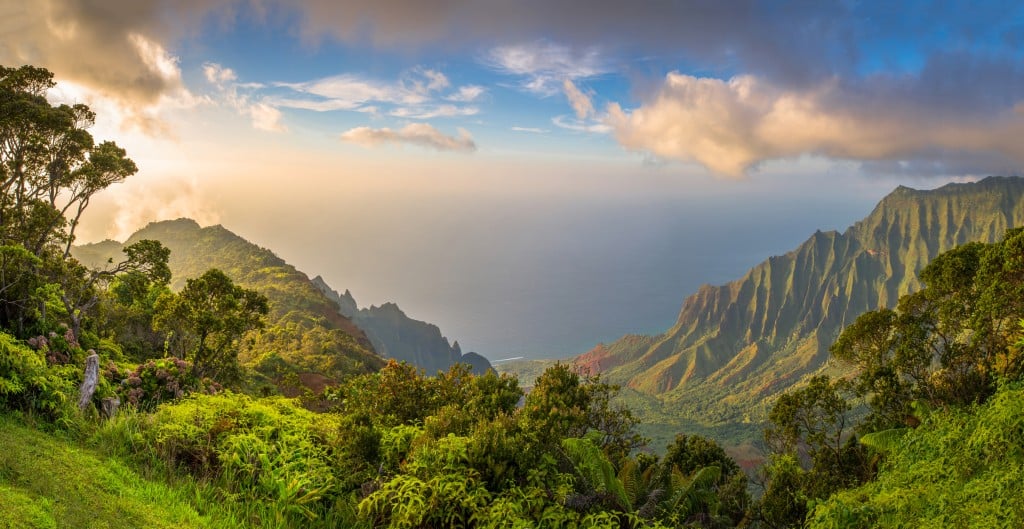 The past two years have felt like a roller coaster. Emergency Covid-19 mandates, waves of variants, surges in hospitalizations, then—thankfully—declines across the board. Finally, the road to normalcy is becoming clearer as Covid restrictions lift throughout the U.S.  
It's been a terrifying, confusing and exhausting time, particularly in Hawaiʻi where travelers have been dearly missed. Some of you may be booking your first vacation in over two years. Rest assured, Hawaiʻi's beaches and turquoise waters are still world-class, and the aloha spirit continues to make the Islands a one-of-a-kind place.   
That's not to say Hawaiʻi hasn't changed. Aside from the evolving travel policies to enter the state, Hawaiʻi is approaching tourism with a fresh perspective. Visitor industry officials encourage people to take trips that give back and to leave their destinations healthier than when they arrived. By working with local nonprofits and community organizations, visitors have access to more enriching experiences that help preserve Hawaiʻi's natural resources. And visitors will also find new policies in place to help maintain critical environments. This includes making reservations at the Hanauma Bay Nature Preserve.   
So as you begin to plan trips to Hawaiʻi, some for the first time and others for the fifth time or more, this is what you need to know about the new Hawaiʻi.   
Entering the State
For two years strict travel policies have been in place in Hawaiʻi. On March 26, 2020, Gov. David Ige enacted a 14-day quarantine for all travel to the Islands. It wasn't until October of that year that residents and visitors were allowed to bypass the quarantine by uploading their negative Covid tests to the state's Safe Travels program. Then, with the approval of a vaccine passport in July 2021, Hawaiʻi began allowing travelers who were fully vaccinated to enter the state without providing negative Covid tests or being subject to quarantine. Eventually, the 10-day quarantine was cut to five days.   
That's all changing. The state's Safe Travels program will expire on March 25 at 11:59 p.m. Beginning March 26, domestic travelers no longer need to show proof of vaccination or a negative Covid test to bypass the five-day quarantine—because the mandatory quarantine will no longer be in place. Also, travelers won't have to log on to the Safe Travels website any more, or fill out pre-arrival health surveys. For domestic passengers, travel almost returns to the way it was before the pandemic.  
However, wearing a mask continues to be mandatory while traveling. The Transportation Security Administration extended the federal mandate through April 18, requiring travelers to wear masks in airports and on airplanes, buses and trains.
International travelers must also continue to adhere to U.S. federal requirements and should check with the CDC for the most up-to-date policies. Currently, passengers arriving directly from international airports must show proof of vaccination and negative Covid tests taken within one day of travel.   
COVID-19 Policies in the Islands
Throughout the Islands, many Covid policies have been lifted. On Oʻahu, the Safe Access Oʻahu program ended on March 5, and the island was the last to drop its policy requiring proof of vaccination or negative Covid test to dine in restaurants and enter gyms.   
And Hawaiʻi was the last state to announce the end of indoor mask policies. Along with the Safe Travels program, the indoor mask mandate concludes on March 25 across all the Islands. In an announcement made in early March, Ige noted that businesses can still choose to implement their own mask policies. State health officials also recommend that kūpuna (elders) and immunocompromised people continue to wear masks indoors. They also encourage the public to wear masks in settings such as health care facilities and crowded venues.   
While the state is no longer requiring masks to be worn indoors, it would be wise for travelers to pack a few extra ones. Along with wearing masks on airplanes, visitors may come across businesses that still require masks to be worn indoors, or they may find themselves in large crowds where masking up might be appropriate.    
Experiencing a New Hawaiʻi
With immense effort, Hawaiʻi is reshaping its visitor industry to usher in a regenerative tourism model. Industry officials are dedicated to minimizing the impacts that travel can have on the natural environment and local communities. Many hotels and airlines are offering visitors the opportunity to give back to the ʻāina while also saving money on their stays. These businesses are teaming up with organizations including Travel2Change and Mālama Hawaiʻi.  
By volunteering with local nonprofits, visitors not only help the community, but also take part in rewarding experiences that create lifetime memories. Apart from the money-saving deals, volunteering is an opportunity to form a deeper connection with the Islands and culture. And imagine if just 50 visitors volunteer with a local nonprofit every month: That's 100 hands preserving the Islands' natural resources and helping the local community.  
Along with directly working with local organizations, Hawaiʻi is implementing new policies to preserve critical ecosystems. Visitors should know that some sites now require reservations. On Oʻahu, Hanauma Bay launched a reservation system with a $25 entry fee per person (nonresident). Heads up: Slots are limited and they often sell out within five minutes of going live every day. Like Hanauma Bay, Hā'ena State Park on Kaua'i, which includes access to Kē'ē Beach and the Kalalau Trail, also requires reservations. And the park has a daily visitor limit and new entry fees as well. The same goes on Maui at Waiʻānapanapa State Park. There's an entrance fee for nonresidents as well. 
In addition to the efforts being made to protect the environment, many hotels and tours are offering cultural education classes to better reflect Hawaiʻi. For instance, visitors can find classes on lei making and lau hala weaving as well as lessons about the significance of canoe plants and traditional hula.   
Start Planning Early 
While beaches, hiking trails and restaurants have reopened, it is highly encouraged to plan as far in advance as possible. Travel experts are predicting record-breaking numbers of visitors to Hawaiʻi in the coming months. Along with reservations at popular attractions, start making reservations at restaurants too. It may not have been needed before the pandemic, but you'll be glad you secured a table. Many businesses continue to face obstacles, including employee shortages, which can lead to limited hours and longer wait times. Travelers will also want to book rental cars far in advance. Last year, rental car companies faced unprecedented shortages, leaving some desperate travelers to rent U-Hauls. So once again, plan.  
Finally, Welcome Back.
After two years of Covid policies, it's not surprising that Hawaiʻi has changed. Visitors can find an exciting mix of "voluntourism" opportunities to connect, and give back, to the ʻāina.   
And as you make your way to the Islands, we remind you that Hawaiʻi is much more than a visitor destination; It's home to people willing to share their rich culture and unique environment. So, to hotel staff, restaurant servers, car rental agents and everyone you meet, show aloha.