Where to learn Hawaiian language online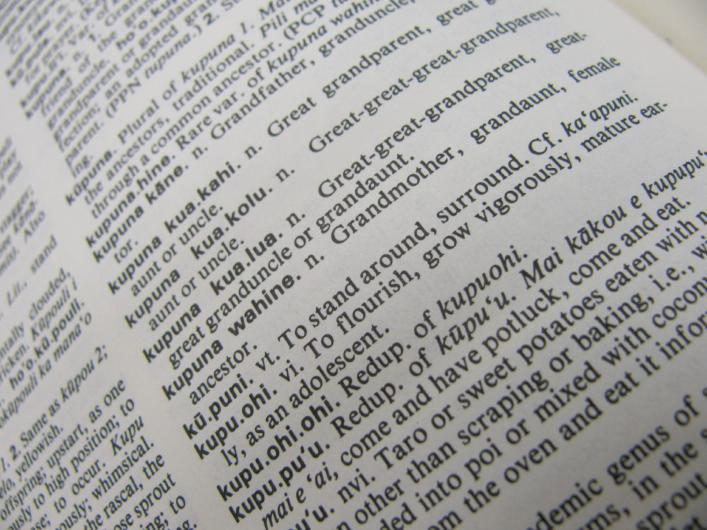 You ask. We answer.
HAWAII Magazine reader Debbie Eppelheimer of Ontario, California writes:
My husband and I have traveled to Hawaii every year for several years now. We have fallen in love with the Hawaiian culture and language. Do you know where we can find Hawaiian language classes in Southern California?
Unfortunately Debbie, finding some Hawaiian language classes in Southern California for you was tough going for us, too. If anyone reading this knows of any classroom-based Hawaiian language classes in the SoCal area, please leave a comment below or e-mail us the information.
That said, we did find another option for you, Debbie.
There are a couple of Hawaii-based groups offering online "distance learning" programs specializing in Hawaiian language and grammar.
Non-profit organization Aha Punana Leo offers online courses in conjunction with the University of Hawaii at Hilo's Ka Haka Ula O Keelikolani College of Hawaiian Language. These were originally launched to introduce Hawaiian language courses at West Coast universities, but have evolved into a global online classroom. Students run the gamut from teenagers to kupuna (elders) worldwide.
The group is committed to keeping the Hawaiian language alive and thriving. "We want to spread the Hawaiian language to as many people as possible, in Hawaii and around the world," says Alika McNicholl, an instructor with the program.
Beginner and intermediate-level classes run 14 weeks each. A separate advanced program is available, involving more intensive course work such as translating Hawaiian texts and recordings.
The online format allows students to work at a comfortable pace that works with their schedule. That's not to say the program isn't rigorous—students should expect to study an average of 10 to 15 hours a week, says McNicholl. Students work closely with instructors via email or Skype video conferencing.
Costs for the term start at $340. For more information, call (808) 935-4304, or click here.
Looking for a course less time-intensive? Kamehameha Schools offers a series of shorter online courses for the more casual learner. Courses run from three to four weeks and cost $25 each.
Kamehameha's online courses are topic-specific, focusing on everything from Hawaiian naming traditions to family relationships and interactions. Televised lectures, e-mail, discussion boards and Web-conferencing bridge the gap between teacher and student.
For more information on Kamehameha's courses, call (808) 842-8877, or click here.
(If you're worried about whether your current computer is compatible with the online courses, click here for Aha Punana Leo's system requirements. For Kamehameha's requirements, click here.)