Why the mai tai at Huggo's' new hBar is like no other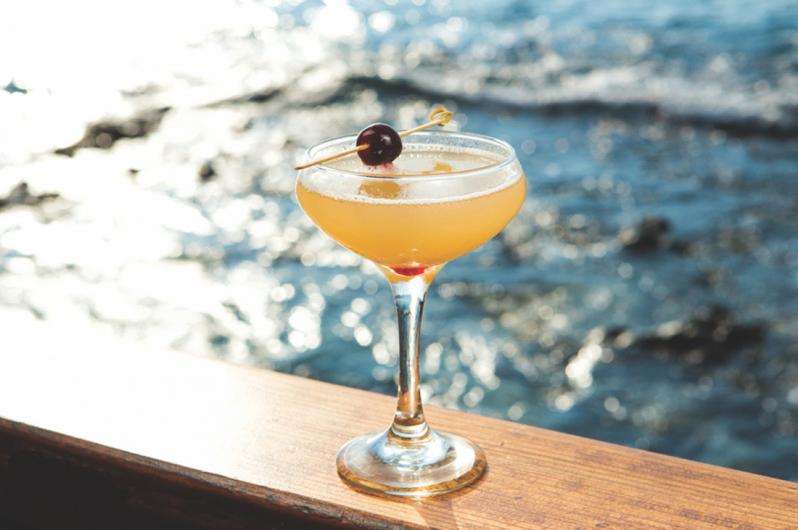 Residents and visitors have frequented Huggo's, a popular downtown Kailua-Kona venue, since it first opened atop a rocky seaside prominence in 1969. Following a series of renovation roll-outs that began last October, the attached bar with an equally good view is working to transform itself from a place to sit while you wait for your table to a destination in and of itself. You can call it hBar.
"It started with Sundays," says Billy Gienger, a six-year veteran bartender at Huggo's. "We were trying to do something different to bring in people on a traditionally slow day. I started making my own take on margaritas with grilled limes and lemons and my own jalapeno sugar garnish. I guess the owners took notice."
Those owners, Eric von Platen Luder and Scott Dodd, the brains behind the popular beachfront Lava Lava Beach Club restaurant with locations in Waikoloa and now, as of December, on Kauai, seem to have found their entrepreneurial stride bringing relaxed, authentic Hawaii to a contemporary crowd. Now, hBar is taking a similar tack—Huggo's and hBar general manager Nakies Constantinou says hBar's target clientele are folks in their 30s and 40s who can appreciate a good cocktail. "It's hip, semi-modern, relaxed sophistication," says Constantinou.
Take for example hBar's—and indeed Hawaii's—most popular drink the mai tai as case in point: It comes garnished with mint and a real cherry, and is infused with Gienger's own toasted almond syrup recipe. In regular small batches, the staff hand roasts almonds, boiling and straining them through cheesecloth before adding the magic proportions of things like cinnamon, clove, absinthe and bitters. Gienger's hBar Mai Tai is so clearly a labor of love that it makes other saccharine, pre-mixed iterations feel as though they were shaken out at McDonald's (if only McDonald's did that kind of thing).
Gienger—a two-year participant in the Don the Beachcomber Mai Tai Festival, which bills itself as a competition to annually find the world's best mai tai—says hBar's version, "took me three months to get it perfect. It was probably the hardest drink on the menu to come up with and I'm always working to make it better."
Now, I'm no cocktail connoisseur (though with hBar just up the street, I may yet become one), but I was certainly impressed by the kinds of things Gienger had brewing behind the bar. Tiny casks in the corner were imparting their piney flavor to house-aged gin. A jug of whiskey they somehow managed to infuse a whole duck's flavors into. Jars of an electric and earthy beet shrub tincture with a kick of cayenne. Green tea liquor in an antique bottle. There was even locally sourced Jaboticaba, (a bizarre grape-like berry that grows on the trunks of trees introduced to Kona from their native Brazil) squeezed into syrup that replaces traditional cherry grenadine in cocktails when in season.
The "Bartender's Choice" drink almost always incorporates frothy egg whites. Heck, I even learned a new word—shrub—which, for the unsophisticated cocktail drinker like me, is essentially a pickled fruit syrup. "We have the only true craft cocktail program on the island," says Gienger. "We have liquors on the menu you won't find anywhere else."
What's more, the venue is perhaps the only upscale bar and lounge in Kailua-Kona where you'll find residents and locals mingling. Indeed, there's no place I can think of with a similar vibe, aside from hotel bars.
"With the right drink and the right food, you can make a beautiful experience," says Constantinou. And, it's true, the equation wouldn't be complete without a new menu. HBar started utilizing Huggo's infrequently needed woodfire oven to incorporate a suite of flatbreads to a list that also includes poke, coconut shrimp, half-sizes of Huggo's most popular pasta dishes and a new burger modeled after Lava Lava Beach Club's menu star. Guests can even order from the full Huggo's menu if their hearts desire, but only bar patrons can enjoy the same selection of cocktails.
Cheers to that.
---
Hbar is co-located with Huggo's and Huggo's on the Rocks at 75 Kahakai Road near the intersection with Alii Drive. The bar opens from 4 p.m. Mon. through Sat. and from 5 p.m. Sun. The manager recommends coming for sunset, but if you want to avoid the crowds, wait until after 7:30 p.m.