With Hawaii's peak whale watching season coming to a close, whale sanctuary expansion proposed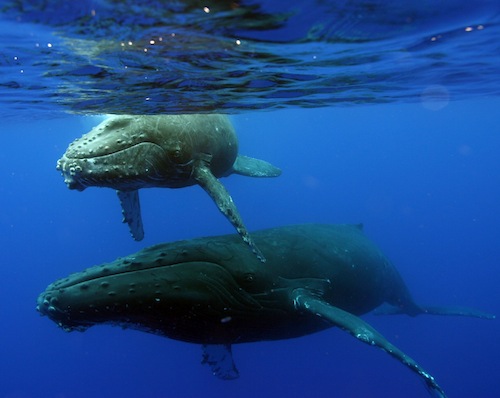 Hawaii's humpback whales may soon find more space and more protected species sharing their safe winter playground. Last week, the National Oceanic and Atmospheric Administration (NOAA) announced a proposed rule outlining their plans to expand the size and scope of the Hawaiian Islands Humpback Whale National Marine Sanctuary.
The Hawaiian Islands Humpback Whale National Marine Sanctuary currently encompasses areas of shallow (less than 600 feet), warm federal and state waters off each of the main Hawaiian Islands. It was the 12th marine sanctuary in the U.S. when it was established by an act of Congress in 1992 in order to protect the endangered North Pacific humpback whales and the habitat in Hawaii that they visit each year to breed and give birth.
The new proposal, an update to the marine sanctuary's current management plan, acknowledges the role of the marine sanctuary in successfully boosting whale numbers—from 6,000 in 1993 to 10,000 in 2006 and steadily increasing since—and seeks a more holistic management approach to continue to buoy the whales' numbers.
To do this, they propose protecting whole ecosystems within the marine sanctuary with sanctuary-wide and location-specific regulations. Under the new proposed rule, coral, fish, turtles and other marine mammals, not just whales, will receive special protection. There will also be additional rules to protect the whole ecosystem, including prohibiting practices such as discharging wastes within and beyond sanctuary boundaries, altering submerged lands, using explosives, introducing non-native species and damaging or destroying signs. This management strategy, called "ecosystem-based management" or EBM by scientists, is more in line with modern scientific understanding as well as Hawaiian cultural marine management practices.
In addition to created a protected space with more species' needs in mind, the proposed expansion would add 235 more square miles to the existing 1,366-square-mile sanctuary. The new boundaries will include waters surrounding the entire coastline of the island of Niihau, small sections off of the north shores of Kauai and Oahu, added area between Lanai and Kahoolawe, as well as a small section of the Kaiwi Channel between Oahu and Molokai on the Penguin Bank.
And, if all the changes go through as NOAA has proposed, the marine sanctuary will get a new name: Hawaiian Islands National Marine Sanctuary – Na Kai Ewalu. The Hawaiian portion of the name translates roughly to "eight ocean waters," and refers to the sanctuary's expanded presence around each of the main Hawaiian Islands.
The new proposal comes as Hawaii's annual whale season is winding to a close. Whales visit Hawaii between November and May, but peak season is between January and March. Volunteers completed the final day of the sanctuary's 20th annual ocean count this past weekend. Held one day a month over the three months of peak whale watching season, volunteers on three islands sign up to count whales. Over the three count days this year, as many as 2,300 volunteers stationed at 58 sites throughout the state tallied hundreds of whales, many of which were spotted enjoying waters within sanctuary boundaries. The count is used in conjunction with scientist-gathered data to gauge Hawaii's visiting whale populations each year. It's estimated that around 2/3 of the total population of North Pacific humpback whales make the journey annually from Alaska to Hawaii.
For now, NOAA's proposal is still just a proposal, offering four possible outcomes. In order address and incorporate public concerns about the sanctuary's expansion into its final manifestation—including specifically how the new proposal will manage for uses like fishing and recreation, and protect Hawaiian cultural and coastal resources—public hearings are scheduled in communities across the state between April 27 and May 7, 2015. For a list of times and locations of those meetings, click here. Comments may also be submitted through the Federal eRulemaking Portal online.
The sanctuary's management plan was last updated in 2002.