World's best windsurfers on Maui this week for Severne Starboard Aloha Classic. Watch competition live online.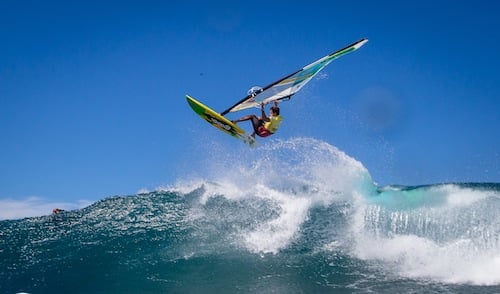 Some of the world's best windsurfers are gathering on Maui this week, waiting for some of the world's best wind and waves.
The American Windsurfing Tour and the Professional Windsurfing Association's Severne Starboard Aloha Classic, considered by many to be one of the sport's most prestigious competitions, attracts both professional and amateur athletes to the waters off Hookipa Beach Park on Maui's north shore. The 23rd edition of the Aloha Classic—the finale of the American Windsurfing Tour—kicks off its contest window today, Oct. 29, through Nov. 11.
This means action could take place on as many as 11 days of the competition's 14-day holding period if conditions are right.
At this time of year, the Hookipa area, with its large, well-shaped wave breaks and consistently strong winds, rarely disappoints. And there are many who consider the beach park to be the world epicenter of modern surfing and windsurfing.
Competitors will check in daily as Aloha Classic officials determine whether the day's ocean conditions are competition worthy. Competition is called "go" or "no go" each day between 9 a.m. and 11 a.m., with action beginning as early as 10 a.m.
If you're on Maui during the holding period and want to know if daily competition is on before heading out to Hookipa, the American Windsurfing Tour will update schedules and forecasts throughout the competition on the Aloha Classic website.
Can't be on Maui? You can also watch live daily competition from Live Maui Webcasts at AmericanWindsurfingTour.com or follow the event on Facebook and Twitter.
2014 Severne Starboard Aloha Classic
Oct. 29-Nov. 11 • Hookipa Beach Park, Maui •
Alohaclassicmaui.com