Your Guide to Holualoa, Big Island
This low-key bohemian borough is flush with artsy boutiques, locally sourced grinds and some of the best coffee in the nation.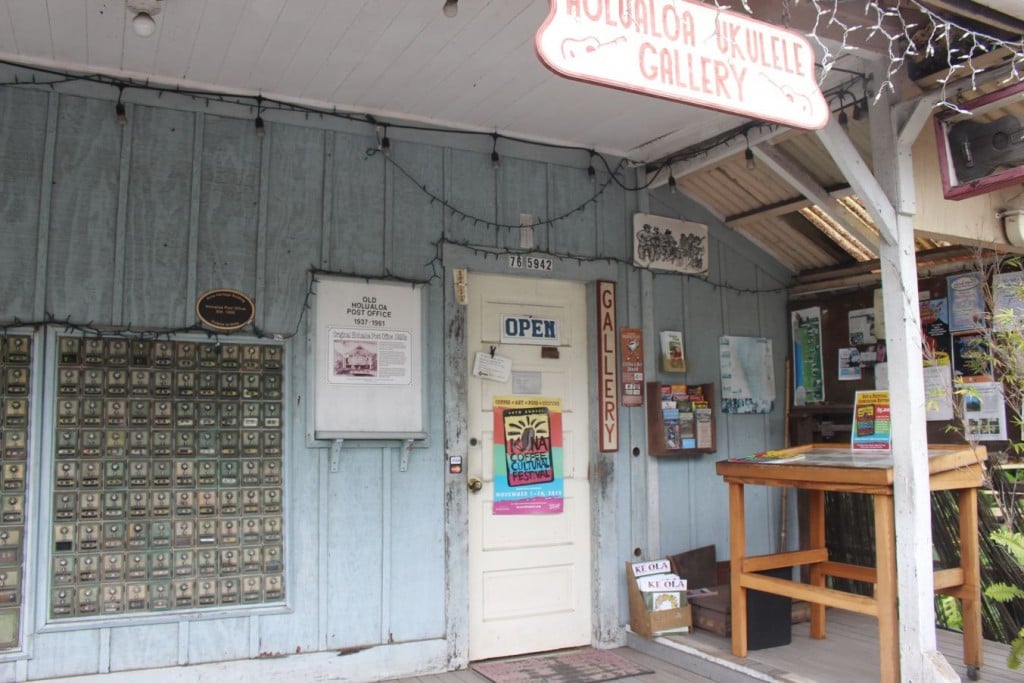 Family-owned mom-and-pop shops are harder to come by these days amid all of Hawaii's chain stores and off-island brands. Fortunately, the island of Hawaii still has plenty of small, locally owned, often family-run businesses. Nowhere is that more apparent than in the small town of Holualoa, located on the upland slopes of Kona. This area—at high elevation, with constant cloud cover and rich volcanic soil—make ideal conditions for growing the unique Kona coffee bean. There are roughly 600 coffee farms in the Kona area, and the crop is prolific in Holualoa. But the town is also an art enclave with galleries, cute boutiques and, yes, coffee shops. If you find yourself with the opportunity to holoholo (wander) around Holualoa, you won't want to miss these five spots.
Buddha's Sanctuary
View this post on Instagram

Thanks to its high elevation and rich volcanic soil, the area surrounding Holualoa is perfect for producing high quality coffee beans. Buddha's Sanctuary, which is located farther up in the hills of Holualoa, is an eco-friendly farm that cultivates five different award-winning Kona coffee estate labels, including Buddha's Cup, Kona Gold Coffee and Kona Kulana. If you want to see for yourself what it takes to grow and brew one of the world's best and most sought after coffee beans, visit the 100-acre farm for yourself and join a farm tour, which also includes coffee and tea tastings. Tours operate Monday through Friday from 9 a.m. to 4 p.m., and on Saturday from 9 a.m. to 2 p.m.; no reservations necessary. For more information, visit the farm's website or call (808) 322-6712.
Holualoa Inn
View this post on Instagram

Sitting at 1,400 feet above the Kona shoreline, guests staying at the Holualoa Inn can take in a panoramic view of the island's west side while wistfully wading around in the resort's custom-tiled mosaic pool. Masterfully mixing old Hawaii with modern luxuries, Holualoa Inn's almost overwhelming charm may make it difficult for guests to leave its lush 30-acre property, which also features a flower garden, a hot tub, and carefully selected art and sculptures in the inn's open-air great room. One of the resort's best amenities is its rooftop gazebo, which is the ideal place for early risers to sip on coffee while watching the sun rise over the Big Island. To make a reservation, visit Holualoa Inn's website or call (808) 324-1121.
Holuakoa Gardens Restaurant & Café
This should come as no surprise, but all of the menu items prepared at Holuakoa Gardens Restaurant & Cafe are sourced from local farms located within a 5-mile radius of its kitchen. That means all of your pupu (appetizers), entrees and brunch plates are as fresh as can be. With a shifting menu based on availability, it's hard to recommend what to get, but a constant on the cafe side of things is the 100% Kona coffee, which will only cost you a few bucks here—and quite a bit more anywhere else in the world. The mellow eatery also has a lush outdoor seating area that really encapsulates the town's overgrown charm. For more information on brunch, dinner and cafe hours, visit Holuakoa Gardens Restaurant & Café's website or call (808) 322-5072.
Ipu Arts Plus
A Hawaiian percussive instrument made from a hollow, dried gourd, the ipu is most often used to provide a beat for hula dancing. However, the artists behind Ipu Arts Plus turn the native instruments into works of art, carving beautiful Hawaiian imagery and patterns onto the gourds themselves. Whether you live on- or off-island, an ipu will serve as an accoutrement to any home or room, and the gourds themselves will still work as wonderful noisemakers. Visit Ipu Arts Plus' Facebook page for hours, or call (808) 464-5807.
Holualoa Ukulele Gallery & Workshop
Located in the town's old post office, this tiny gallery sells one-of-a-kind collector ukulele, which come from big-name brands like Kamaka as well as local ukulele builders such as Dennis Lake and Bill MacDonald. If you feel inspired looking at the hand-built stringed instruments, follow the small staircase down into the business's ukulele workshop, where you can sign up for a 10-day class on how to build your very own uke. For more information, visit its website or call (808) 324-4100.