Your Guide to Mānoa on Oʻahu
This charming Honolulu town has great eateries, cute boutiques and hiking trails.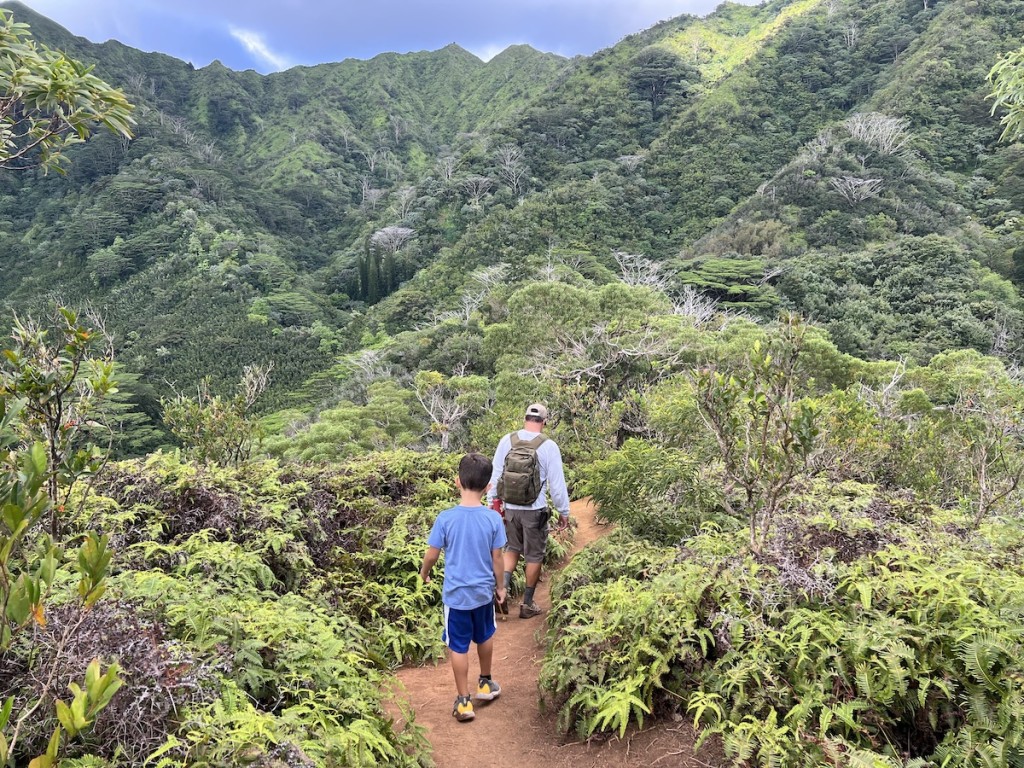 Growing up on Oʻahu, I spend a lot of time in Mānoa, a sleepy neighborhood a few miles mauka (upland) of Waikīkī. I take my son to play at Mānoa Valley District Park, hike the trails in the area, grab lunch at Andy's Sandwiches & Smoothies and meet friends at quaint coffee shops.
It's easily one of my favorite neighborhoods on Oʻahu—lush, serene, friendly and full of things to do.
Mānoa—which means thick, solid or cast in ʻōlelo Hawaiʻi (Hawaiian language)—is a residential neighborhood that starts at the base of the Koʻolau Mountains and runs to King Street in urban Honolulu. It rains, on average, about 145 days a year in Mānoa, making it one of the greenest valleys on the island.
Native Hawaiians settled in this area in the 1400s, growing primarily kalo (taro). This continued for centuries until immigrants came to the Islands to work on plantations. Many started farms in this lush valley, raising mostly vegetable and flower crops.
Today, those taro patches and large farms have been replaced by single-family homes—you won't find one valued at less than $1 million—parks, schools and small shops. But if you wander around, you can still find a bit of old Hawaiʻi mixed in with the new.
Lyon Arboretum
Lyon Arboretum is a 200-acre botanical garden with more than 7 miles of trails that are great for any level of hiker. Founded in 1918 and run by the University of Hawaiʻi, this garden is open for the public—reservation required, though—to walk through an enormous diversity of plants, from bromeliads to heliconia to the largest palm collection found in any botanical garden. (It's free, but visitors are encouraged to donate something to help support the garden.) It also boasts a picturesque waterfall—ʻAihualama Falls—and about 1,400 plant species native to the Hawaiian Islands. 3860 Mānoa Road.
Choco leʻa
Since 2010, Choco leʻa has been handcrafting chocolate truffles and other indulgent treats in Mānoa using a blend of high-quality European and locally grown cacao. These artisanal chocolates are local favorites and make great gifts—even just for yourself! The shop's decadent truffles are filled with everything from lilikoʻi (passion fruit) to lychee to even liqueur like Kahlua, Guinness beer and Japanese sake. Check its website for updated shop hours. 2909 Lowrey Ave.
Feast
Local chef Jon Matsubara opened Feast and elevated the culinary scene in Mānoa. His menu boasts a mix of local-style plate lunches—the Hilo-style hamburger steak is a fave—and $30 lobster rolls. Lately he's been offering $35 bentos that rotate weekly with items like fresh fish, filet mignon and double-fried chicken with umami mayo and hot sauce. 2970 E. Mānoa Road.
Mānoa Heritage Center
Want to learn about the history of Mānoa? Head to the Mānoa Heritage Center, a nonprofit organization that offers tours of its gardens full of Native Hawaiian plants and Kūkaʻōʻō Heiau, the only intact and restored heiau (ancient temple) in the greater ahupuaʻa (land division) of Waikīkī. Built hundreds of years ago and sitting high above the valley floor, Kūkaʻōʻō would have once watched over wetland taro fields. 2856 Oʻahu Ave.
Waioli Kitchen & Bake Shop
Waioli Kitchen & Bake Shop opened in 2018, reviving the original mission of the restaurant, which offered vocational training for the women and kids living at The Salvation Army's Children's House. (The original restaurant, called Waioli Tea Room, first opened in 1922.) The menu is simple—sandwiches, pancakes, salads, housemade pastries and an açaí bowl served in a coconut shell—and the outdoor setting is relaxing and beautiful. You can even visit the small grass shack that writer Robert Louis Stevenson stayed in for the six months he lived in Hawaiʻi; it's located on the property. 2950 Mānoa Road.
Puʻu Pia Trail
Tucked in the back of Mānoa Valley is Puʻu Pia, a state-run trail that offers great views of the lush valley. Most of the hike is under a canopy of trees before you start a gentle ascend—only about 400 feet total—to a small grassy area with 360-degree views of the Koʻolau Mountains and Honolulu. Park in the neighborhood and be mindful of residents. The trail is often muddy, so bring a change of footwear, rain gear and lots of water.
Off the Hook
There's always a line at Off the Hook, a small poke shop that opened in Mānoa in October 2019. Owners JP Lam and Tomoki Ito have garnered a loyal following for its super-fresh fish—they visit the Honolulu Fish Auction every morning for fish—and interesting flavors. We like the Kīlauea Fire—with Korean gochujang, jalapeño, crushed red pepper and watercress—and the Japan Deluxe—with sweet miso, ginger and shiso. 2908 E. Mānoa Road.
Mānoa Chinese Cemetery
Visit a cemetery on vacation? You'll want to stop at this one. Mānoa Chinese Cemetery sits on a grassy knoll toward the back of Mānoa Valley, complete with ocean views. Founded in 1852, Lin Yee Chung (a.k.a. Mānoa Chinese) Cemetery is the oldest and largest cemetery on the Hawaiian Islands. 3430 East Mānoa Road.
Allison Izu, The Showroom
View this post on Instagram
Earlier this year, local designer Allison Izu opened a showroom in Mānoa Marketplace, where she sells her comfy, high-quality apparel that's created for all body types. The shop also features locally designed jewelry and other accessories. 2752 Woodlawn Dr., Suite 5-215.
Kay's Crackseed Hawaiʻi
Crack seed shops are the stuff of my childhood—and Kay's Crackseed Hawaiʻi has been fulfilling local cravings since 1978. (It's one of the oldest crack seed shops still operating in Honolulu.) Not only does it sell classic crack seed—li hing mui, sweet wet lemon peel, seedless rock salt plum—but Kay's also has ice cakes—another small-kid-time fave—gummies, shave ice and Icee. 2752 Woodlawn Drive.
Fendu Boulangerie
Craving carbs? Fendu Boulangerie is one of the best bakeries on Oʻahu—and it's in Mānoa! This European-style bakery serves fresh hearth-baked breads, rustic gourmet pizzas, sandwiches and the best croissants around. 2752 Woodlawn Dr. # 5-119.