Zippy's to open its first Maui restaurant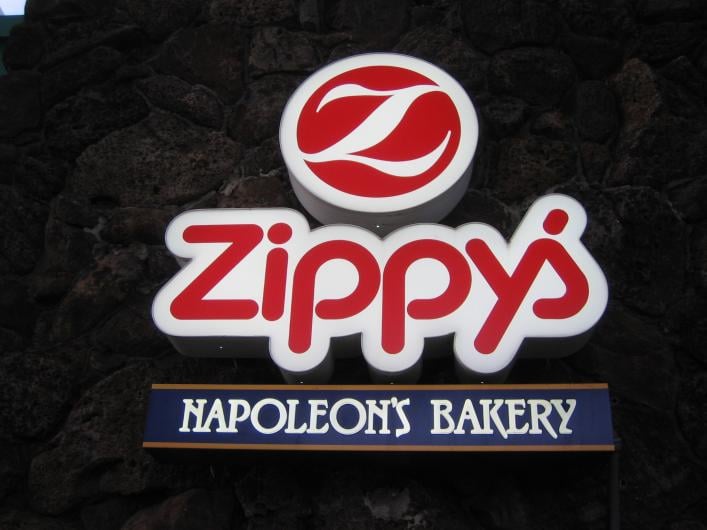 Honolulu-based Zippy's Restaurants is opening its first-ever Maui location on August 18 in Kahului.
It's a historic moment for Zippy's and Maui fans of its cuisine. Zippy's famous chili, its ZipPacs and the rest of its plate lunch menu will now be available 24 hours a day on the Valley Isle! No more envying Oahu.
Zippy's Maui plans were first announced five years ago. We imagine hundreds of residents might have relocated career and family to Oahu for a Zippy's chili and chicken mixed plate lunch had the restaurant not opened this year.
The Kahului location will have a fast food counter, a Naploleon's Bakery (Mmmmm! Napples!) and the largest Zippy's dine-in restaurant in the state.
People not familiar with Zippy's might wonder: What's the big deal?
Zippy's is a Hawaii dining institution. Founded by brothers Francis and Charles Higa, the first Zippy's opened in Honolulu on Oct. 16, 1966 (pictured below, when it was brand new). That restaurant—affectionately dubbed McCully Zip's, after a nearby street, by Honolulu residents—still stands, now joined by 23 others, all on Oahu.
Zip Pacs (a bento lunch with teriyaki beef, fried chicken, battered fish and a slice of Spam on rice) and Napoleon's Bakery Napples (flaky turnovers filled with apple, cherries, blueberries, chocolate, etc.) are perennial favorites on Zippy's 90-item menu. The most popular food item of 'em all, tho? Zippy's chili, which the company sells more than 110 tons of each month.
For a few years, Kauai residents enjoyed the chain's first neighbor island location in Kapa'a. Extensive damage from Hurricane Iniki permanently shuttered that Zippy's in 1992.
The new Kahului restaurant marks Zippy's first foray off of Oahu since then.
Zippy's Kahului opens at 10:30 a.m. sharp, August 18, at 15 Ho'okele St. in Kahului.
Folks on the Mainland can get a taste of Zippy's food (chili, Napples, chicken curry, etc.) by mail order. We're not sure it tastes as good as it does in Hawaii. But if you know for sure … let us know with a comment below.