Aloha Friday Picks: It's Sunflower Season!
Walk through a sunflower field, prep for the Merrie Monarch Festival and listen to Paula Fuga's new album, Rain on Sunday, this weekend.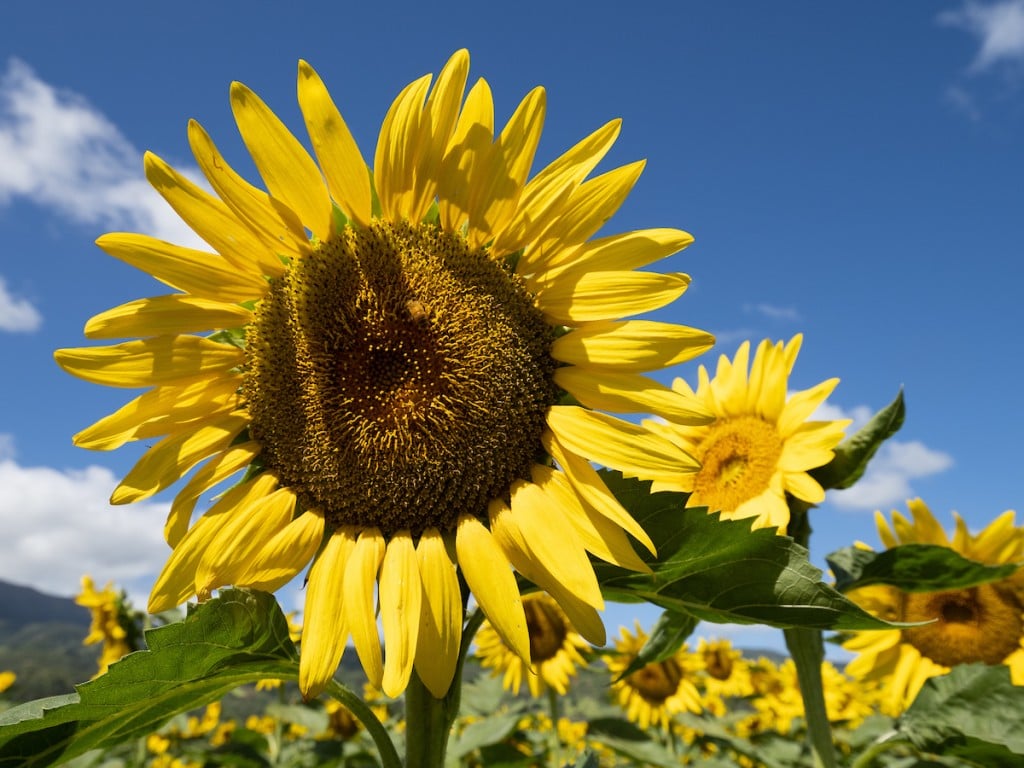 Aloha Friday Picks is a weekly news blog that will run every Friday and features three things we recommend you do, try or experience over the weekend. Send us tips at media@hawaiimagazine.com.
Don't have any weekend plans? Thinking about just resting and relaxing the weekend away? Well, that does sound nice, but if you want to do a little something-something, we've got a few ideas for you. In this edition of Aloha Friday Picks, we'll cover three activities you can do this weekend that will get you up off the couch—but not for too long.
1. Sunnies!
View this post on Instagram
The sunnies have arrived this summer, with farms around the Islands seeing their first blooms of the season. One of the main sunflower farms on Oʻahu, Waimānalo Country Farms, is currently offering sunflower farm tours now through July 8, and they recommend that visitors make reservations well in advance. But trust us, the selfies are worth it! Due to COVID-19 guidelines and restrictions, the tour will have to be done in your vehicle, although you can walk through the field in designated areas to get your new Instagram profile picture.
For more information, visit Waimānalo Country Farms' website or call (808) 306-4381.
2. Prepare for the Merrie Monarch Festival
The premier hula competition in the world—the Merrie Monarch Festival—is back for the first time since 2019, when COVID threw a wrench into everybody's plans. However, this Merrie Monarch festival won't be like years prior. There will be no live audience, it will all be pre-taped and broadcasted live at a later date—the actual judging and performances are happening right now, and will be live-streamed on July 1, 2 and 3. So, before the time comes, you can do a few things to prep yourself to watch the Merrie Monarch Festival! For example, we wrote a whole guide on how to watch the competition, and we even have Merrie Monarch bingo cards to make your viewing party even more exciting. Of course, you'll have to grab some local food, too, and we've got a huge list of ideas right here.
For more information, visit the Merrie Monarch Festival's website here.
3. Listen to Rain on Sunday
In case you missed it, Paula Fuga joined the "Have Aloha Will Travel" podcast for an episode to talk about her upcoming album—"Rain on Sunday"—which is out … today! Born and raised in Waimānalo, Fuga has performed all over the world, from Madison Square Garden to The Sydney Opera House Forecourt—she's also been a three-time performer at the White House! Her new album will feature multiple big-name artists as guest musicians, such as Jack Johnson, Ben Harper and J Boog. You won't want to miss it.
Purchase Rain on Sunday here, and be sure to follow Paula Fuga on her Instagram.