An Exquisite Breakfast at St. Regis Princeville's Makana Terrace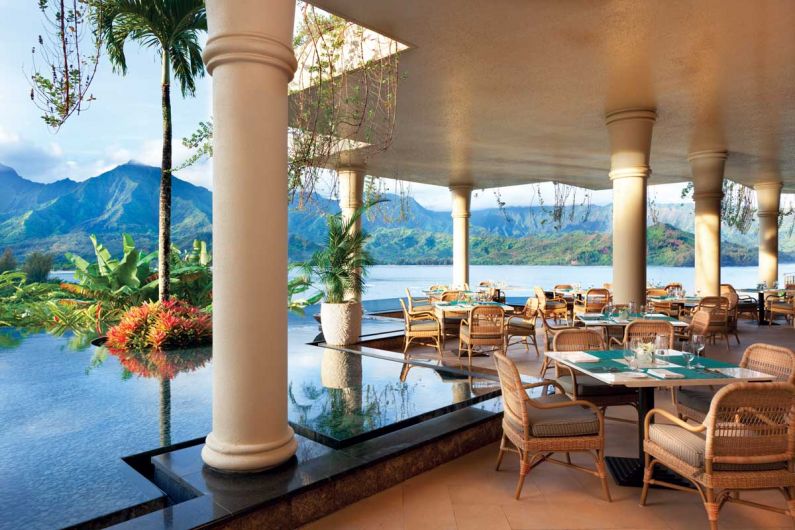 The view is so extraordinary you can't take your eyes off it.
Walking into St. Regis Princeville's restaurant Makana Terrace, I'm immediately stunned by the panoramic views of the gorgeous, green Hanalei Mountains, named Hihimanu, Namolokama and Mamalahoa, with thousand-foot-high waterfalls flowing down their sides. It's a view that can only be described as absolutely breathtaking and extends out to sea to the restaurant's namesake, Makana peak—a natural landmark famously known in the 1958 film "South Pacific" as Bali Hai.
On the menu: breakfast.
The buffet ($39 adults, $21 children) is a popular one, as most breakfast buffets are, but I opted to order from the griddle. Catching my attention is Dom Pérignon paired with passion fruit and guava juice ($345)—the most expensive passion-guava fruit drink I've ever seen—and the Surf Omelet ($28) made with scallops, crab, alii mushroom, coated with a creole fondue sauce. Even the Caramelized Sun Ripened Papaya ($17) sounds extravagant with organic yogurt, passion fruit, berries, granola, and Wilelaiki honey blossom drizzle.
I decide on the crème brûlée French toast (the first and only time I've had my French toast crème brûléed) plated with strawberry guava preserves, Tahitian vanilla bean and whipped cream ($19). The plate, when it arrives, is visually delighting with its neat presentation and splash of color, but it's the taste of it that makes me ponder: Is this the best French toast I've ever had? Yes, I answer myself, it is.
It's sweet and buttery, addicting and mouthwatering. I pair a bite with a blueberry, dab it in the strawberry preserves and pick up some of the whipped cream, and I find that every way I pair each bite tastes even better than the last.
Before I know it, it's completely gone. I wasn't even that hungry. But, here I am, with an empty plate in front of me, drinking in the boundless beauty of Hanalei's scenic vista. Instead of calling for the check, I order a pot of green tea, deciding I'm not quite ready to leave.
Makana Terrace, The St. Regis Princeville, 5520 Ka Haku Road, Princeville, Kauai, stregisprinceville.com.