Attention Travelers: This is a New Hawaiʻi
If you're planning a trip to the Islands soon, you'll want to read this.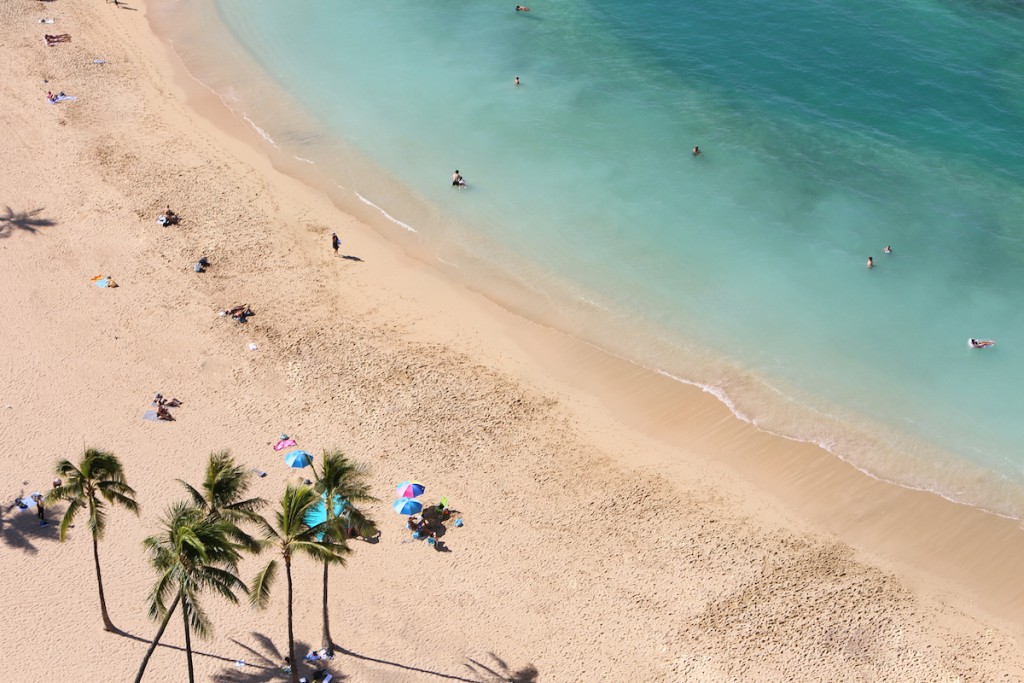 There was a time—not that long ago—when you could hop on a plane and arrive in Hawai'i with nothing more than your vacation essentials and a rough idea of what you wanted to do.
COVID-19 changed all that.
Much in the way the terrorist attacks of Sept. 11 forever changed the way we travel—strict security protocols at the airport, removal of footwear (even slippers!) when passing through security, no more than 3.4 ounces of liquid in your carry-ons—the global spread of COVID-19 has affected nearly every aspect of traveling. And the rules and regulations are changing all the time.
Case in point: On March 25, 2020, Hawai'i began a mandatory 14-day quarantine for all travelers to the Islands. Visitor arrivals in April dropped 99.5% from the previous year, ac- cording to the Hawai'i Tourism Authority. Hotels and airlines had to close and furlough workers. Restaurants shuttered— some permanently—and schools went virtual. No one was traveling and no one knew how long the crisis would last.
In October 2020, the state's Safe Travels program launched, which allows travelers with negative COVID-19 tests to bypass the state's mandatory 10-day quarantine.
Then, in July 2021, the state approved a vaccine passport, which allows U.S. domestic travelers who have been fully vaccinated in a U.S. state or territory to travel to Hawai'i without quarantine or getting a COVID-19 test. Not vaccinated? You can only bypass quarantine with a negative COVID-19 test— and there are rules about that, too.
And that's just getting here.
There are also mask mandates—federal law requires that all airline passengers 2 years and older wear a mask at the airport, while boarding, and through the duration of the flight—and requirements in certain public and indoor spaces. You can't ride the bus on O'ahu, for example, without a mask. And even the popular hiking trail to the summit of Lē'ahi, aka Diamond Head, requires masks in interior spaces and at lookouts.
Each county in Hawai'i has its own rules, too.
Starting Sept. 13 on O'ahu, anyone who wants to enter a restaurant, gym, bar, movie theater, museum or other business will need to show proof of vaccination or a negative FDA-approved molecular or antigen test taken in the last 48 hours. (Children under 12 are exempt.) In addition, restaurants and bars have to stop serving alcohol at 10 p.m. The Safe Access O'ahu program runs for 60 days.
On Maui, if you are unvaccinated or don't have proof of vaccination, you will not be allowed to dine in restaurants indoors. Tours are also affected, with limits on group sizes for snorkeling excursions, sunset sails and other activities. (The Maui rules were in effect for 30 days.)
And after months of fewer restrictions, this summer the state reinstated limitations on social gatherings (10 people indoors, 25 outdoors) and restaurants (50% capacity) this summer after a recent surge in COVID-19 cases in Hawai'i spurred by the highly contagious delta variant. As of press date, there are more than 10,000 active COVID-19 cases in the state—an all-time high.
Confused yet?
"Our reopening plan has been on roller skates," says John De Fries, president and CEO of the Hawai'i Tourism Authority. "It just keeps moving."
It doesn't help that, in late August, Hawai'i Gov. David Ige urged anyone planning to travel to Hawai'i to reconsider.
"We do know that this is not a good time to travel to the Islands," Ige said at a news conference. "We know that visitors that choose to come to the Islands will not have the typical kind of holiday that they will expect to get when they visit Hawai'i."
So what are travelers supposed to do? Here's what you need to know.
Yes, Hawaiʻi is Open to Travelers
Despite the governor's plea to postpone travel, there are no new travel restrictions to visiting Hawai'i. Anyone fully vaccinated in the U.S.—and with proof of that vaccination— can fly here without quarantine or a negative COVID-19 test. Hotels are still operating, tours are still running and public spaces—beaches, parks and hiking trails—are still open.
In late summer, the state asked people reconsider traveling to the Islands due to the rapid community spread of the delta variant, which had been contributing to skyrocketing COVID-19 cases and a strain on Hawai'i hospitals.
But on Nov. 1, travel resumed, with Ige inviting non-essential travelers back to the Islands in time for the winter holidays. International travelers are welcome to travel to Hawaiʻi starting Nov. 8, with rules. (Read more here.)
Expect Delays, Lines, Confusion
This summer Hawai'i saw near-pre-pandemic numbers of visitors, many of whom took advantage of cheap airfares and remote work arrangements to vacation in the Islands.
According to HTA, more than 2.7 million people arrived in the Islands in the first half of 2021, up 27.6% from the first half of 2020. In June alone, 791,053 visitors flew to Hawai'i from the U.S. Mainland.
Couple the influx of visitors with restrictions on capacity at restaurants and on tours— plus a labor shortage and social distancing rules—and you get a lot of frustrated people.
"One of the main things I tell visitors is to come here and pack their patience," says Jessica Ferracane, spokeswoman for Hawai'i Volcanoes National Park on Hawai'i Island, which has remained open—at least most of it—since May 2020. "We have high visitation, places are crowded, we have a huge road project going on [at the park]. You need to have a plan B."
Expect long wait times at popular restaurants like Duke's Waikīkī—this summer it wasn't uncommon to wait three hours for a table—and it may get more challenging as restaurants on O'ahu and Maui require proof of vaccination to dine indoors. Even takeout spots like Leonard's Bakery on O'ahu are seeing unusually long lines—most days it ex- tends out of the bakery and up a side street—as workers there enforce strict indoor social distancing guidelines.
"First of all, [travelers] need to understand Hawai'i is still in recovery mode," De Fries says. "Not all the attractions are open, not all the restaurants are open, not all of the retail complexes are fully operating. The restart of the economy hasn't been consistent, it's not elegant, there's no conformity to it, and it's been these series of stops and gos and that's what we're experiencing now. … It's not business as it used to be."
Plan, Plan, Plan
If you're a traveler who likes to "discover" a destination when you arrive, you'll likely miss out.
A lot of tours, shows and visitor attractions now require—or highly recommend— reservations. Hanauma Bay on O'ahu launched an online reservation system and raised rates to $25 per person (nonresident). The limited slots sell out within 5 minutes of going live every day. Hā'ena State Park on Kaua'i, which includes access to Kē'ē Beach and the Kalalau Trail, also requires reservations, which can be made here. Like Hanauma Bay, the park has a daily visitor limit with new park fees.
The Polynesian Cultural Center in Lā'ie on O'ahu has seen a surge of visitors this summer; its popular VIP lū'au package is sold out through November 2021. (You can still try to get day-of tickets, but prepare to be flexible on days and times.) And because of surging COVID-19 cases, some outdoor activities that attract large groups—the popular farmers market at Kapi'olani Community College on O'ahu, for example—are temporarily closed.
Check with tours, shows and other attractions before you arrive and book tickets in advance.
The same goes for restaurants.
Hawai'i restaurants are dealing with employee shortages—which translates to shorter hours and, sometimes, longer wait times—and government rules that don't allow them to run at full capacity. So expect smaller menus and, in some cases, no availability when you're in town.
If you love a certain restaurant or are dying to try a new one, make reservations in advance. If you don't, you might end up grabbing your meals at convenience stores—yes, it's happening!—and wishing you heeded our advice.
While it may seem tempting—even smart—to book several reservations for a single day, then pick the one you want when you get here and just not show up to the other restaurants, these no-shows are costly for already-struggling restaurants. Call and cancel ahead of time. No-shows may cause eateries to change their policies, like asking for a deposit or slapping no-shows with cancellation fees.
Rental Car Shortage is No Joke
You may have already heard the stories: People shelling out thousands of dollars to rent cars on vacation, some even renting U-Hauls. (They're cheaper.) At the peak this summer, rental cars were going for upward of $500 a day—sometimes more—if you could even book them.
So what happened?
Car rental companies sold their cars in 2020 in anticipation of the financial blow they would take due to widespread COVID-19 travel restrictions. Now, car manufacturing delays means they can't immediately replace the ones they've sold. The supply doesn't support the demand.
Finding a car rental right now isn't as hard as it was this summer. Still, book ahead to ensure you have transportation to get around and enjoy the island. You don't want to be in Hawai'i and only able to explore as far as you can walk.
Travel Rules Change Often, So Check Often
Since July 8, 2021, people who are fully vaccinated in the U.S. or its territories can enter Hawai'i on domestic flights without pre-travel testing or hav- ing to quarantine upon arrival. (People must wait 14 days after their second COVID-19 shot to be considered fully vaccinated.) All other travelers must have their negative COVID-19 test results from a trusted testing and travel partner upload- ed to the state's Safe Travels Program portal prior to departing to avoid Hawai'i's mandatory 10-day quarantine.
Once in the Islands, you can travel freely between islands without restriction.
Be Respectful, Polite and Follow the Rules
We know you're on vacation. We've all been stuck at home for months, worried, scared, tired, yearning for a change, desperate to feel "normal" again. It's important to remember, though, that Hawai'i is not just a visitor destination; first and foremost, it's our home.
Wear your mask indoors. Don't trash the place. Hike on public trails. Respect sacred places. Imagine what you would want strangers doing in your backyard.
Be nice to hotel staff, restaurant workers, car rental agents (especially them; it's not their fault) and anyone you encounter. It's been hard for a lot of people—and likely the folks you meet on your trip wish they were on vacation, too.
This story was published in the September/October 2021 digital issue. We have updated the story to reflect current travel rules.