Can't Travel to Hawai'i? Cook Your Favorite Island Foods at Home with this Book
The 10th anniversary reprint of "Kau Kau: Cuisine and Culture in the Hawaiian Islands" is more than a history lesson of Hawai'i through food—but a cookbook as well.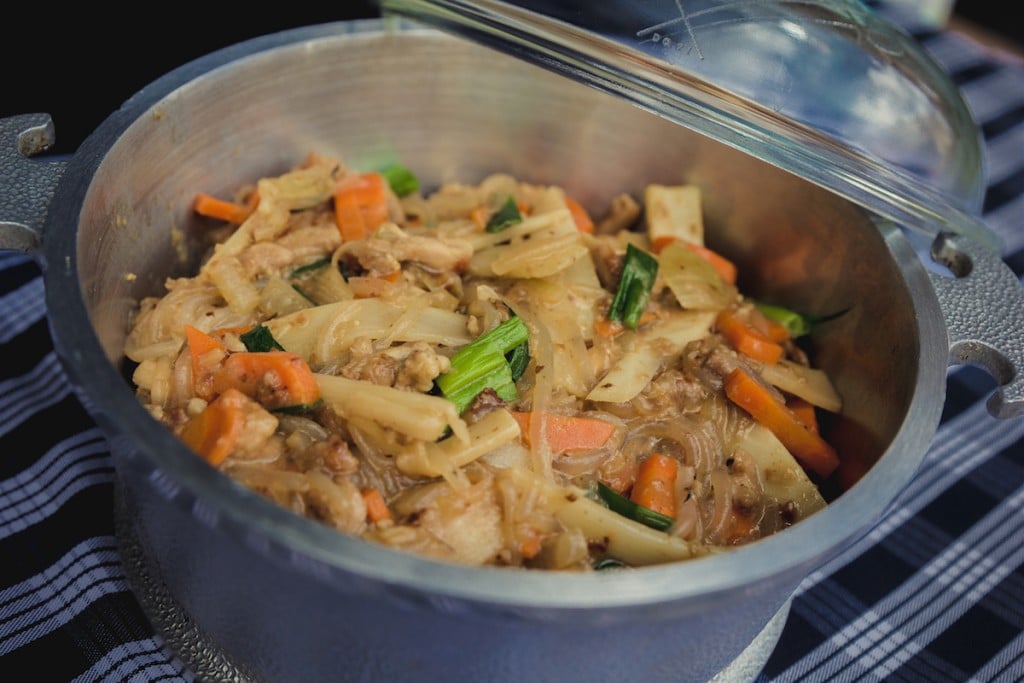 A decade ago, Watermark Publishing, our magazine's sister company, published a book that became the go-to resource to understanding Hawai'i's unique culinary history.
And I loved it because it was filled with Island-style recipes!
But "Kau Kau: Cuisine and Culture in the Hawaiian Islands" by Hilo-based writer Arnold Hiura had been out of print for years—until recently.
The publisher released a 10th anniversary reprint of the landmark book ($32.95), with fresh material exploring the evolution of food in Hawai'i during the decade the book was first published. (A lot has happened, trust me.)
The book answers some of the questions you may have always had about Hawaiʻi's foods: Who invented the plate lunch? Where did saimin come from? Is "burnt rice" really a thing? And what the heck is a Saloon Pilot cracker?
Huira spend years researching the origins of many of beloved local dishes, talking story with chefs and restaurateurs about the foods that have shaped our Islands.
"Food speaks to all of us and connects us," says Monica Toguchi Ryan, the third-generation owner of the iconic Hawaiian food restaurant Highway Inn. "ʻKau Kau' is a must-read for anyone looking to understand Hawaiʻi's diverse food traditions and their role in our collective identity."
This edition contains dozens of recipes, many of which are nostalgic to anyone who grew up here: Portuguese bean soup, haupia, adobo, pickled onions, beef tomato and fried saimin. It also features an impressive collection of vintage menu covers from long-gone favorites like Kau Kau Korner and Coco's.
It's a trip down memory lane—but a resource guide and cookbook, too.
Here's one of the recipes from the book, a classic Japanese-style dish by Hilo-based KTA Super Stores' Derek Kurisu:
Uncle Derek's Chicken Hekka
Ingredients:
2 lb. chicken, cut in pieces
3-inch piece of ginger, peeled and sliced
Vegetable oil for frying
1/2 c. soy sauce (or shoyu)
1/2 c. sugar
2 8.75-ounce cans of sukiyaki no tomo, drained
1 14-ounce can of chicken broth
1 T. butter
Dash of sake (rice wine)
6 shiitake mushrooms, sliced
1 carrot, thinly sliced
2 round onions, sliced
Salt to taste
Watercress (optional)
1-2 bundles long rice, soaked in water until soft (optional)
Aburage (optional)
1 bunch green onions, chopped
Directions:
Fry chicken and ginger in large pot with a little vegetable oil. Heat shoyu and sugar in a small saucepan over medium heat until sugar dissolves. When chicken is almost cooked, add shoyu-sugar mixture and sukiyaki no tomo. Add chicken broth and remaining ingredients, except green onions. Cook to desired doneness and taste for seasoning. Sprinkle green onions before serving.
To buy the book, visit bookshawaii.net.