Catching up with HawaiiMagazine.com's best posts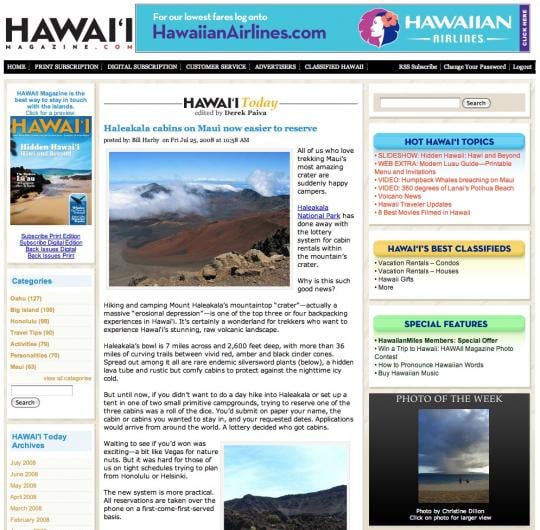 We know how it is.
You go out of town on a vacation or a business trip. You have family or friends from out of town staying at the house for a week. You get slammed at the office. There's a weeklong marathon of Magnum P.I. episodes on cable.
When daily life intrudes, you can't find a few minutes to check out our daily updates.
Whatever the reason … we understand: Sometimes you miss one of our fine Hawaii Today posts while it's on the homepage.
Our Hawaii Today posts never disappear. You can always find them—going all the way back January—by clicking "next entries" at the bottom of the home page. There are now more than 300 posts on all things Hawaii. (Trust us, we counted 'em.)
Still, we thought it'd be a good idea to bring some of our best stuff back up to the top of the homepage again—as links—in case you missed them. If you like it, we'll do it every few weeks.
Here's the first bunch:
• Vintage photos show bygone Hawaii from soldiers' view
• Pssst! Want to see an amazing new Kilauea volcano photo?
• New Kilauea volcano land collapses explosively into ocean
• Kilauea volcano magma meets ocean with 100-foot lava burst
• "Explosion-like" earthquakes, lava fountains stir Kilauea volcano
• Hawi was great! What about Lanai?
• Hidden Hawaii: Hawi and Beyond
• Free Hawaii trip up for grabs
• The Koko Crater Trail. I climb it.
• Scenes from Lantern Floating Hawaii ceremony
• Indiana Jones and the Eight Best Movies Filmed in Hawaii
• Char's Chopsticks: Dim sum at Mei Sum in Honolulu's Chinatown district
• Jack Johnson and Kokua Festival: A fifth-row dispatch
• My Favorite Places: Thurston Lava Tube
• Remembering Mauna Loa's last eruption