Char's Chopsticks: La Taqueria de Ramiro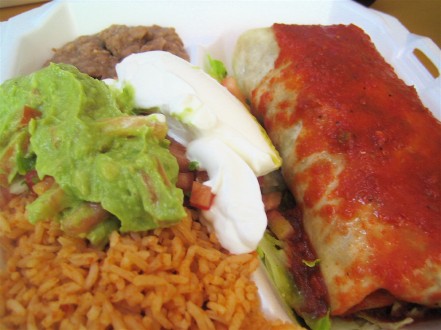 I was a fan of the Super Burrito at La Taqueria de Ramiro on Fort Street Mall in Honolulu.
Now I'm a Fried Wet Burrito fan. Let me explain.
This plate lunch is more than just a burrito. It comes with rice, beans, guacamole, sour cream and of course, the fried burrito, wet or dry. I like my fried wet burrito filled with pork (pictured right).
La Taqueria de Ramiro (Ramiro's Restaurant) offers five types of burritos and four tacos. Each comes with a choice of five different meats. The restaurant also serves nachos, quesadillas, tostadas and enchiladas.
We also ordered another fried wet burrito plate, a Super Nachos (pictured below), California-style tacos and some regular tacos. It was more food than the five of us could finish.
The next day, we went back for more Mexican food. Seriously.
Chef/owner Angelo Hernandez is part Mexican, part Japanese. He looks more like a tall Japanese man, but you won't find a piece of sushi anywhere in the restaurant.
Angelo is no stranger to Mexican restaurants. In 1972, his father started a Mexican restaurant in the San Francisco Bay area. Today in Alameda, Calif., his mom still runs Taqueria Ramiro and Sons, which opened in 1981.
But it was always his dad's dream to start a Mexican restaurant in Hawaii.
Unfortunately, his dad passed away in December 2004. Determined to honor his father's dreams, Angelo opened La Taqueria de Ramiro in March 2006 and named it after his father.
We're glad.
The food is delicious, the prices are affordable, the customer service is great and the restaurant is clean. Plus, we love the fact that the restaurant is a three-minute walk from our offices.
We also loved La Taqueria de Ramiro's breakfast burritos, which are served from 7:30 to 10 a.m. I recommend trying the one-plus pound breakfast burrito filled with chorizo (pictured above). One thing's for sure: this isn't the same breakfast burrito down the street at McDonald's.
Insider's Tip: Go early. As it gets closer to noon, the restaurant fills up with businesspeople, Hawaii Pacific University students and out-of-town visitors.