Chef Profile: Jean-Marie Josselin
This master of unexpected ingredients from Kapaa, Kauai found inspiration in a Hindu monastery.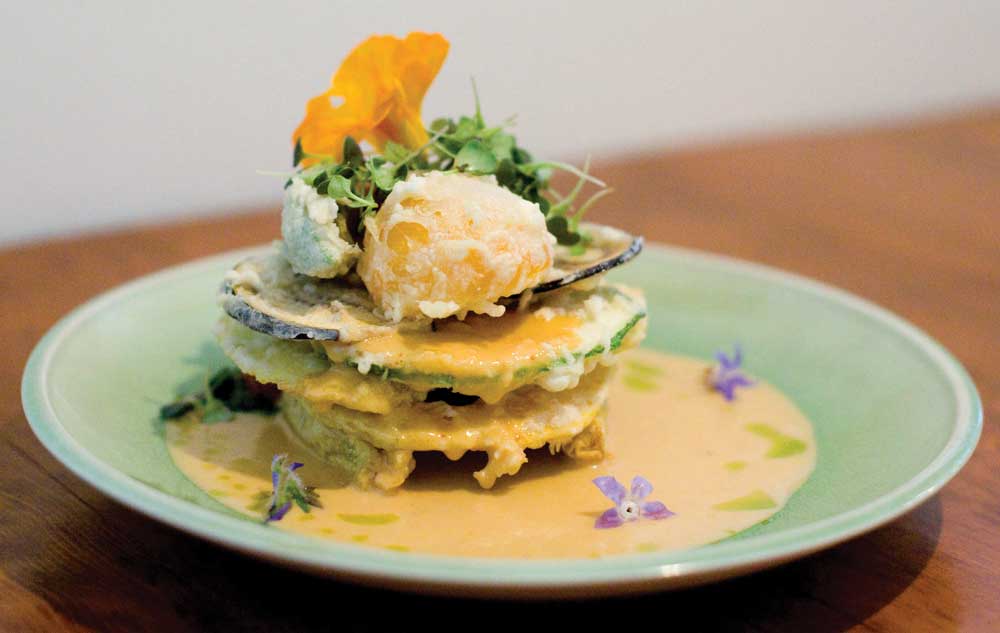 Most people looking for fresh milk end up at a dairy. Not Jean-Marie Josselin, whose search for fresh milk to make cheese for his restaurant led him to the Hindu monastery in Kapaa, Kauai.
He knew that the monastery raised cows for milk in order to make yogurt and cheese, but "I had no idea what I was getting into," Josselin says. "I walked up to a big tall Hindu guy with a wheel of cheese and asked if he would sell me milk." He was told no. "But we spent two to three hours talking," Josselin says. "He was like a lost brother. I kept on coming to the temple, three to four times a week." He learned Hindu philosophies. "They teach not to kill. It changed the thinking of my cooking." Josselin still cooks and serves meat these days, but he's shifted his focus to vegetables, which means "we have to work closely with the farmers, and try new vegetables," he says. "Try new things that never happened on Kauai before. We have to change the menu frequently—we really rely on what's happening on Kauai."
In his restaurant, JO2 Natural Cuisine in Kapaa, Josselin uses unexpected ingredients, like the sweet white pulp around cacao beans, in a shave ice over zucchini. Or his bao stuffed with barbecue jackfruit, a vegetarian twist on manapua. Or he'll celebrate vegetables in novel ways. He takes zucchini and squash blossoms and serves them raw, dressed with a vinaigrette of cacao, fresh turmeric, a little grain mustard, and honey. Diners seem to be excited by this veggie-forward fare; he says that 50 percent of his sales are vegetarian dishes.
He meets once a week with Kauai farmers to plan his menu. But working with local farmers is nothing new for him. Twenty five years ago, he and 11 other chefs started the Hawaii Regional Cuisine movement, which celebrated local farmers and producers, long before "farm-to-table" became the buzzword it is today. After working in hotels and resorts in Hawaii, in 1990, Josselin opened his own place, A Pacific Café, the beloved restaurant in Kapaa that people still talk about fondly. He kept opening restaurants; at one time he had six on all the islands and in Vegas. But by 2008, he closed them all and for two years, travelled to Europe and Asia. His travels have made their mark on at JO2, which he opened in 2014, such as with the grilled leeks in smoked buttermilk and topped with XO bacon, the latter based off a popular, spicy Chinese condiment.
"Twenty to thirty years ago, it was really difficult to find fresh produce, but now it's not a luxury anymore—it's a necessity," Josselin says. "We have some really good farmers and some really good products. It really helps me with my cooking, I don't have to add too many flavors to get to the point. I let the product talk much more than I used to in the past."