Chef Profile: Lee Anne Wong
The "Top Chef" favorite known for her innovation is discovering yet more ingredients in the Islands.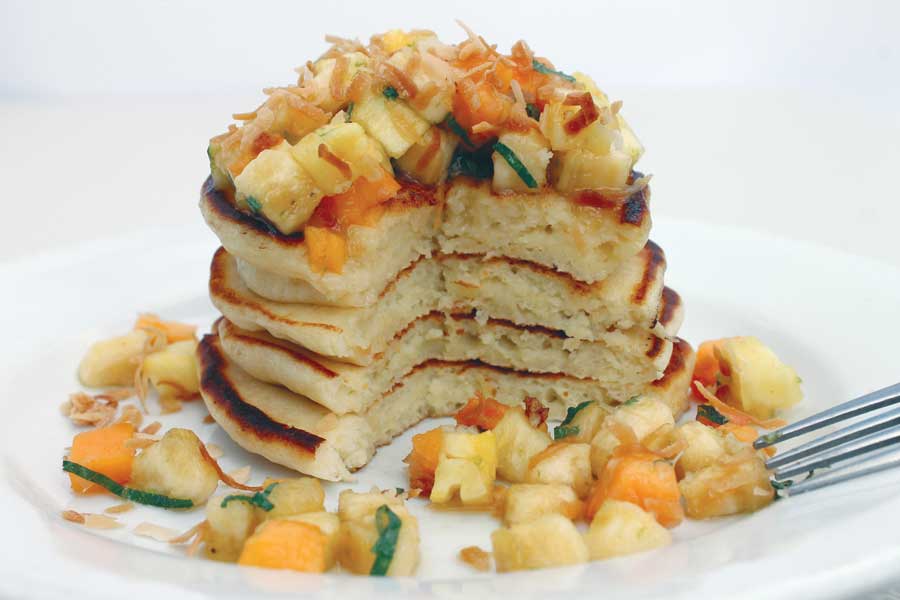 Coming from New York City, where the bounty of farms, orchards, dairies and vineyards is within easy reach, Hawaii's food scene was an eye-opener for Lee Anne Wong. While national press was picking up on an emerging new Hawaii cuisine showcasing local ingredients, the state was importing upwards of 80 percent of its food and small producers were struggling.
The situation was both heady and sobering. "Moving to Hawaii was the best decision I ever made. For a chef, to be able to discover new ingredients in such a beautiful setting is a privilege," Wong says. "Being the most remote piece of land in the world, the ideas surrounding sustainability have changed for me. As a chef and business owner I am committed to sourcing as much locally as possible."
Wong rolled up her sleeves and got to work. Starting with guest appearances and pop-ups, she created dishes that featured local ingredients prominently. Her first appearance at the Hawaii Food & Wine Festival, she had Mana Ai's Daniel Anthony pounding poi on a bench in front of her station. The menu for Koko Head Café, the brunch spot she opened in Kaimuki in 2013, uses local chicken, beef, eggs, fruits and vegetables in creations like her Koko Moco, breakfast bibimbap and banana chili lime mac nut bread.
It didn't hurt that Wong brought with her considerable celebrity status. She'd been a favorite on season one of "Top Chef," defeated Marc Forgione in "Battle: Halloween Candy" on Food Network's "Iron Chef America" and was a regular on Cooking Channel's "Unique Eats." She published a cookbook and was active in industry non-profits. It was a given that she would add her voice to the movement to sustain local agriculture. "I'm involved with Chef Action Network and do my best to stay up on current food and agriculture policy," she says. "While I don't have a ton of time to stump down at the Capitol, I advocate through my business practices, supporting small farms and producers and educating both my staff and customers as to why it's especially important to use local. We utilize local suppliers like Local Ia and Makaweli Ranch, and I am always in communication with them to give feedback and help these small businesses grow organically through our support."
Four years in, Wong is happy with where she sees things going. "With all of the new restaurants popping up, hopefully we will continue to see small farms and producers showcased. It's primarily a case of supply and demand, and the demands of, say, a Waikiki hotel versus the quantity needs of an independent small restaurant are drastically different. Sometimes it's impossible for the small farmer to be able to supply consistent volume, especially because the climate in Hawaii is subject to extremes such as heavy rainfall and winds," she says.
"But you are definitely seeing a larger swath of restaurants and chefs dedicated to sourcing local, and even some hotel groups making the commitment to source what they can locally. With continued growth through positive legislation and community support we can hope to continue to showcase a true taste of aloha, using the bounty that grows right here."