Chef Profile: Sheldon Simeon
From backyard cooking to Bravo TV's "Top Chef"to his own restaurant on Maui, Chef Sheldon's career is red hot.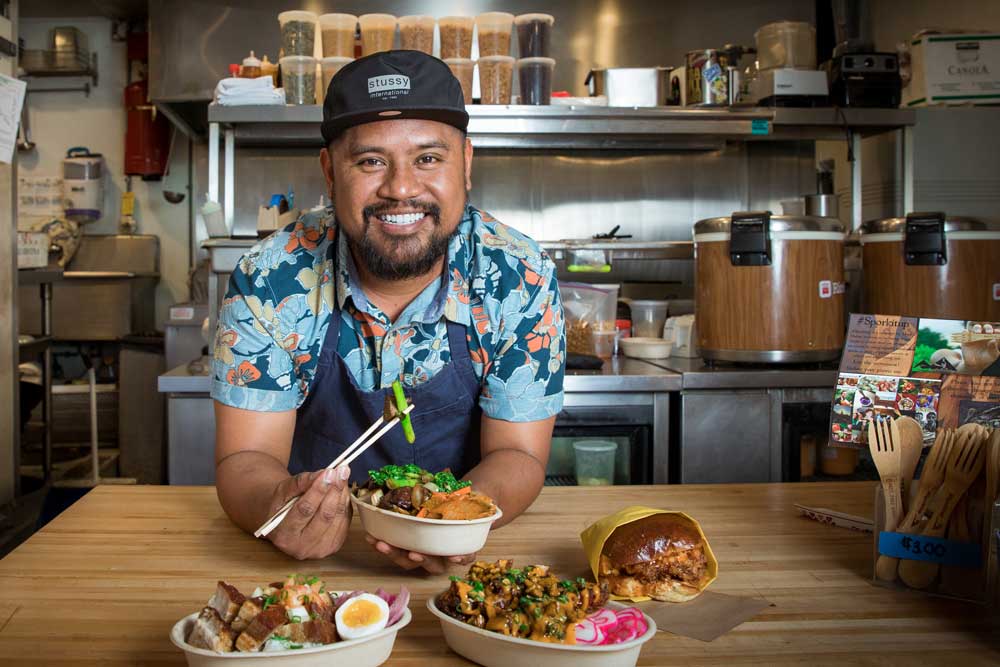 Maui's Sheldon Simeon grew up cooking local—though back then, in the Hilo of the '90s, nobody called it that. It was just cooking. Fern shoots, opae (small Hawaiian shrimp), tripe from a friend's freshly slaughtered cow—everything that came from backyards, streams and ocean went into the pots Simeon and his brother set on the stove, waiting for their dad to come home from work. "I thought that was normal, how I grew up," he says. "I celebrate it now."
Getting to that point would take over a decade and a grueling stint on national TV. Simeon's career arc took him from culinary student at Leeward Community College to Disney World to Maui, where he ran three kitchens whose 500 employees served up to 2,400 meals daily—everything from plate lunches to luau staples to Momofuku-inspired new-wave noodle bowls. Then Bravo TV's "Top Chef" called, and a career that was in overdrive went hypersonic.
Simeon's cooking was about as far from his backyard as it could get. He made it to the final three of the reality cooking competition by showcasing all he had, including lobster tempura (part of a fusion surf-and-turf dish) and lemongrass smoked oysters. But it was his contemporary takes on simple family recipes that grabbed the judges' attention—adobo, balut, his grandfather's tamarind-laced sinigang—though Simeon didn't realize the power of his soulful, heritage-based cooking until, showing off his haute cuisine skills with a dish of roasted quail with pine nut puree, he got eliminated. The dish was fine, the judges said. But in reaching for something new, he'd left part of himself behind.
That was the epiphany that took him back to his roots. Simeon went home and started showcasing local food and ingredients—first at Wailea's Migrant Maui and now at his own Tin Roof in Kahului, where he serves contemporary riffs on pork belly, saimin and bibingka as well as kale salads and roasted beets with a Funyuns-furikake seasoning. He's especially focused these days on ulu (breadfruit). It's not just that the humble breadfruit is a canoe crop brought by Hawaiian settlers, or even because he sees it as underutilized. In a state that imports nearly all its starches, ulu is also sustainable.
"One tree can make hundreds and hundreds of pounds a year, all year round," he says. "I started learning about it from the kids in Hana at the elementary school. 'No, uncle, take the skin off when you make ulu chips!' That's pretty rad.
"John Cadman from Maui Breadfruit Company, he gets his breadfruit from different producers all over the island," he says. "We serve his Pono Pies at our restaurant and we've been utilizing [ulu] in so many different ways, including in our ulu-mac salad. It's crazy how diverse it is: [you can make] a simple pudding by pureeing it with a touch of cream, or double-fry it and get all these different textures. Once you start to learn the basics, you treat it almost like a potato. You cannot really mess it up. Even overcooked it's delicious."
Simeon's career is still red-hot—he competed again on the latest season of "Top Chef", and again made it to the final three. But he knows who he is now, and he's taking his backyard-rooted style to new restaurants in Wailea and elsewhere. As they say on Bravo TV, watch what happens.