HAWAIʻI in the Kitchen: Panko-Crusted ʻAhi
This popular local dish by DK Restaurants is elevated by a soy-wasabi butter sauce.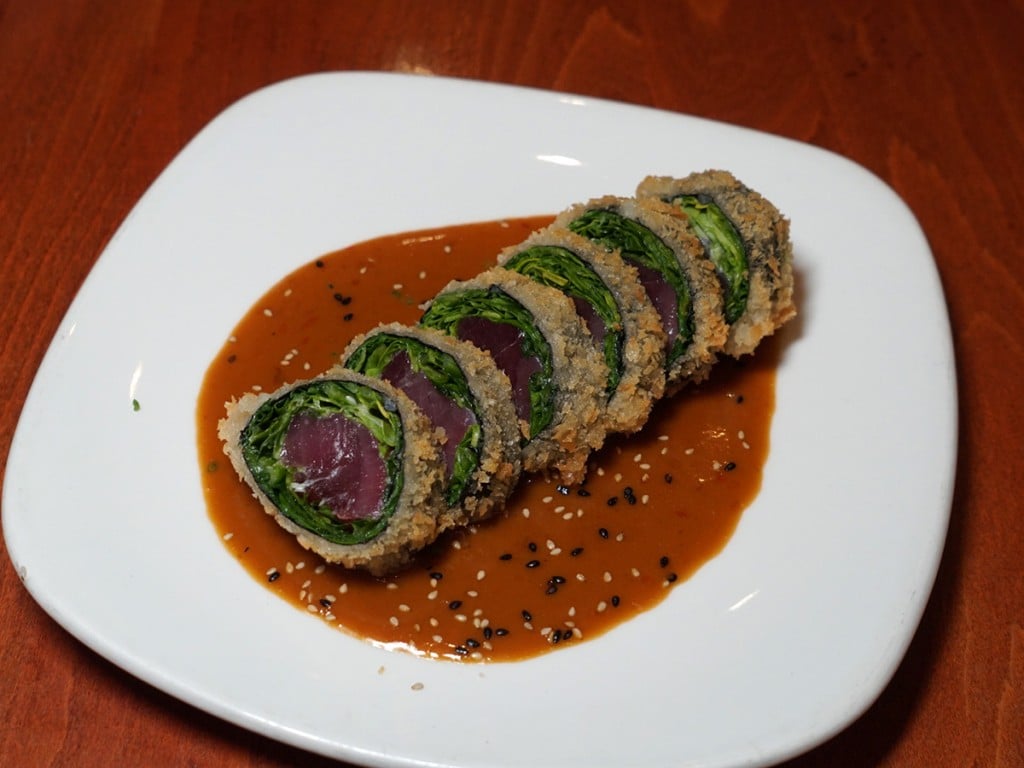 It may be an unconventional holiday dish, but sushi—especially this recipe by notable Hawaiʻi chef Dave "DK" Kodama—can turn your traditional spread into something unexpected.
Folks in Hawaiʻi eat sushi all the time. There are so many variations, from simple rice rolls with pickled vegetables to unique creations stuffed with everything from avocado to shrimp tempura to spicy crab.
The panko ʻahi roll from DK Restaurants on Oʻahu is one of those special dishes: A roll of sashimi-grade ʻahi (yellowfin tuna) is dunked in tempura batter, fried, dusted in panko, or Japanese bread crumbs, then pan-fried again until crispy. Then it's topped with a soy-wasabi sauce—sweet with some heat. It's a show-stopper.
Some of the ingredients—namely the wasabi powder, nori (seaweed), tempura batter, panko and Thai sweet chile sauce—you'll need to find in either an Asian market or the ethnic aisle of your grocery store. You can also buy these ingredients online.
(To see more videos, follow us on Instagram @hawaiimagazine.)
Panko-Crusted ʻAhi with Soy-Wasabi Sauce
What You Need:​
½ ʻahi panko roll (recipe follows)
2 ounces of soy-wasabi sauce (recipe follows)
¼ tsp. chives, cut 1/8-inch thick
¼ tsp. sesame seeds
ʻAhi Panko Roll
Ingredients:
4 ounces ʻahi, sashimi grade, cut into 1-inch-thick blocks
1 tsp. cooked white rice
1 full sheet of nori
2 cups baby arugula and spinach leaves
1/8 tsp. kosher salt
1 T. all-purpose flour
2 T. tempura batter
¼ cups panko crumbs
Directions:
Place nori sheet—short side edge closest to you with the shiny side down—on the work surface. Press a thin bead of cooked rice on the top edge of the sheet. Evenly distribute the arugula-spinach mixture over the nori sheet. Place the cut ʻahi portion in the center of the sheet. Season top with the kosher salt.
Starting from the bottom edge, firmly "jelly roll" the nori sheet, without tearing the sheet, to the top edge. Securing the roll on the riced edge. Roll must be firm and tight. Cut roll in half.
Dust ʻahi rolls in flour, then bread by lightly dipping in tempura batter and evenly coating the exterior with panko crumbs. Store refrigerated until needed.
Soy-Wasabi Sauce
Ingredients:
¼ cup white wine, dry
1 T. lemon juice
1 T. heavy cream
1 tsp. shallots, minced
2 ounces butter, unsalted, cold and cut into 1-inch cubes
¼ cup Thai sweet chile sauce
2 T. soy sauce
1 tsp. wasabi powder
Directions:
Bring wine, lemon juice, shallots and cream to a simmer in a sauce pot. Reduce heat and reduce liquid by 75%. Reduce heat to low, slowly whisk in butter chunks, whisking continuously so butter emulsifies into the lemon juice liquid. Add and whisk in the Thai sweet chile sauce, soy sauce and wasabi to season the sauce. Hold warm for plating.
To Prepare Dish:
Flash fry the panko ʻahi roll in vegetable oil, until lightly golden in color, but the interior ʻahi is still raw. Remove and drain off excess oil. Meanwhile, ladle the soy wasahi sauce on plate, top sauce with the cut chives and sesame seeds. Cut the panko ʻahi roll into six slices and arrange on sauced plate. Serve immediately.