Hawaii to observe Veterans Day with salutes at Oahu's Punchbowl, Pearl Harbor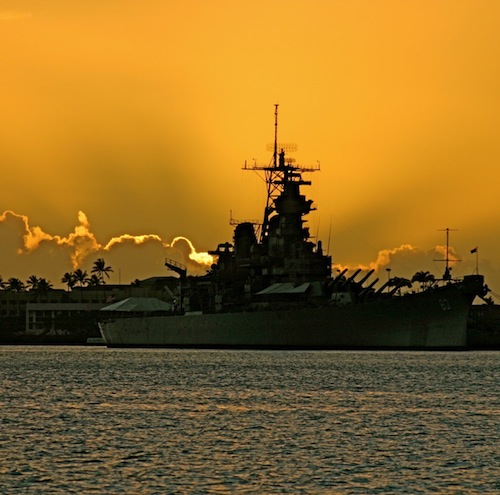 This weekend, Veterans Day will be observed in Hawaii with the dedication a new pavilion that salutes soldiers who served in the military during the Vietnam War and other American veterans, and a sunset ceremony aboard the Battleship Missouri Memorial. In addition, the National Park Service is marking the holiday by waiving entry fees this weekend at nearly 400 parks, including three in the Islands.
The American Battle Monuments Commission (ABMC) will honor the sacrifices made by 2,504 missing soldiers during the Vietnam War with the dedication of two new pavilions and mosaic maps at the Honolulu Memorial, which is on the grounds of the National Memorial Cemetery of the Pacific (known locally as Punchbowl). The dedication ceremony is set for 10 a.m. on Sunday (Nov. 11). U.S. Sen. Daniel Akaka (D-Hawaii) will serve as a keynote speaker.
The Honolulu Memorial was established to honor the sacrifices and achievements of American armed forces in the Pacific during World War II and the Korean War. It includes roughly 18,000 individuals identified as "missing in action" or "lost at sea" during World War II, and 8,200 identified as missing during the Korean War.
The memorial was expanded in 1980 to include the missing of the Vietnam War. This year, two mosaic maps will be added to the memorial to help tell the story of those who served in the Vietnam War. For more information about the National Memorial Cemetery of the Pacific, click here or contact Nadine Siak, (808) 532-3720.
At Oahu's Pearl Harbor, the Battleship Missouri, known as "Mighty Mo," will be honoring veterans, with special homage to women in the military, at a special sunset ceremony slated to start at 4:30 p.m. on Sunday aboard the ship docked at Ford Island.
Among the featured speakers: Susan E. Cowan, the first woman in U.S. naval history to become an executive officer of a ship of war; Vera S. Williams, the author of "WACs: Women's Army Corps 1942-1978" and "WASPs; Women Airforce Service Pilots of World War II." Other ceremony highlights: The Sound of Aloha Chorus, presentations of color, and a rifle volley salute.
Complimentary round-trip shuttle service from the Pearl Harbor Visitor Center will be offered, starting at 3:45 p.m. For more information about the sunset ceremony, click here.
Tomorrow and on Sunday, the National Park Service will waive entrance fees at nearly 400 parks, including Hawaii Volcanoes National Park (Big Island), Haleakala National Park (Maui) and at Puuhonua o Honaunau National Historical Park (Big Island).
In a news release issued by Hawaii Volcanoes, Cindy Orlando, park superintendent, said: "We are indebted to the sacrifices our veterans have made for our country's freedom and heritage." For more information about the special offerings at national park sites, click here.