Highway Inn Serves Generations of Tradition and Hawaiian Fare 
Eat like locals, with locals.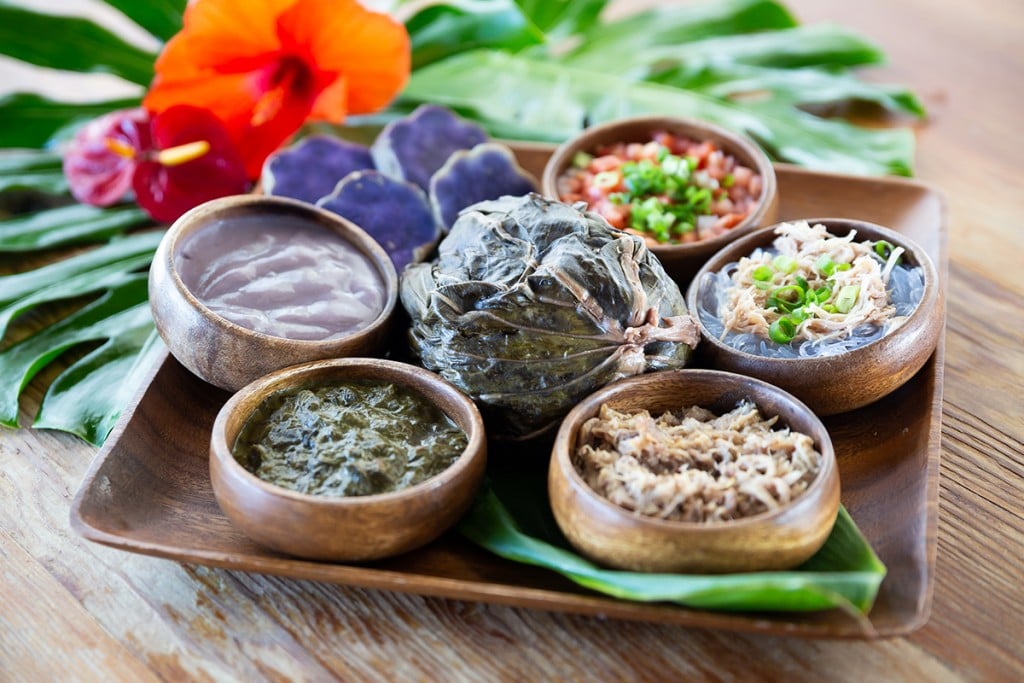 Highway Inn has been a staple in Hawai'i for traditional Hawaiian and local fare for almost 75 years, making it one of the first stops for homesick friends and relatives visiting from out of state. It's also a top choice among visitors looking for a taste of real Hawaiian food and a place where they can eat like locals with locals.
Seiichi Toguchi opened the original Highway Inn in rural Waipahu in 1947, serving Hawaiian dishes that he'd learned to make in restaurants he had worked. He had also gained culinary experience from working in Japanese internment camps in his youth as well as other restaurants, so it was a natural progression in his career. It is still a mainstay for generations of people who live and work in Central O'ahu, but in 2013, the restaurant opened a second location in Kaka'ako, where it found a new—and welcoming—crowd.
"Our restaurant's vibe wouldn't match Waikīkī," explains Monica Toguchi, the original owner's granddaughter who now runs the restaurant. "We wanted a place that would still be easy for visitors to find, but in an area that caters to local customers. It seemed like a natural fit to be a part of Salt Kaka'ako, and it's been so exciting to watch the neighborhood grow all around us."
Toguchi says the restaurant's Tasting Plate is the most popular dish among visitors because it gives them a taste of almost everything, including lau lau, poi, squid lū'au, kālua pig, lomi salmon, chicken long rice and sweet potato. She says the plate is especially perfect for folks trying Hawaiian food for the first time.
Locals, on the other hand, are familiar with everything on the menu, so they usually go for the combo plates that feature two or three of their favorites.
"We love serving and teaching curious visitors about the culture behind Hawaiian food," Toguchi says. "My best advice, though, is to research a little before you come to Hawai'i so you know what you're getting into and can make informed decisions about the menu."
In pre-contact Hawai'i, food was prepared with simple ingredients to reflect the needs of the people. At Highway Inn, the lau lau, poke, poi, sweet potato, squid lū'au and kālua pig reflect the foods of that time. And foods introduced post-contact like chicken long rice and lomi salmon—are prepared in specific traditional ways as well.
"These recipes have been passed down for generations, long before restaurants, or even the concept of dietary restrictions existed. Because of that, we can't alter the dishes that we serve. But we hope you enjoy what we have to offer and can get a glimpse of the unique culture through the food we serve," Toguchi explains.
Not everything is Hawaiian at Highway Inn. But all of the dishes are longtime local favorites, like smoked meat, fried rice, loco moco, sweet bread French toast and more. Although both the Waipahu and Kaka'ako locations have similar menus, you'll find a few items exclusive to each. The Waipahu restaurant serves more old-school dishes, like pork chops with brown gravy, deep-fried butterfish collar and corn beef hash and eggs; Kaka'ako leans a little more contemporary, with fresh fish tacos, seared 'ahi salad and kūlolo or poi fudge brownie a la mode.
For more information, visit myhighwayinn.com. For updates and current specials and promotions, follow @myhighwayinn on Instagram.