How to Make Hawaii-Style Shoyu Chicken. Two Recipes.
Juicy, sweet-and-salty shoyu chicken is an Island favorite that deliciously showcases Hawaii's cultural fusion.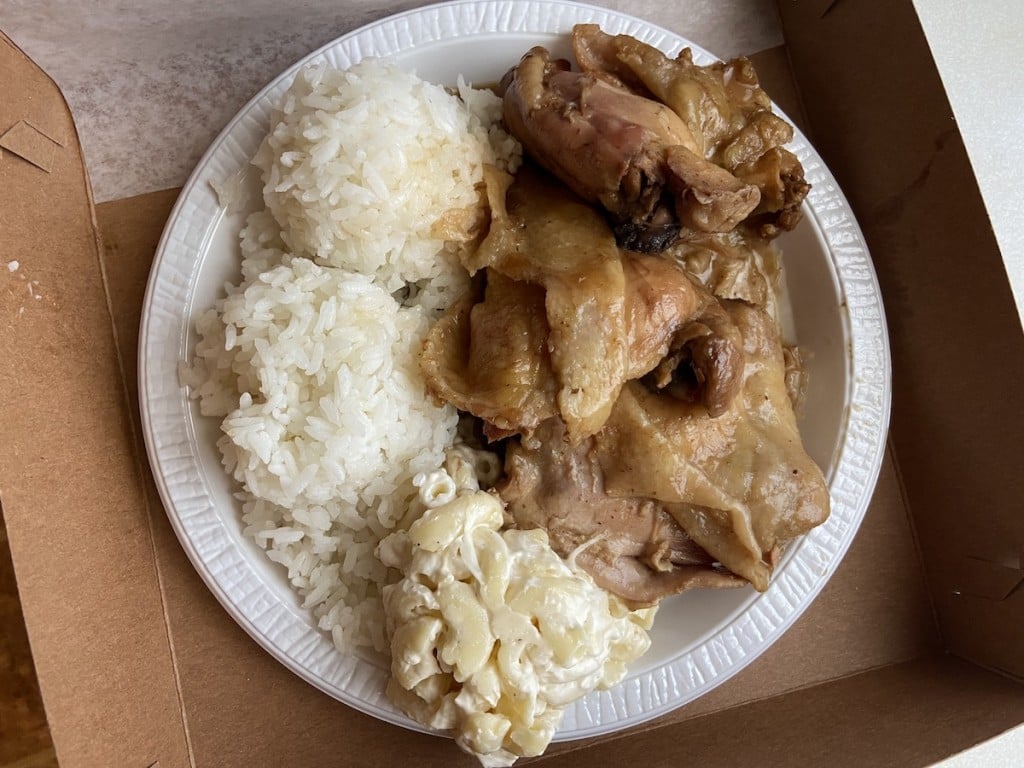 One of Hawaii's most popular plate lunch dishes, deliciously showcasing the state's cultural fusion, is shoyu chicken.
Shoyu, a borrowed Japanese word for soy sauce, adds saltiness and umami to otherwise ordinary chicken. The shoyu juices and chicken grease are perfect for sopping up with heaps of steaming white rice. The dish goes down even better with a side of creamy mac salad. You'll wonder how anyone can stop with just a mini-bento of the stuff.
The best part is, for all of its densely packed flavor, shoyu chicken involves just a handful of ingredients and is relatively straightforward to make. And, you'll probably want to make a lot—many swear shoyu chicken tastes even better the next day. We've included two recipes for Hawaii-style shoyu chicken for you to try at home.
Both recipes are reprinted with permission from the "Look What's Cooking in Makawao" cookbook, a curated selection of cherished historical and modern-day recipes from the residents of the Upcountry Maui town of Makawao. Spanning decades of home-cooked meals, the book intertwines details of recipe authors, their town and the area's unique paniolo culture with community-favorite recipes. Inside are recipes for a 1920s "war cake," cowboy stews, treats from the locally popular Komoda Store and Bakery and a pao dulce (Portuguese sweetbread) recipe by Makawao legend Rose Cambra Freitas—the first and only woman from the state of Hawaii to have been inducted into the National Cowgirl Museum and Hall of Fame. The whole book is available for $20, a fundraiser for the Makawao History Museum. To get a copy, visit the museum in its new location or send them a message via their Facebook page.
Ready to cook? Without further ado… bring on the shoyu!
Shoyu Chicken #1
(by Marilyn Morikawa, page 61, who notes this recipe is used to feed hungry volunteers at Makawao's Hongwanji Mission Buddhist Temple.)
1 cup Kikkoman shoyu (soy sauce)
½ cup water
1 cup sugar
1 piece ginger, peeled and crushed
2 cloves garlic, peeled and crushed
1 tablespoon oyster sauce (optional)
1 tablespoon Mirin (optional)
5 lbs. chicken thighs
Peel and crush ginger and garlic. Combine with all other sauce ingredients in a large pot. Add chicken. Bring to a boil. Lower heat to medium and continue cooking for 30 minutes or until done.
Shoyu Chicken #2
(by Leslie Frankel of The Pukalani Club House, page 62)
6 chicken thighs, bone in
1 cup shoyu (soy sauce, any brand)
1 cup sugar
1 cup water
1 tsp. sesame seeds
1 green onion stalk, chopped
Add shoyu, sugar and water together in a large pot. Add chicken to mixture. Bring to a boil on stove top, then reduce to simmer for 15 minutes. Remove from heat. Remove chicken from pot. Return pot to simmer and reduce remaining liquid for 10 minutes. Pour mixture over chicken; garnish with sesame seeds and green onions.
For mac salad recipes, this dish's perfect compliment, click here.
And… once you've tried either of these recipes, we want to know how it turned out! Share your photos and tag us on Twitter and Pinterest or leave your comments and reactions on our Facebook page!