Making Family Memories on Molokaʻi
Traveling to the Friendly Isle with a toddler is easy if you just relax.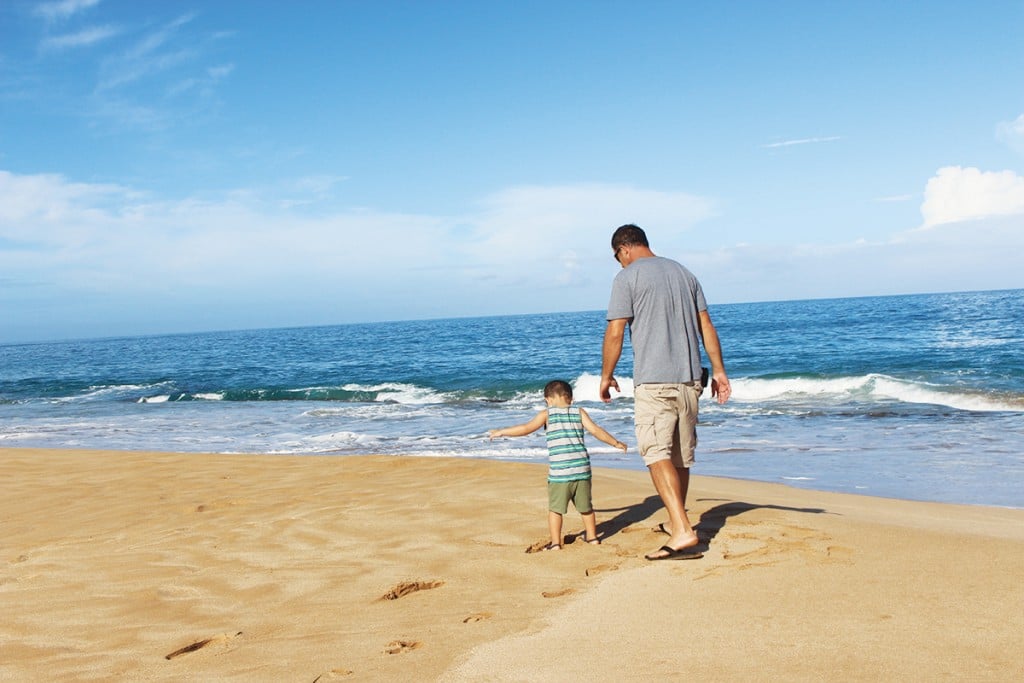 There aren't many situations more stressful than getting on a plane with a toddler.
But I had wanted to spend a relaxing weekend at a beach house on Moloka'i—just my husband, our son, another couple and me. It was the "our son" part that complicated the plan.
I calculated what I needed for two nights and almost three full days, factoring in my kid's attention span, which was, at best, 10 minutes. That meant a ton of toys and books—and enough snacks to feed an entire preschool for a week.
Because, after all, I was heading to Moloka'i, among the quietest and least-visited of all the main Hawaiian Islands. You won't find major resorts here. No spas, no fancy restaurants, no water parks. It's the kind of place where you go when you really want to disconnect. You can escape into a book on the secluded 3-mile stretch of Pāpōhaku Beach or wander in the otherworldly Pēpē'ōpae Bog in the mountains of East Moloka'i.
These things are difficult to do with a toddler who doesn't stop moving.
So I ditched any plans for adventure and decided what we were going to do on Moloka'i was simply this: hang out at the beach, eat takeout and hope the Wi-Fi works.
I booked a two-night stay at one of the two beach houses on the rugged eastern coast of Moloka'i managed by the family-run Dunbar Beachfront Cottages. The Pauwalu beach cottage had everything we needed: two bedrooms that slept four comfortably, a safe beach where we could swim and fish, and a kitchen that's bigger than my own. There's a washer and dryer to use—key with kids—a covered lānai (balcony) where we drank wine at sunset and great Wi-Fi. Thank God.
After we arrived, we immediately stopped at Friendly Market (90 Ala Mālama Ave.) in Kaunakakai, a 15-minute drive from the airport. This neighborhood market is fully stocked with everyday essentials. We got steaks, veggies, eggs, potatoes, bananas, beer, wine, gummies—everything we needed for a weekend at the beach. And since the drive to the cottage would take half an hour—and we knew we'd be too hungry to cook when we got there—I ordered two pizzas from Moloka'i Pizza Café (15 Kaunakakai Place), a popular spot on the island, especially since it's one of the few places that's open late (meaning 10 p.m.). The casual eatery serves more than just pizza—though that's always been my go-to whenever I'm on Moloka'i—like burgers, pastas, sandwiches, salads, chicken wings and barbecue baby back ribs.
We spent the evening lounging on the lānai and listening to the waves lap up on the beach just a few feet away. The kid slept soundly in an inflatable bed we brought with us. I credit the ocean lull for that.
The next two days looked very similar: We ate on picnic tables outside, the guys fished, the kid played on the beach. When he napped, I read. It was way more relaxing than I had imagined.
On our final day on Moloka'i, right before we went to the airport, we stopped for breakfast at Kanemitsu's Bakery and Coffee Shop (79 Ala Mālama Ave.) in Kaunakakai, a must-stop for fresh, hot bread that can be slathered with cream cheese, cinnamon, butter or sweet strawberry jams. Then we hit Pāpōhaku Beach (West End Mile 14.9 Kaluako'i Road), an hour drive from the beach house (but without traffic, it was such a pleasant drive). At nearly 3 miles long and 100 yards wide, this beach is one of the longest white-sand beaches in Hawai'i. It's not the best for swimming—the shorebreak can be treacherous—so we just walked. And walked and walked. And on this late Sunday morning, there were only three other people on the entire beach. That would never happen on O'ahu.
I may have been stressed before the trip, but thanks to Moloka'i and its laid-back vibe, I was definitely relaxed by the time I got home.