Your Rainy Day Itinerary on Oʻahu
There's still plenty to see and plenty to do, so don't let the weather dampen your plans.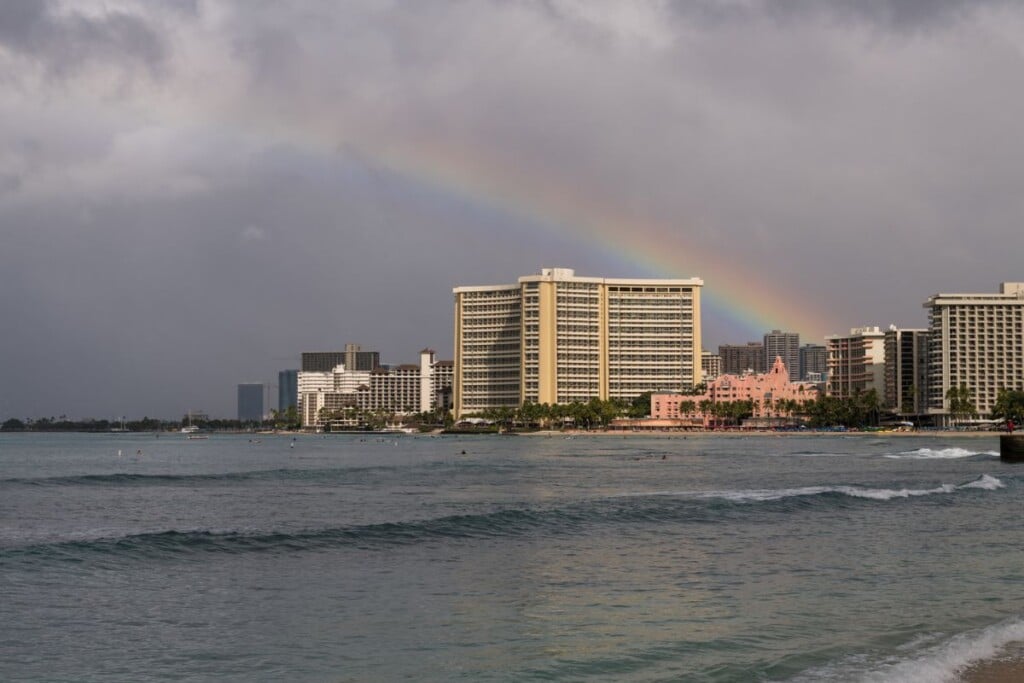 Regardless of the season, Hawaiʻi lures travelers with its warm weather, clear skies and cooling trade winds.
But that doesn't mean all seasons in the Islands are equal. Take the rainy season, which runs from November through March.
This February, Hawaiʻi experienced a storm system referred to as a Kona low, a type of subtropical cyclone in which winds reverse direction and bring moisture-rich air over the Kona—the west or leeward—side of the Islands' mountains. Usually, trade winds blow over the Islands from the northeast. This year, a Kona low resulted in heavy rain and thunderstorms across the Islands—both leeward and windward sides, and a dusting of snow not only on the peaks of Mauna Loa and Mauna Kea, but also at the Mauna Kea Visitor Information Center.
Rainy weather in Hawaiʻi doesn't just bring gray skies. It also delivers vibrant rainbows, dense flora to hills and valleys, and cascading waterfalls along the verdant Koʻolau Mountains. Still, the wet winter months do mean fewer opportunities for outdoor fun like going to the beach or hiking in the mountains. But for visitors to Oʻahu who booked their vacations for the rainy season, there's no reason to cancel – or to worry that you'll be confined to your hotel rooms for the duration. Instead, prepare for days packed with out-of-the-box activities, exquisite food at buzzworthy restaurants, shopping at unique bookstores and so much more. Here's what to do on a rainy day on Oʻahu.
Start the morning at a cozy coffee shop in Kaimukī
Curious travelers can take a 10-minute drive from bustling Waikīkī to Kaimukī. The quiet neighborhood is home to several cozy cafés—each of them an ideal place to start the morning, rain or shine. Here, local favorites include The Curb, Talk Kaimukī (formerly Coffee Talk) and Bean About Town, which all dot Waiʻalae Avenue. Both The Curb and Talk Kaimukī welcome customers to sip and sit inside; Bean About Town offers outdoor seating only, but the café is in a little nook protected from the elements.
Glide on ice at Hawaiʻi's only ice-skating rink
Ice skating is probably not the first activity that comes to mind when planning a trip to Hawaiʻi, but why not embrace the season's chillier weather? After fueling up with caffeine in Kaimukī, head to Central Oʻahu to the Ice Palace, the only ice-skating rink in the Islands. The Ice Palace, which first opened in 1982, shut down at the start of the Covid-19 pandemic, using the time to revamp its interior with a new snack bar, bleachers and an updated party area. Nearly three years later, the Ice Palace finally reopened. Admission is $16 for all ages, which includes a one-time entry fee and skate rental. Check the business's website for the most up-to-date hours.
4510 Salt Lake Blvd., Hālawa, icepalacehawaii.com.
Feast at Waikīkī's new food hall
Hopefully making laps around the ice rink has left you famished because visiting Waikīkī's new food hall with a big appetite is a must. Formerly Waikīkī Yokocho, Stix Asia is a gourmet food hall celebrating the bright and diverse flavors of Asia. Here, diners can hop between 13—soon to be 17—eateries to chow down on Taiwanese noodle soup, handmade udon noodles, mouthwatering Korean street food and specialty matcha desserts. The food hall is a collection of both esteemed restaurants like Ramen Baikohken, a popular Japanese ramen shop in Hokkaido featured in the Michelin Guide, as well as new establishments like Japanese-style hot-pot specialist Nabe ʻAina. When it's chilly outside, a steaming bowl of ramen or piping hot nabe comforts and satisfies. And because you can't find these restaurants anywhere else in the Islands, spend the afternoon sampling as many dishes as you can.
Waikīkī Shopping Plaza, 2250 Kalākaua Ave., Lower Level 100, stixasia.com.
Get lost in a novel from a local bookstore
Oʻahu boasts an eclectic array of local bookstores across the Island. From Bās Book Shop and Native Books in Chinatown to da Shop in Kaimukī and BookEnds in Kailua, book lovers can get lost among the shelves of bestsellers, biographies, novels, Hawaiian literature and gently used books, too.
Unearth history and appreciate contemporary art at the island's museums
From artifacts brought to the Islands by early Polynesian settlers to the works of local and international artists, there is plenty to see and learn at local museums. Oʻahu is home to Bishop Museum, the largest museum in the state, named after Princess Pauahi Bishop, a descendant of King Kamehameha I. Located in Honolulu, the museum houses an impressive collection of Hawaiian artifacts and royal heirlooms. Another prevailing symbol of the Hawaiian monarchy is ʻIolani Palace, the only royal palace on U.S. soil. Visitors can tour the palace to view royal portraits and priceless regalia. Not far from ʻIolani Palace is the Honolulu Museum of Art, with a collection that includes 50,000 pieces spanning 5,000 years.
Brave the rain to catch a rainbow from the beach
Sure, you can spend the entire day indoors, but those who brave the weather might end up with some of the most memorable vacation moments. This doesn't mean embarking on a treacherous hike with potential for dangerous flooding and landslides. Instead, head to your favorite cove or coast with an umbrella and dry towels (pro tip: pack extra towels). Not only will you have most of the beach to yourself, you'll probably be rewarded with a rainbow too. Hawaiʻi is known as the Rainbow State, after all. Go 'Bows!