Surprise! 10 Activities You Didn't Know You Could do in Hawaiʻi
Planning a trip to the Islands? These activities will get you thinking out of the box.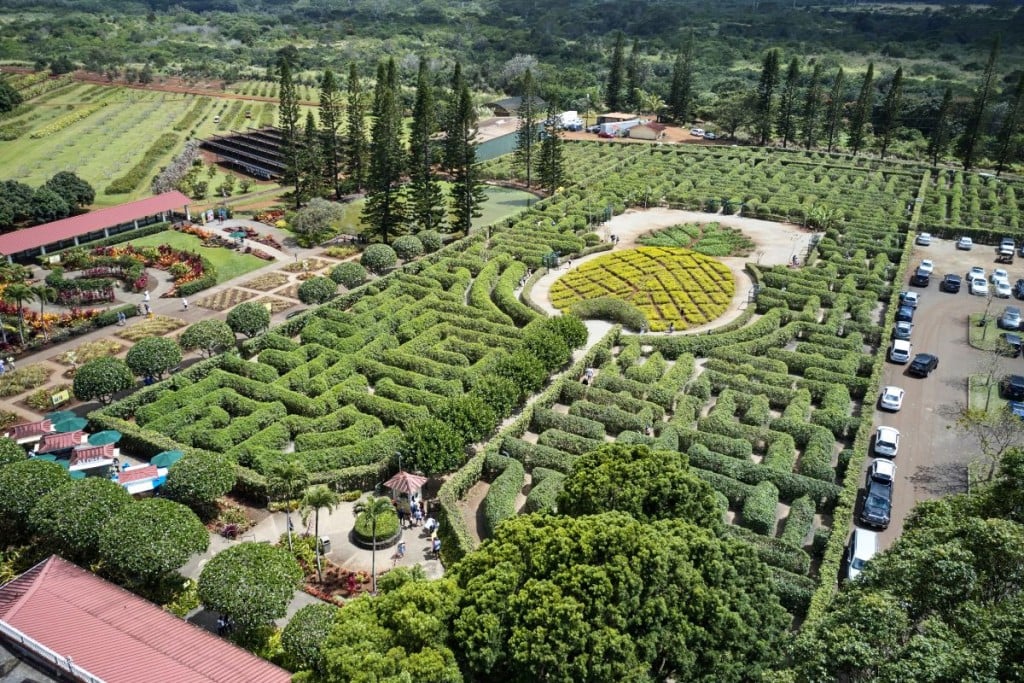 Did you know you can visit a replica of a UNESCO World Heritage Site on Oʻahu? And that you can purchase a novel from the westernmost bookshop in the United States in Hawaiʻi? If you're searching for out-of-the-ordinary experiences in the Islands, check out these ideas. The possibilities are sure to surprise.
1. Take a stroll through the largest Edo-style Japanese garden outside of Japan
Located on Hilo's Banyan Drive on the island of Hawaiʻi, Queen Liliʻuokalani Park and Gardens is a peaceful Edo-style Japanese garden. Named after Hawaiʻi's last reigning monarch, the park is also a tribute to the first Japanese immigrants to Hawaiʻi. Stretching across 24 acres, park visitors will find fishponds, rock gardens, pagodas and Japanese stone lanterns, as well as a red torri, a traditional Japanese gate. Travelers can also take a short walk over a footbridge to Moku Ola, a small islet also known as Coconut Island. For a mellow time, set up a picnic, join a tai chi class or just take in the expansive views of the town and Hilo Bay from the largest Japanese-style garden outside of Japan. And it's right in Hilo. Who would've thought!
2. Visit a replica of a 950-year-old Buddhist temple
Travelers who make it to the end of the meandering road at Valley of the Temples Memorial Park on O'ahu will find the majestic Byodo-In Temple. Nestled in the foothills of the Koʻolau Mountains, the striking structure is a replica of the 950-year-old Byodo-in Temple in Uji, Japan, which is a UNESCO World Heritage Site. The temple in Kāneʻohe was built in 1968, and like Queen Liliʻuokalani Park and Gardens, it commemorates the 100th anniversary of the first Japanese immigrants to Hawaiʻi. Far from the bustling streets of Waikīkī, the nondenominational temple is serene and open to all.
3. Explore a global cultural museum that was once home to heiress Doris Duke
On the slopes of Lēʻahi, also known as Diamond Head, is the former home of billionaire heiress and philanthropist Doris Duke. Often called "the richest little girl in the world," the late Duke pursued an array of hobbies, from piano and horticulture to surfing (she learned from Duke Kahanamoku). And her extensive world travels resulted in priceless art collections. Her former home on Oʻahu, Shangri La, is adorned with beautiful treasures from her travels throughout North Africa, the Middle East and South Asia. The home overlooks the ocean and is overseen today by the Doris Duke Charitable Foundation. The property is a center for Islamic art and culture, and guided tours are available through the Honolulu Museum of Art.
4. Get lost in a giant pineapple garden maze
In 2008, Dole Plantation's pineapple garden maze was declared the world's largest maze. While it no longer holds the title, the maze on Oʻahu is one of the few permanent botanical mazes in the U.S. Here, visitors navigate a labyrinth of tropical flora stretching 3 acres and nearly 2.5 miles of walking paths. After making your way out of the maze, reward yourself with a refreshing Dole Soft Serve.
5. Crack coconuts at a rare coconut tree farm
Look in any direction in Hawaiʻi and you'll likely spot a coconut tree. Although the Aloha State is dotted with them, it's still rare to come across a full-blown coconut tree farm. On Maui, Punakea Palms is the only coconut farm on the island, and most likely in all of Hawaiʻi. The family-run farm offers educational tours through its grove of coconut trees, expounding on the plant's growing stages, the utilitarian uses of its husks and coir (coconut fiber) and how coconut trees even got to Hawaiʻi. And one of the most exciting features of the tour is the tasting. Visitors identify the different flavors of pure coconut water from coconuts at various stages of maturity. Following a trip to Punakea Palms, visitors leave as coconut connoisseurs, which just might come in handy during the rest of their stay in Hawai'i. After all, coconut is a quintessential flavor and ingredient in many of the cocktails and treats associated with the Islands.
6.
Pet miniature animals on the slopes of Mauna Kahālāwai
Animal lovers need to bookmark Lahaina Animal Farm and Petting Zoo. This isn't just any petting zoo; it's a miniature animal farm, with mini horses, mini cows, even a mini pig. At the farm near Punakea Palms, visitors can feed and pet the horses, fluffy cows, tiny goats and adorable pigs. But that's not all. The farm also has a 37-year-old tortoise and some New Zealand rabbits, which are actually quite large (males can grow up to 11 pounds and females are even bigger). The farm is an attraction off the beaten path that thrills kids and adults.
7. Play with hundreds of cats on Lānaʻi
Many know the island of Lānaʻi for its luxurious resorts. However, it's also home to the Lānaʻi Cat Sanctuary. The nonprofit rescues cats from Lānaʻi City and areas where native and endangered birds like the ʻuaʻu, or Hawaiian petrel, create ground nests. The center cares for more than 600 rescued cats—and welcomes all to spend a day playing with them.
8. Go on an Indiana Jones-esque adventure through one of Hawaiʻi's richest fossil sites
The Makauwahi Cave on the south shore of Kauaʻi is the largest limestone cave in Hawaiʻi and one of the richest fossil sites in the Islands. The cave began forming more than 400,000 years ago as a sand dune that turned to limestone. About 7,000 years ago, the ceiling collapsed resulting in a natural amphitheater. Today, visitors can enter the cave—a natural wonder unique to Kauaʻi—to learn more about where paleontologists and archaeologists have unearthed pollen, seeds, animal bones and ancient Polynesian artifacts.
9. Get spooked on a Hawaiian ghost tour
It's not all blue skies and sunshine in Hawaiʻi. Generations of residents are well versed in sharing local ghost stories and superstitions that can send chills down any visitor's spine. One expert in telling these frightening stories is Lopaka Kapanui. For more than 20 years, Kapanui has led ghost tours through Oʻahu's most supernaturally active streets. His Mysteries of Hawaiʻi tours teach locals and visitors alike about Hawaiʻi's spiritual history and culture. Kapanui shares legends and oral traditions of mysterious sightings and haunted places with evidence from historical accounts and newspaper clippings. The tours are not only extraordinary out-of-the-box chicken-skin experiences, they're an opportunity to experience Hawaiʻi beyond its more popular attractions and lūʻau.
10. Buy a book from the westernmost bookstore in the U.S.
Situated in Kauaʻi's Hanapēpē town, Talk Story Bookstore is the westernmost book shop in the U.S.—and it's a book lover's paradise. From bestselling novels to beloved recipe books and vintage comics, the local book shop has something to interest every reader. Stop by the charming bookstore in the old sugar town to browse an impressive collection of new and used titles as well as rare, out-of-print books.