See Some of the Rarest Plumeria in the World on this North Shore Farm Tour
Little Plumeria Farms on Oʻahu's North Shore is every plumeria lover's dream.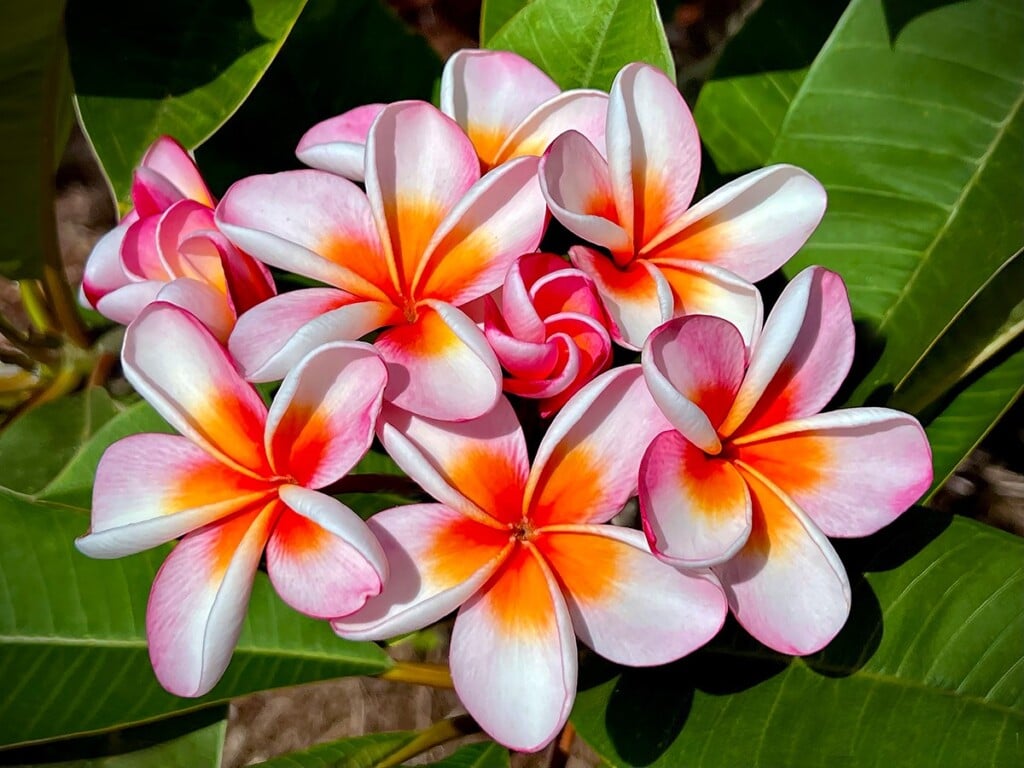 Jim Little has been in the Hawaiʻi plumeria business for 50 years. Growing and cross-pollinating plumeria—known in Hawaiian as melia—since 1973, as Jim Little Nursery & Farms, Little has produced some of the most vibrant, fragrant and unique plumerias in the world. From ruffled flowers to plumeria in stunning shades of red and yellow, these are not your average lei flower but works of art. And now, after five decades of growing his crop, visitors and locals can visit Little Plumeria Farms during weekly farm tours led by his son, Clark Little—you may have heard of him—and Clark's son, Dane Little.
So how did three generations of Littles end up deciding to share the farm with others? It all started with Dane, who after returning home from college wanted to give something new a shot and began helping his grandfather sell plumeria seeds on eBay. And he learned how to farm and cross-pollinate from his grandfather. Seeing that his son was interested in the business, Clark Little—yes, the famous shorebreak and ocean photographer—also got on board, and before long the three Littles got to work getting the farm ready for tours with the idea of spreading aloha and the beauty of the land with others.
Preparing the farm, however, was no easy feat and involved some hard labor. The Littles had their hands full on a two-year project that included the removal of invasive trees and species that had taken root on the farm, as well as putting in a driveway and automated irrigation systems. Fortunately, the hard work paid off. They started up their tours on May 1, 2023—Lei Day—and going by the smiles on their faces, tourgoers couldn't have been more pleased.
Public farm tours are an hour long and give guests a chance to stroll around the plumeria farm with Dane or Clark as they talk about some of the rare and one-of-a-kind hybrid plumerias on the property. The scent of plumeria fills the air around the farm and visitors will likely smell the place before they even get there. And once they do, their visual senses are treated to panoramic views of Oʻahu's North Shore, from Mokulēʻia all the way down to Haleʻiwa. The Littles also teach tourgoers about the various stages of plant growth in their nursery, where they crossbreed plumeria and produce seedlings. They won't know what the actual flowers from any crossbreeding will look like for two to five years after planting.
The farm also hosts private tours on Tuesdays and Thursdays. Not only will you be able to see not-yet-released hybrids from the Littles' collection, but each person on a private tour receives a signed copy of Jim Little's book, Growing Plumerias in Hawaii and Around the World—and gets to choose a USDA-approved plumeria cultivar to take home.
Whether you decide to go on a public or private tour, the overall beauty and majesty of the farm can't be ignored. It's so quiet up in these hills. The fragrant smell of plumeria follows you wherever you go, and tour guides Dane and Clark Little show nothing but aloha to guests. And the flowers: Some are so dynamic and unique, their vibrant shades resembling the colors of the sky lit up by a Hawaiʻi sunset, that they demand your attention. These are, without a doubt, some of the rarest plumerias in the world, and you can only see them here.
"It's a labor of love," says Jim Little. "But the smile on people's faces when they come here, that's priceless."
General tours are $45 for adults, $25 for kids and are held every Monday, Wednesday and Friday. Private tours are $250 for adults, $125 for children, and are held every Tuesday and Thursday. Book your tour here.