Sumida Farm, in the heart of Aiea, is a small farm with a big story
Located right next to Pearlridge Mall, the biggest watercress producer in the state is something of an urban marvel.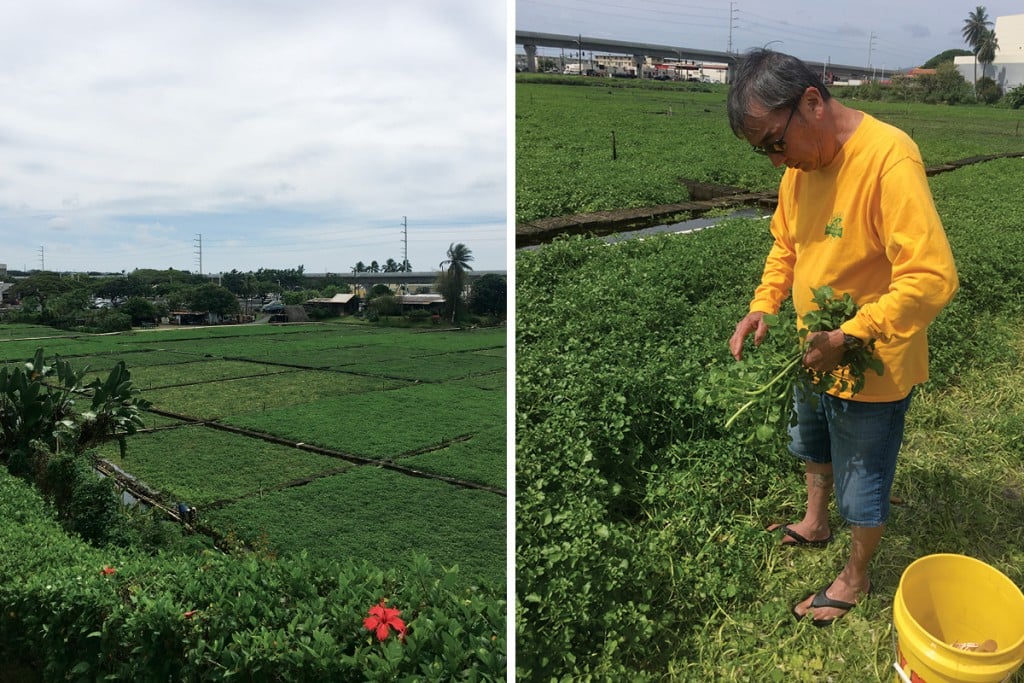 David Sumida slices off two bundles of watercress with his sickle. He's ankle deep in the water of Sumida Farms. His watercress grows in gravel, not soil, in spring water that comes fresh from the aquifer. It must always be running, and it's clean enough to drink, he says. Not far away, sirens wail down Kamehameha Highway, but they feel distant in this vast, open space of greens and water—so rare in Aiea's bustling commercial zone.
"I love it here," he says, looking out onto the fields. 
Before a bout of chemo kept him away, he'd been working the ten acres with his sister Barbara since 1982. The Sumida family has owned a piece of it since 1928, when two Japanese immigrants from Hiroshima decided plantation life wasn't for them, and bought a small plot. "Their neighbors taught them how to farm, because they didn't know how," says Sumida of his grandparents. 
Now, they're the biggest watercress producer in the state, accounting for 70 percent of the crop, and their farm has become something of an urban marvel. Shopping centers border the property on four sides, while a scant few feet separate its edge from the highway. Development isn't coming to Sumida—it found him long ago.
The Pearlridge Center standoff is a well known story, a David-versus-Goliath tale of farmers against developers. The minds behind the new mall's construction had been powerful enough to take away the family's Kamehameha Schools lease, Sumida says, but his father fought back. As the first president of the Hawaii Farm Bureau, he had a fair number of politicians and businessmen friends willing to rally to his side for a resounding victory.
But, the dust from that battle has been settled for decades. Half a century later, he calls the Pearlridge Center's manager a good friend, and the mall shows no threat of expanding into his space. His father ensured the Center's plans included runoff control, and the road isn't producing any serious pollution. Now, big concerns are little pests: the diamondback moth and the ruddy turnstone bird, who wreak havoc on the tender plots.
And the future, of course. While Sumida has installed sprinklers to wash away moth eggs, and bird nets to thwart the plovers, the farm's future is less easily solved. 
"Sometimes I worry," he says hesitantly. "About who's going to take over, and what would be their intentions. I don't really want it to change." His kids live on the mainland, pursuing their own dreams, as Sumida—who has one tattoo representing each of his three children peeking out of his shirt sleeve—has always encouraged them to. Perhaps, though, he muses, a non-family member will take some interest, or a company with the right kind of passion Sumida's farm deserves. 
Then, dismissively, "But it's kind of far down the line still. I'm not really sure what's going to happen," he says. Besides, he points out, the lease has a good decade left in it, Sumida isn't planning on retiring, and Barbara's got an expert handle on the place. They have a great team of workers, and a community of buyers with a demand for watercress that's more than they could ever fill. For now, things are all right. He says, "we just do the best  we can."