The 12 Oʻahu Restaurants You Need To Try on Your Next Vacation
Here are some of the trendiest eateries on Oʻahu.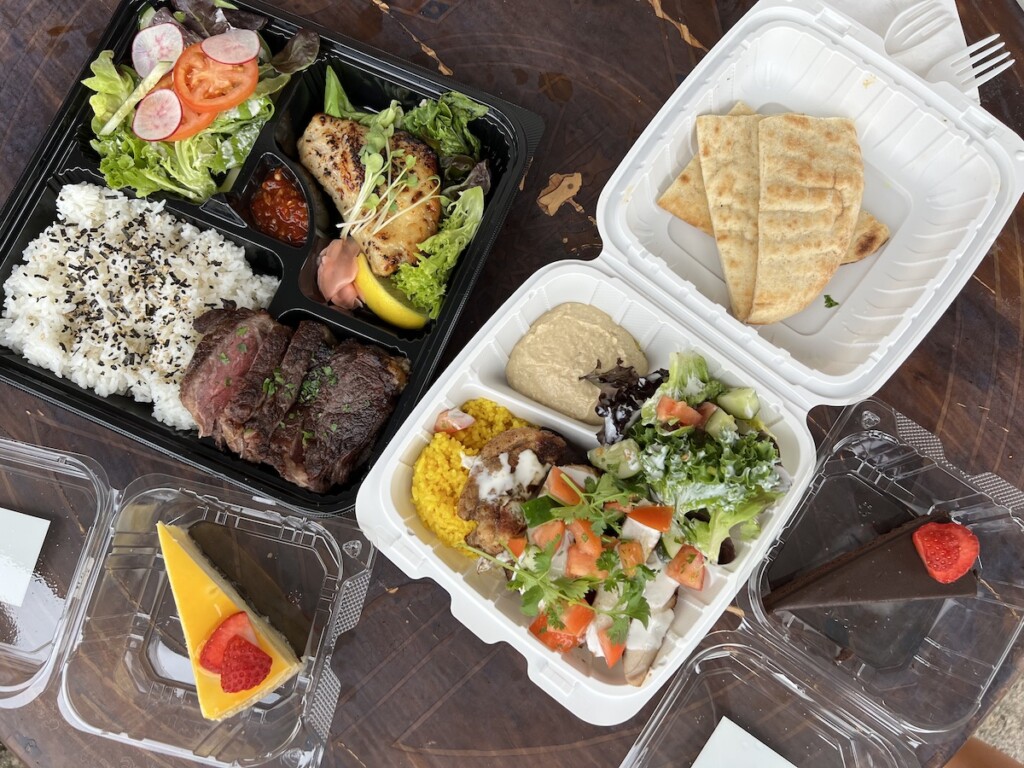 From restaurants helmed by James Beard Award winners to hole-in-the-wall eateries that have been around for generations, Oʻahu boasts a wide array of restaurants, cafés, bakeries, food trucks and takeout spots that will satisfy every craving. Here are 12 of the hottest—and coolest—eateries on the island that you need to add to your itinerary for your next Oʻahu vacation.
Fête, Chinatown
View this post on Instagram
This year chef-owner Robynne Maiʻi won a James Beard Award—the first Hawaiʻi chef since 2003 and the first female chef from Hawaiʻi ever—and her Chinatown restaurant has only gotten more popular. Fête's menu is a mix of French, Italian, Korean and local dishes and flavors, with twists on classics like her carbonara with Portuguese sausage and a Korean bavette using local beef and her grandma's kochujang sauce. Reservations are highly recommended. fetehawaii.com
Westman Café + Lounge, Waikīkī
Westman Café + Lounge in Waikīkī opened this year serving breakfast and brunch with standouts including the fluffy Japanese-style soufflé pancakes with Big Island honey and a decadent wagyu loco moco paired with roasted Brussels sprouts. The spacious eatery has high ceilings and a laid-back vibe, with veranda seating overlooking Kalākaua Avenue. Plus, the cocktail list is great. @westmancafe
The Farm Café at Kahuku Farms, Kahuku
What's grown on this family-run farm is what's served at the farm café. Popular entrées include the grilled veggie panini, the farm pizza on an eggplant-tomato bruschetta and its super-fresh smoothies. One of its most unique offerings, though, is the farm's açaí bowl, which is made using the berries of the South American palms grown and processed on-site. kahukufarms.com
Aloha Donut Co., Moʻiliʻili
If you've ever been to Pāʻina Café in Las Vegas, you'll be familiar with these mochi doughnuts. Aloha Donut Co. serves a variety of soft, chewy doughnuts made from mochi flour (Japanese rice flour), which gives the pastries a unique texture. Flavors change but you'll often find lilikoʻi (passion fruit), guava and taro. @alohadonutco
Koko Head Café, Kaimukī
In a newer, bigger location in Kaimukī, Koko Head Café has been a popular brunch spot for years. Helmed by "Top Chef" alum Lee Anne Wong, it serves her unique take on breakfast classics, infused with a ton of local ingredients and flavors. Must-try dishes include the cornflake French toast with billionaire's bacon and Frosted Flakes gelato, poke omelet and the Koko Moco, Wong's take on the loco moco with a local beef patty, garlic rice, mushroom gravy and tempura kim chee. kokoheacafe.com
Kapa Hale, Kāhala
View this post on Instagram
One of the most buzzed-about restaurants, Kapa Hale in Kāhala opened during the pandemic—and still managed to garner loyal customers who return for chef-owner Keaka Lee's creative dishes. Though his menu changes often—he uses a lot of seasonal ingredients and likes to keep things interesting—popular dishes include fresh garlic naan you dip in a spicy tikka masala sauce, fried Brussel sprouts with pickled cranberries and a flavorful duck ramen. Brunch is served on weekends. Reservations are highly recommended. kapahale.com
Over Easy, Kailua
One of our favorite brunch spots in the Windward Side is Over Easy, run by a husband-and-wife duo who changed Oʻahu's brunch game with its stellar breakfast dishes. Try the crispy-edged pancakes, often infused with seasonal flavors, or the kālua pork hash with lomi tomatoes and Okinawan sweet potatoes. One of the more unique dishes is the potato n' eggs with thick-cut French bread stuffed with a sweet tomato jam, then drenched in a creamy potato purée and topped with bacon crumbles and a 7-minute local egg. Go early; lines can be long. overeasy.com
Feast, Mānoa
Run by local chef Jon Matsubara, Feast in Mānoa offers a mix of local-style plate lunches—the Hilo-style hamburger steak is a fave—and $30 lobster rolls. Other must-trys include a shawarma plate with falafels, butter-poached garlic steak and Jonny's fried chicken with what he calls a "firebird sauce" and potato mac salad. There are a handful of seats inside, but order take out and picnic at nearby Mānoa Valley District Park. feastrestauranthawaii.com
Fig & Ginger Honolulu, McCully
What started as a pop-up charcuterie company is now a brick-and-mortar brunch spot that serves cinnamon-poached fig waffles, mashed avocado toast and omelets. But we love that you can still order its gorgeous charcuterie boards, too, to share with friends. fghonolulu.com
Beer Lab HI, various
View this post on Instagram
One of the most exciting craft beers on Oʻahu is Beer Lab HI, started by three Pearl Harbor engineers who love to experiment with flavors and techniques. It offers limited-release brews at its three locations, and its unique offerings include a kiawe-smoked American stout, an ale with li hing and starfruit, and a hazy IPA that tastes like a Creamsicle. Its Pearlridge location boasts great food, too. beerlabhi.com
Agnes' Portuguese Bake Shop, Kailua
Don't want to stand in line at Leonard's Bakery for malasadas? Head to Kailua for made-to-order malasadas from this food truck. The deep-fried Portugueses doughnuts are crispy on the outside and generously doused in white sugar. Order ahead so you don't have to wait. @agnesbakeshop808
Nami Kaze Hawaiʻi, Honolulu
View this post on Instagram
One of the newest and most Instagrammed restaurants right now is Nami Kaze, which serves brunch during the day and izakaya-style small plates at night. The brunch menu showcases chef-owner Jason Peel's creative flair: custard French toast with mango lime coulis and coconut tapioca, honey-walnut shrimp brown-butter waffle, and an omelet with tomatoes and mentaiko (pollock roe). Dinner is exceptional, with dishes highlighting Hawaiʻi's local produce, including abalone, lobster and kampachi farm-raised on Hawaiʻi Island. Sushi is served at both brunch and dinner, too. namikaze.com