The 5 Best Hawaiʻi Island Beaches in 2021
From Hāpuna Beach to Makalawena Beach, Hawaiʻi Island is home to a wide variety of pristine shorelines, and here are a few of our favorites.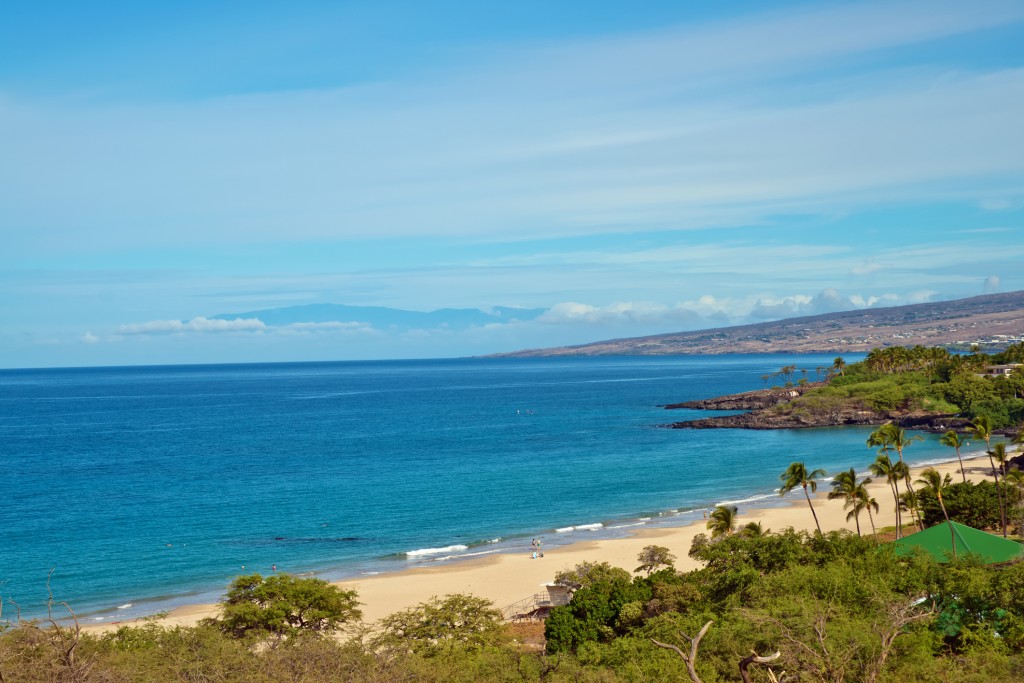 The beaches on Hawaiʻi Island are some of the best in the state—and there are a lot of them. Due to the island's ever-growing coastline and massive size, there are hundreds of beaches dotted along the Big Island, some of which can't be found in magazines or on websites. Even the ones that are easy to find are real gems in their own rights, from the seemingly endless stretch of coast found at Hāpuna Beach to the strikingly dark and coarse sands of Punalu'u Black Sand Beach. Our readers voted on their five favorite beaches on Hawaiʻi Island, and you can see the winners below!
1. Hāpuna Beach
One of the longest stretches of sand on Hawaiʻi Island's western-facing shoreline, Hāpuna Beach should be on every visitor's itinerary. The beach, which comes in at half a mile long, is known for its sandy shore break that is perfect for families to play in as it never gets too large or unruly. When you're done, there's more than enough room on its shoreline to find a place to lay down your towel and get some much-needed R&R.
2. Punaluʻu Black Sand Beach
Where else in Hawaiʻi can you see volcanic black sand as well as resting honu (Hawaiian green sea turtle)? Not many places, that's for sure—and that's what makes Punaluʻu Black Sand Beach so special. The waters of Punaluʻu Black Sand Beach are a bit more tumultuous than other Hawaiʻi beaches, due to wind conditions, currents and an active shore break, so it is not recommended that travelers get wet here. However, there are numerous picnicking areas to choose from, some of which are shaded by tall, green palm trees, which provide a pleasant place for visitors to unwind.
3. Mauna Kea Beach
Also known as Kaunaʻoa in the Hawaiian language, Mauna Kea Beach has got enough sandy real estate to comfortably fit those staying at the gorgeous Mauna Kea Beach Hotel, as well as visitors and locals. It's that big. With a sand bottom stretching out as far as you can swim, Mauna Kea Beach is a perfect place for families to cruise the day away—especially keiki (kids) as this section of coastline is partially protected from large swells and turbulent conditions.
4. Kahaluʻu Beach
Located right next to the town of Kailua Kona, Kahaluʻu Beach is known for being one of the Big Island's best snorkeling spots. Its waters are filled with fish who aren't shy around snorkelers, and its calm waters provide excellent snorkeling conditions for swimmers of all ages. When the tide goes out, shallow tidepools form along Kahaluʻu Beach, perfect for kiddos to splash around in. And it's not just families who love Kahaluʻu Beach, turtles occasionally visit to munch on the seaweed growing along the coastline, and they're fun to watch from a distance greater than six feet.
5. Makalawena Beach
If you're looking to get away from the crowds—not hard on the Big Island—look no further than the shining white sands of Makalawena Beach. It's only accessible via a 20-minute hike across a lava rock trail, but the trek is well worth the effort. Equipped with several coves and inlets, the beach also features some of the largest sand dunes along the Kona Coast and is also home to the Ōpaeʻula Pond, a 12-acre body of water that's also a bird sanctuary.