VIDEO: Rising lava lake, explosive collapses mark increased activity at Kilauea volcano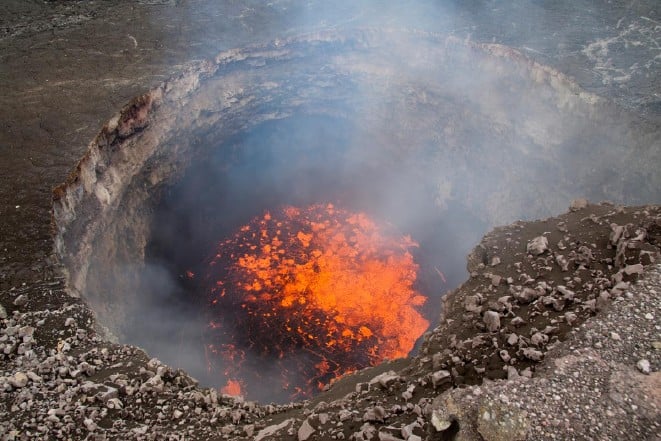 Months of fairly quiet eruptive activity at Hawaii Volcanoes National Park have ended in recent days with a series of explosive rock collapses, earthquakes and a rising lava lake at Kilauea Volcano summit's Halemaumau crater.
Halemaumau crater has been producing a steam and ash plume from an ever-expanding vent in its floor since March 2008. Six months later, Hawaiian Volcano Observatory geologists discovered a lava lake roiling within the vent, deep below the surface of the Halemaumau crater floor.
On Monday, at 8:42 a.m., a large section of rock overhanging the vent collapsed into the lava lake sending an explosive ash plume skyward. A second rock overhang collapsed into the vent a few hours later, producing a similar explosive ash event. These were the largest of five total collapses occurring since Monday.
Click on the two frames below for USGS video of the second and fourth collapses:

Meanwhile, HVO geologists report that the lava lake inside the vent rose to 230 ft. below the floor of Halemaumau crater last night at around 8 p.m. The lake has regularly risen and fallen within the vent since being discovered, but has never overflowed into Halemaumau.
Earthquake activity around the Big Island of Hawaii volcano has also increased in recent weeks, with a peak of one magnitude 3.8 quake and 42 smaller earthquakes on the morning of Feb. 10. Geologists this morning reported 29 earthquakes had occurred within Kilauea volcano in the last 24 hours.
HVO geologists posted audio yesterday of lava lake activity within the Halemaumau vent from Monday afternoon. The continuous noise reminiscent of waves crashing is churning lava as gases are released from the lake surface. The sharp popping sounds are falling rocks from the vent wall hitting the lava lake surface.
A few miles southeast of Halemaumau crater, lava within Kilauea volcano's Puu Oo crater continues to erupt sporadically from three vents.
Click on the frame below for a time-lapse video of day and evening lava activity in Puu Oo crater:

Access to Puu Oo is off limits to hikers. But activity at Halemaumau crater is visible to Hawaii Volcanoes National Park visitors from the Hawaiian Volcano Observatory's Thomas A. Jaggar Museum overlook, which is open 24 hours daily. Daily updates on Kilauea volcano activity are available at the Hawaiian Volcano Observatory website.