Where to Eat at a James Beard Award-Winning Restaurant in Hawaiʻi
Foodies, keep this list handy on your next vacation to the Islands.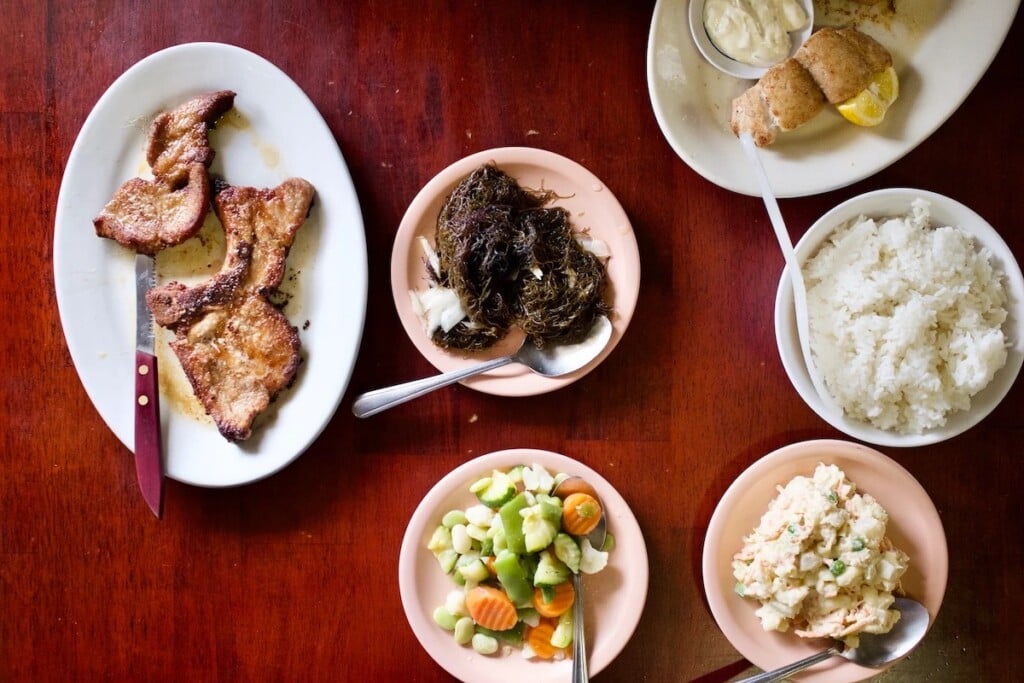 In February Manago Hotel on Hawaiʻi Island, the state's oldest continuously operating restaurant, earned the 2023 America's Classics Awards by the prestigious James Beard Foundation. It was one of six restaurants to win the award this year, with the foundation calling it "a place that reminds locals of childhood and old Hawaiʻi."
Run by fourth-generation owners Britney and Taryn Manago (who are sisters), the restaurant, which opened in 1917, features a modest menu of pork chops, liver and onions, and small local fish such as 'ōpelu (mackerel scad).
To be eligible for the James Beard Foundation America's Classics Award, restaurants must have been in existence for at least 10 years and "play … a crucial role in our communities," according to the Foundation's press release. Winners are "locally owned restaurants that have timeless appeal and are beloved regionally for quality food that reflects the character of its community."
To date, Hawaiʻi boasts four America's Classics restaurants and four chefs to win a James Beard Award, the latest in 2022 as Oʻahu-born chef Robynne Maiʻi, who co-owns Fête in Chinatown on Oʻahu, was named Best Chef in the Northwest and Pacific Region. She became the first Native Hawaiian and female chef to win from the Islands.
So what Hawaiʻi restaurants are linked to the James Beard Foundation? Here's your list of must-try restaurants—if chasing James Beard Awards is your thing.
(Note: James Beard Award-winning chefs Alan Wong and George Mavrothalassitis both owned award-winning restaurants in Hawaiʻi, but all have since closed. Sam Choy's Kaloko restaurant on Hawaiʻi Island earned an America's Classics Award; it has also closed.)
Roy's Hawaiʻi, Eating House 1849, Goen + Dining + Bar, Roy's Beach House, Humble Market Kitchin
Roy Yamaguchi
View this post on Instagram
Toyko-born chef Roy Yamaguchi earned the James Beard Award for Best Pacific Northwest Chef in 1993—he was Hawaiʻi's first!—and he still runs several restaurants on Oʻahu, Maui, Kauaʻi and Hawaiʻi Island. His first restaurant, Roy's Hawaiʻi, in Hawaiʻi Kai on Oʻahu, celebrated its 35th anniversary. Yamaguchi was one of the founding members of the Hawaiʻi Regional Cuisine movement, and that's reflected in the menus at all of his restaurants. He's a longtime advocate and supporter of Hawaiʻi's ag industry, and uses locally sourced ingredients—from North Shore beef in his burger at Roy's Beach House on Oʻahu to Kula-grown mixed greens for his salads at Humble Market Kitchin on Maui. His Eating House 1849 concept—on Oʻahu and Kauaʻi—pays homage to Hawaiʻi vibrant culinary heritage, blending the simple flavors of Hawaiʻi plantation past with bold modern cuisine.
Fête, Heyday
Robynne Maiʻi
View this post on Instagram
Maiʻi, the latest Hawaiʻi chef to win a James Beard Award, opened Fête in Oʻahu's Chinatown neighborhood in 2016. The menu reflects her diverse culinary influences, from Hawaiʻi ingredients to her Korean heritage to her time in New York City. She was the first Hawaiʻi chef in 19 years to win a James Beard Award, after George Mavrothalassitis of the former Chef Mavro restaurant won the regional best chef award in 2003. Maiʻi also runs Heyday, a fun spot in Waikīkī. Along with its retro vibe, Heyday offers a circular poolside bar with swings—yes, actual swings!—and great cocktails.
Helena's Hawaiian Foods, Oʻahu
View this post on Instagram
Helena's Hawaiian Foods in Honolulu is where locals get their Hawaiian food fix. Open since 1946, this unpretentious eatery earned the Regional Classic Award by the James Beard Foundation in 2000—and for good reason. Not only is this family-run restaurant a landmark on Oʻahu, it serves quality Hawaiian cuisine, from tender and smoky kālua pig cooked in an imu (underground oven) to creamy haupia. Lines can be long, so we recommend ordering online.
Hamura Saimin Stand, Kauaʻi
In 2006 Hamura Saimin Stand in Līhuʻe was honored by the James Beard Foundation as an America's Classics. It has been serving large, steaming bowls of saimin—a noodle dish similar to ramen and unique to Hawaiʻi—and fluffy lilikoʻi (passion fruit) chiffon pie since 1951. This hole-in-the-wall eatery is a popular lunch spot for locals, though visitors have discovered it, too. There's often a line outside, but it moves quickly.
Manago Hotel, Hawaiʻi Island
This year the restaurant at the Manago Hotel in Captain Cook became the fourth Hawaiʻi eatery to earn the America's Classics Award, following Helena's Hawaiian Foods on Oʻahu in 2000, Sam Choy's Kaloko on Hawai'i Island in 2004 (closed), and Hamura Saimin on Kaua'i in 2006. The pork chops—fried in a cast-iron pan—are easily its most popular dish, but you can also order sautéd shrimp, ʻahi, mahi mahi, New York steak, butterfish (sablefish), teri chicken and hamburger steak. The hotel opened in 1917 and is now run by the family's fourth generation.