Your Lūʻau Cheat Sheet
What you need to know before attending your first lūʻau.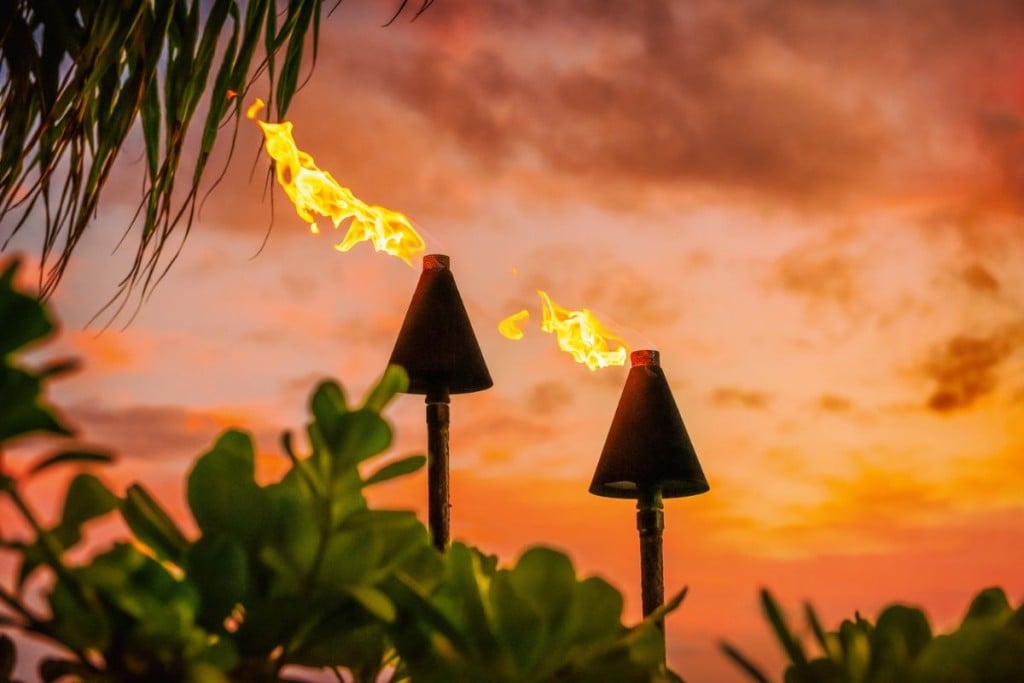 The smell of fresh cut flowers fills the air as jubilant ʻukulele melodies provide the soundtrack for a tropical evening. Kālua pork and fresh poi are loaded onto plates and accompanied by sweet mai tais. After a feast of Island cuisine, the heart pounding thunder of drums begins, and an exciting show unfolds for a spectacular lūʻau.
Across the Islands, lūʻau are elaborate celebrations of Hawaiian and Polynesian culture. From legends and stories of early Hawaiians to beautiful hula performances, attending a lūʻau provides an entertaining glimpse into the history and culture of Hawaiʻi.
While attending a lūʻau will certainly be a memorable part of any trip to Hawaiʻi, there will likely be vocabulary and food visitors to the islands have never come across. Before attending a lūʻau for the first time, study up on this cheat sheet of what to expect.
What to Wear
For gentlemen, the perfect attire for almost any occasion in Hawaiʻi is an aloha shirt, but it's especially fitting for a lūʻau. Ladies can wear casual and comfortable dresses, skirts or slacks. Typically, guests are in various types of resort wear with colorful floral patterns. Upon arriving at a lūʻau, guests are greeted with a lei, which makes a beautiful accessory to any outfit. While a lūʻau usually begins at sunset, most guests will want to bring either a hat or pair of sunglasses as most events are held outdoors. Similarly, the sun will go down and so will the temperature. For those that get cold easily, bring a light jacket.
Time to Feast
The word "lūʻau" refers to leaves of the young kalo (taro) plant. Today, lūʻau is used to describe large celebrations among families and friends in Hawaiʻi. Organized evenings invite visitors to the Islands to experience local culture and cuisine. While the food will vary depending on the lūʻau, the menu often mixes traditional dishes with contemporary favorites. Below, find some of the dishes that are often served at lūʻau.
Haupia: A feast is not complete without dessert, and this is the quintessential lūʻau treat. This local dessert is made from coconut milk with a texture resembling jelly and coconut pudding. The dessert is usually served in delicate white cubes with a sweet, coconut flavor.
ʻImu: An underground oven. At most lūʻau, there's an elaborate preparation of food that includes using an ʻimu.
Lau lau: This dish consists of pork and butterfish wrapped in kalo (taro) and ti leaves that have been steamed.
Lomi salmon: This traditional side dish is made from salted salmon, diced tomatoes and chopped onions.
Kālua Pork: This main dish is served at most lūʻau and potlucks in Hawaiʻi. It's essentially pulled pork that is usually cooked in an ʻimu to ensure salty, tender and juicy meat.
Poi: Made from pounding the root of kalo, poi is a traditional staple food in Hawaiʻi. The sticky paste is sweet and can taste a little sour.
Poke: Thanks to the wide popularity of poke bowls, most people are familiar with this style of fish preparation. The cubed raw fish — usually ʻahi (tuna) — is tossed with sweet onions, soy sauce and seaweed.
Squid luau: This classic lūʻau dish is made with taro leaves simmered with heʻe (octopus) and coconut milk.
ʻUala: Although it's originally from South America, sweet potatoes have long been a staple ingredient in Polynesian cuisine for centuries. The flesh of Hawaiian sweet potatoes is a violet purple color with a starchy and of course sweet flavor. Usually, the potatoes are steamed and slightly salted.
It's Showtime
While dining on an elaborate feast of food would be fantastic way to spend any evening, what makes lūʻau special are the spectacular performances.
Early in the night, most lūʻau invite guests to ʻami and gently swing their hips while learning a few basic hula steps. This is often one of the most memorable parts of the night for those that participate. Those who are brave take home stories of when they learned hula in front of an entire audience.
But the show really begins when talented wāhine (women) and kane (men) take the stage. From Hawaiian hula performances to Māori haka demonstrations, lūʻau often celebrate traditions across Polynesian cultures. And the grand finale is typically a Samoan fire knife dance—an exciting end to the night.