Your Guide to Wailuku
Easy to miss but hard to leave, here's how to fill a day exploring central Maui's most eclectic town, Wailuku.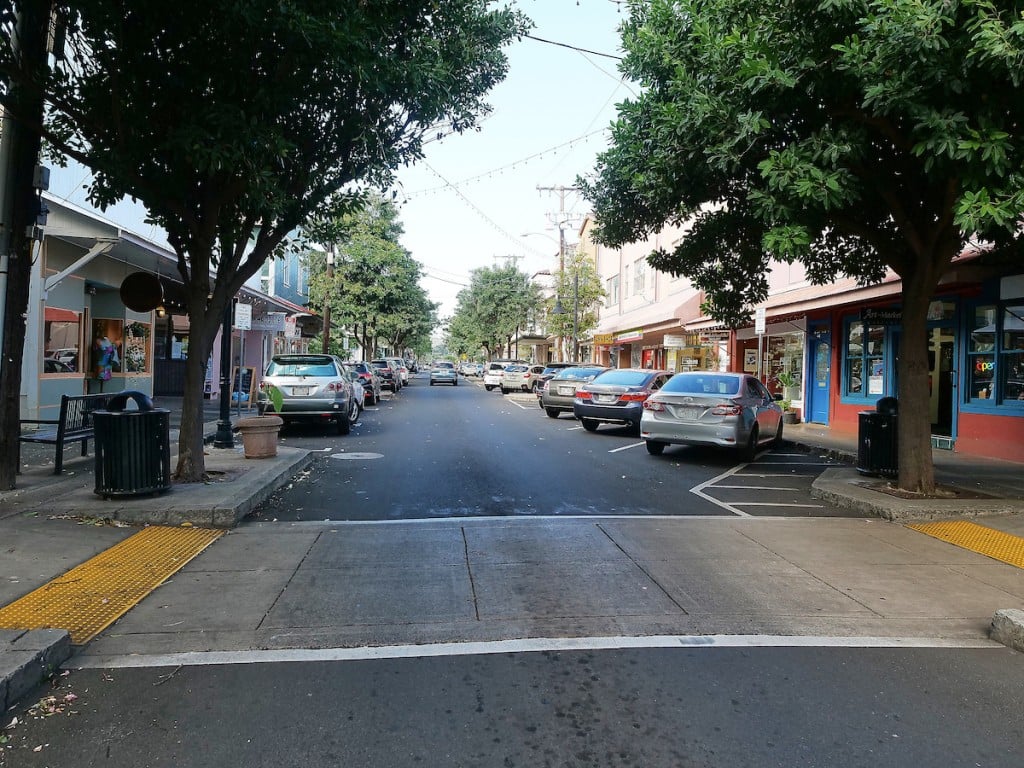 Wailuku, smack dab in the middle of Maui, is a town that will make you fall in love with its bohemian boulevard and streets. The town has a certain charisma and character that beckons passing visitors and residents with its funky-fresh coffee shop, too-cool-for-school record store, bubbly boutiques and historic theater.
Maui Coffee Attic
Everything about this cozy mom and pop café is kind of absurd. The food and drinks, which range from ube lattes to homemade green tea cheesecakes, are absurdly good. Its downstairs stage and performance area, which looks like a defunct furniture store where magicians, musicians and Latin dance classes perform, is absurd. Even the owners and baristas are absurdly nice. Maui Coffee Attic is absurd in the best ways possible, and leaving the coffee shop will leave you longing for the frenetic energy that oozes and drips from every corner of this crazy café. 59 Kanoa St., Wailuku, mauicoffeeattic.com.
Iao Theater
Ever wonder what it takes to get on the National Register of Historic Places? Well, Iao Theater got its spot by being the oldest theater building in Hawaii, opening its doors way back in 1928. The 700-seat auditorium was originally used as a venue to screen movies and watch plays before falling into disrepair in the 1980s. Since Maui County purchased the theater and renovated the site in 1996, the complex is finally being used again for its original purpose, with year-round auditions, live readings and seasonal shows by local theatrical group Maui Onstage. 68 N. Market St., Wailuku, mauionstage.com.
Sam Sato's
When in Maui, you stop at Sam Sato's. You have to. Serving some of the best noodles in the Pacific, this hole-in-the-wall all-star is known statewide for its dry mein, saimin-flavored noodles served with dashi, a Japanese style broth, on the side. To make matters better, the small-town eatery also dishes out incredible manju, a Japanese bean pastry, and grilled teriyaki beef skewers that will keep you satiated while waiting for your heaping bowl of dry noodles. 1750 Wili Pa Loop, Wailuku, (808) 244-7124.
Maui Thing
If you're looking to pick up tops, bottoms, dresses, caps or totes, the thing you need is Maui Thing. This Wailuku boutique is known for its apparel and accessories that feature energetic slogans and Maui-inspired designs. The store, which opened its doors in 2008, loves Wailuku with a passion, and among its best-selling items are shirts with an illustration of the iconic Wailuku River Bridge, with the Wailuku ZIP code, 96793, printed below. 7 N. Market St., Wailuku, mauithing.com.
Request Music
In a world where media is transitioning from physical to digital, CDs are MP3s and movies are being streamed from Netflix and iTunes, Request Music flies in the face of it all. Here you can find new and rereleased LPs, comic books and band posters. However, the store's real treasure is past the beaded curtain and down in the basement, where hundreds, if not thousands, of records, VHS and eight-track tapes and other forms of long-forgotten media formats line wooden shelves, held up by cinder blocks. It's easy to lose time digging through the relics there, so remember to come up for a breath every now and again. 10 N. Market St., Wailuku, requestshi.wordpress.com.