Your Travel Guide to Hawaiʻi's Seasons
What's the best season to travel to Hawaiʻi? Well that depends on what you're looking for.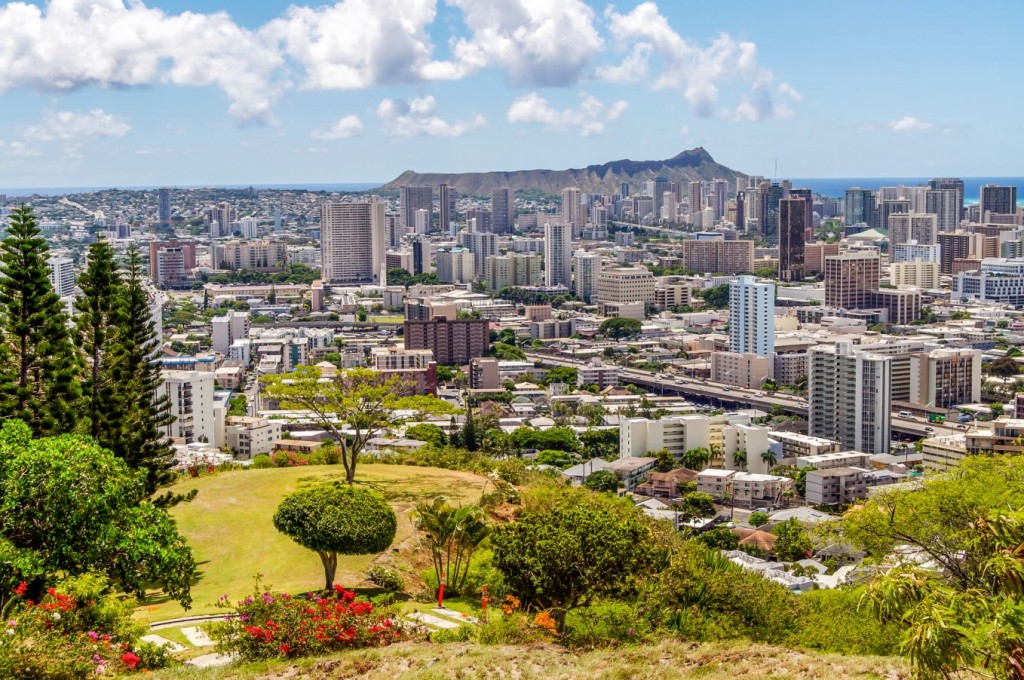 It's tough to believe, but Hawaiʻi is more than just one endless summer. While the Islands sport an abundance of sunshine, tropical temperatures—rarely below 65 degrees Fahrenheit—and that warm feeling of aloha all year long, Hawaiʻi does actually have four distinct seasons. However, it does take time living in the Islands to understand the subtle differences between our spring and fall seasons. Fortunately, we've done the legwork for you and put together this comprehensive guide on what the seasons mean in Hawaiʻi, and which might be best for you.
Summer (June, July, August)
Ah yes, summer, when the waves on many of the Islands' northern beaches are minimal to flat and the weather is hot (expect an average daytime temperature of 85 degrees Fahrenheit, with Hawaiʻi's warmest month tending to be August). It's literally the sunniest time of the year; our longest days—with 13 hours of sunshine—fall in the month of June. Those looking for waves will want to head for southern shores, which tend to see more consistent swells and bigger surf during the summer.
Holidays and festivals such as King Kamehameha Day and the paniolo (Hawaiian cowboy) centric Kōloa Plantation Days fall in and around June, July and August, and the Japanese Bon season—which features obon festivals filled with traditional dances and ceremonies to show gratitude toward ancestral spirits—thrives on all major Islands during this time.
READ MORE: ​10 THINGS YOU CAN ONLY DO IN THE SUMMER IN HAWAIʻI 
Winter (December, January, February)
If you haven't experienced the holiday season in Hawaiʻi, consider it. There aren't many places in the world where you'll see Santa wearing an aloha shirt—you can find him and other holiday characters in tropical garb at Honolulu's signature monthlong annual holiday celebration, Honolulu City Lights—and the top surfers in the world competing in the Vans Triple Crown of Surfing. In the winter, even North Pacific humpback whales, koholā in Hawaiian, make the trip down from waters off Alaska to mate and raise their young, and sightings occur off almost every island from December through May.
During these festive months, it can get "Hawaiʻi cold," which really isn't cold at all. We're talking lows in the mid-60s, and an average daytime temperature of 78 degrees. It's hoodie weather at best, but you'll also want to bring an umbrella as Hawaiʻi typically sees most of its rain during the winter. This may be disadvantageous for those looking to hike or enjoy the outdoors, as a relatively easy trail can become a perilous path when muddy. Of course, ocean conditions on northern shores of all islands become very hazardous during this time as the Islands often catch large, life-threatening swells. If you're at the beach and the ocean looks turbulent, always remember, when in doubt, don't go out.
Spring (March, April, May)
While there are no real slump seasons in Hawaiʻi, those looking to pinch pennies may want to time their travel dates with our spring season, which sees slightly lower airfares and accommodation rates. Don't worry, it's not like the Islands suddenly get cold, windy and inhospitable during these times. Quite the opposite, Hawaiʻi sees ideal tropical weather from March through May, with temps ranging from low 70s to high 80s. Visitors looking to get wet will also be happy to know that surf heights stay relatively low on all shorelines during spring, and it's a great time to take surf lessons on any island.
Don't expect to escape the crowds on Hawaiʻi Island, however, which sees its biggest influx of visitors during the Merrie Monarch Festival, a weeklong cultural festival—it always starts on Easter Sunday—where the Islands' top hālau hula (hula schools) compete for titles and prestige. Lei Day, a celebration of lei and Hawaiʻi's mix of cultures, is held on the first morning of May every year, celebrated through parades, festivities and lei crafting workshops. The entire month of May is actually dedicated to Hawaiian music through Mele Mei, a series of shows, performances and concerts put together throughout the Islands by the Hawaiʻi Academy of Recording Arts.
Fall (September, October, November)
Hawaiʻi residents are always ready to welcome in fall, as it means the hot and humid summer days are finally over and cooler, more pleasant weather is on the way. And like spring, fall also serves as another one of the Islands' shoulder months, meaning fewer peaches on the beaches and more room to lay down your towel. While the daily highs and lows tend to mirror our spring weather, those traveling in early fall may be subjected to some hotter days in September, before our trade winds make a full comeback.
Also like spring, Hawaiʻi Island is abuzz with activity during the fall season. The annual Kona Coffee Cultural Festival is in November, while the Ironman World Championship—which has been held in Hawaiʻi since 1978—typically runs in October. Halloween is also heavily celebrated here in Hawaiʻi, and the town of Lahaina on Maui even shuts down its roads to let the creatures of the night live it up on its seaside streets. And while there aren't many Hawai'i-specific Thanksgiving plates, the Islands are probably the only place you'll find lau lau, poi, and Hawai'i-style pumpkin crunch at a turkey-day feast.