15 of Hawaii's multiethnic foods translated and explained
Here's a handy crash course in Hawaii's unique, and sometimes baffling, cuisine.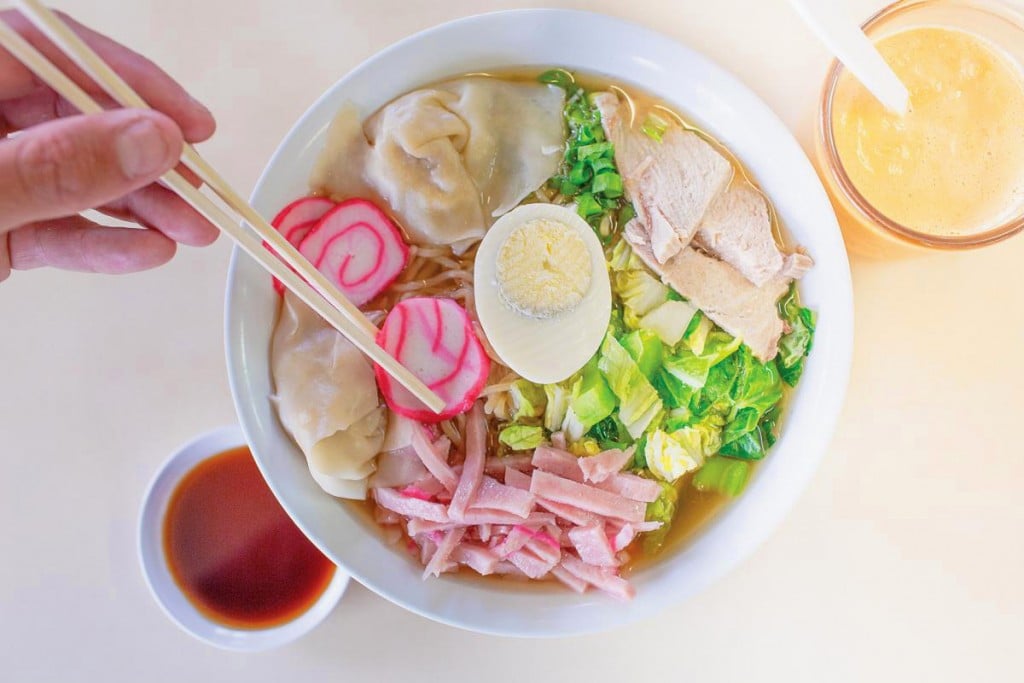 Hawaii has often been called a melting pot of cultures, and nowhere is that more evident than in the culinary habits of its residents. In a place where you can get Spam and Portuguese sausage breakfast plates at McDonald's, pounded poi (taro) at Safeway and Whole Foods or Chinese dim sum at any 7-Eleven, it's not surprising that sometimes visitors are confounded by Hawaii's food slang.
Many of the adopted words are due to Hawaiian Pidgin English, recently listed as an official language of the Islands, which evolved as a mishmash of Japanese, Chinese, Portuguese, Filipino and Hawaiian words that came into common usage, allowing Hawaii's diverse immigrant population to communicate and do business.
Poke (poh-kay)
What it is: Seasoned cubes of raw seafood (usually a fish, such as tuna), often mixed with soy sauce, sesame oil, chili pepper, green onion and seaweed.
Where the term came from: Native Hawaiian. It's a verb meaning "to slice or cut." Japanese immigrant influence contributed the shoyu and sesame oil to the traditional salted raw-fish dish.
Shoyu (sho-yoo)
What it is: Soy sauce.
Where the term came from: Japanese. Technically this term refers to Japanese-style soy sauce only, but you'll find that many locals use "shoyu" to describe all soy sauce.
Malasada  (mah-lah-sah-da)
What it is: A delicious fried donut without a hole, covered in sugar, and sometimes filled with pudding.
Where the term came from: Portuguese. The original term, "mal-assada" literally means "undercooked."
Edamame (ed-uh-MAH-mey)
What it is: Whole soybeans in the pod, boiled in salt water and sometimes spiced on the outside.
Where the term came from: Japanese. Now used as a common appetizer in restaurants and bars.
Ahi (ah-hee)
What it is: Tuna, usually yellowfin or bigeye.
Where the term came from: Native Hawaiian. The first documented use of the word is in 1892.
Tako (tah-koh)
What it is: Octopus.
Where the term came from: The Japanese word for "octopus."
Lomi salmon (loh-mee salmon)
What it is: Tenderized boneless salmon in a relish with onions, tomatoes, green onions and Hawaiian salt.
Where the term came from: The Hawaiian word lomi is translated to "massaged salmon" because of the traditional method of shredding and mixing the salmon with its other ingredients by hand. Salmon, tomatoes and onions, however, are not indigenous—salmon was introduced to Hawaii by whalers in the early 1800s.
Li hing (lee-heeng)
What it is: A sweet, sour and salty orange or red powder that is a mixture of Chinese five-spice, ground pickled plum skin, sugar and salt. Originally used to preserve fruit for snacking, but now used in everything from cocktails to marinades.
Where the term came from: After the Chinese "li hing mui," or salty dried plum. The powder was made popular in Hawaii by Chinese businessman Yee Sheong, founder of the Yick Lung company, who began importing li hing mui and other preserved fruits (otherwise known as crack seed snacks) from China to Hawaii in the early 1900s.
Lilikoi (lee-lee-koh-ee)
What it is: Passion fruit.  Lilikoi syrup is a popular topping for shave ice, pancakes, cheesecake, cookies and mocha, and the fruit is made into jams, jellies and glazes for meats and vegetables.
Where the term came from: Native Hawaiian.
Saimin (sigh-min)
What it is: A noodle soup dish unique to Hawaii, inspired by Japanese ramen, Okinawan soba, Chinese mein and Filipino pancit, and rendered uniquely island style by the addition of soup made with dashi, green onions, scrambled eggs and meat (kamaboko/Japanese fish cake, Spam or Chinese char siu).  Japanese potstickers or Chinese wonton can also be added. You may also encounter a pan-fried version without the soup at Hawaii carnivals, fairgrounds and catered parties.
Where the term came from: Chinese. It was developed by multicultural laborers during Hawaii's plantation era in the late 1800s, and is recognized as a state dish.
Manapua (mah-nah-poo-ah)
What it is: A Chinese-style steamed bun filled with ingredients like barbecued pork, curry chicken or sometimes sweet beans.
Where the term came from: Hawaiian, possibly a contraction of the Hawaiian words mea 'ono pua'a that literally translates to "delicious pork thing." An alternate translation from the Hawaiian is "flower power," for the red flower stamp manapua sellers would put on the boxes to identify the buns as pork.
Haupia (how-pee-uh)
What it is: A traditional coconut milk pudding, made of arrowroot or starch and coconut cream, often served in blocks like gelatin.
Where the term came from: Native Hawaiian.
Kalua pork (kah-loo-ah pork)
What it is: Pulled pork, traditionally steamed over hot rocks in an imu (underground oven) lined with banana leaves. More commonly, it's found in Hawaii restaurants by roasting in a slow cooker with liquid smoke and spices, then shredding, or using an aboveground cooker.
Where the term came from: Native Hawaiian. The word "kalua" literally translates to as "to bake in a ground oven."
Pipikaula (pee-pee-kow-lah)
What it is: Dried salted beef, broiled and served thin. It's essentially beef jerky.
Where the term came from: Native Hawaiian for "beef rope," the dish was developed by Hawaiian paniolo (cowboys) in the 19th century. Today, it can often be found as side dish at Hawaiian restaurants and luau.
Loco moco (low-ko moh-ko)
What it is: Pure delicious comfort food with no shame. Traditionally, the loco moco is a bowl of steamed rice topped with a hamburger patty, fried egg and brown gravy, but there are several variations.
Where the term came from: Hawaiian Creole, Pidgin English or Spanish. There is some debate, but many attribute this folk dish to Richard and Nancy Inouye, proprietors of the Lincoln Grill restaurants in Hilo, Hawaii, in 1949 (other sources credit Cafe 100, also in Hilo). The story goes that a group of teenagers from a local sports club asked them for something other than a sandwich that was inexpensive and quickly prepared. The teenagers liked the dish so much that they named it after one of their members, George Okimoto, whose nickname was "Crazy." One of the other members suggested "loco," meaning "crazy" in Spanish, and they added "moco" to it because it rhymed, which makes the literal Spanish translation of this widely popular dish "crazy booger."