7 Hidden Gems on Maui that are Worth the Search 
From boutique inns to farm stands nestled on a hillside, venture off the beaten path to find these Valley Isle treasures.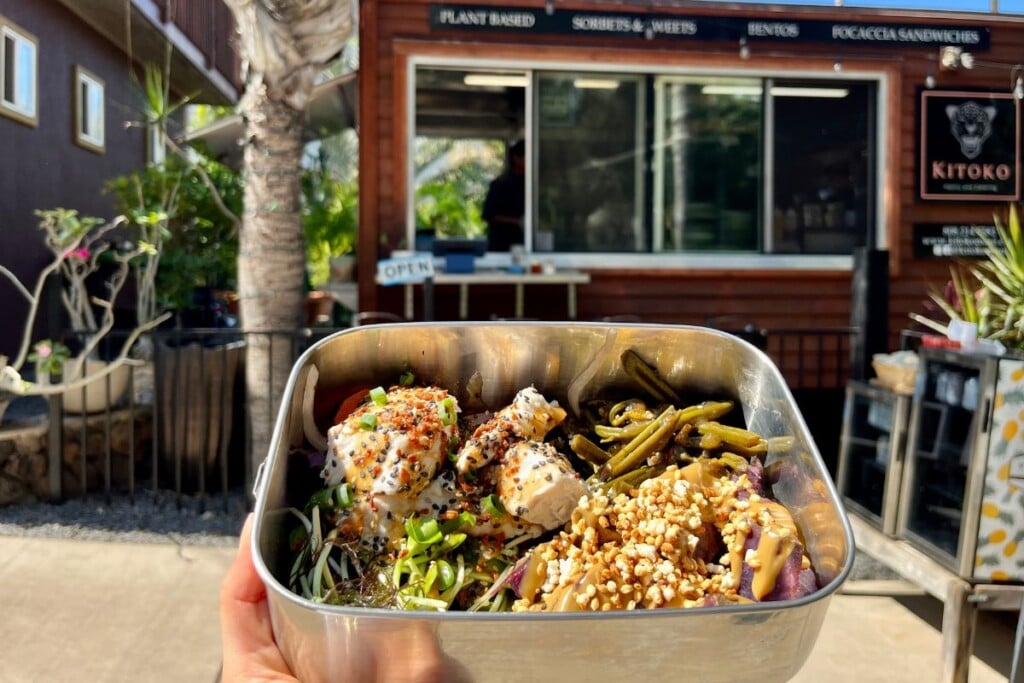 With its spectacular beaches, legendary highway, opulent resorts and flourishing dining scene, Maui is a top destination among travelers to Hawaiʻi. Although there are plenty of crowds, that doesn't mean there aren't ways to escape the masses to find quiet nooks, old-school businesses and some solitude. Sometimes it just requires traveling a little bit off the beaten path.
1. Maui Bees Farm Stand
A jar of Maui Bees' locally harvested honey is worth the trek to Kula. With a unique profile and flavor akin to caramel and butterscotch, this honey can easily be eaten by the spoonful. But there's more to Maui Bees than just honey. The apiary recently opened a farm stand on the cool and crisp slopes of Haleakalā, just up the road from Kula Highway. In addition to its raw honey, the stand is stocked with artisan breads, gluten-free brownies, kombucha, jams and soups all made on the farm. For those looking for a serene spot, swing by Maui Bees, where you can also enjoy samples of honey and the refreshing Upcountry climate.
150 Pulehunui Road, Kula, mauibees.com.
2. Four Sisters Bakery
and Catering
Along Wailuku's Vineyard Street are remnants of what life was like decades ago on the Valley Isle. Four Sisters Bakery and Catering is one of those old-school spots where it feels like time has stood still. For decades, customers have made the trip to the bakery for its butter rolls, which are soft, airy and stuffed with sweet butter. And did we mention it's old-school? Here, they only accept cash.
1968 E. Vineyard St., Wailuku.
3. Tasaka Guri Guri
This family-owned shop has been whipping up its frozen dessert called guri-guri at the sleepy Maui Mall since 1973. Locals and visitors share memories of scorching summer days, sitting outside Tasaka Guri Guri's bright pink shop scooping out bites of guri-guri from Dixie cups with a wooden spoon. With a creamy texture made from condensed milk, the dessert is a unique hybrid of ice cream and sherbet. It's not too heavy and just melts in your mouth. The shop only offers two flavors: strawberry and pineapple. Both are delicious alone but perfectly complement each other when combined. This mom and pop shop is also cash only.
70 E. Kaʻahuanu Ave., Kahului, @tasakaguriguri.
4. Julia's Banana Bread
The road to Hāna isn't the only road on Maui with top-notch banana bread stands. Perched along Kahekili Highway in the secluded village of Kahakuloa, Julia's Best Banana Bread stand is worth the pit stop. From her bright green treehouse, Auntie Julia sells her soft and succulent loaves, along with other homemade treats like dried mango, coconut candy, macadamia nut shortbread cookies and passion-fruit butter.
7456 Kahekili Highway (mile marker 13), Kahakuloa, juliasbananabread.com.
5. Kitoko Maui
Nestled inside a plant nursery, this food truck serves exquisite dishes that taste just as great as they look. To find Kitoko's upscale bento boxes and superb desserts, head to South Maui Gardens, a 7-acre nursery and community space in Kīhei. The food truck is a must-try for its elevated bento boxes made with fresh and clever ingredients. The mahi mahi bento is served with soft and tender fish, Okinawan sweet potatoes and vegetables. And Kitoko's take on the loco moco consists of braised beef and a sunny egg over crispy rice, paired with a fresh papaya salad. The same attention to flavor pairings and details goes into Kitoko's dessert menu, which includes macadamia nut caramel tiramisu, lilikoʻi meringue pie and homemade sorbet.
35 Auhana Road, Kīhei, @kitokomaui
6. ʻ Īao Valley Inn
Perched above 37 acres of tropical flora, ʻĪao Valley Inn is where guests can find a peaceful and private home away from home. The family-run bed and breakfast sits on verdant property—while there, you'll feel like you're in a secluded tropical jungle; there's even a cascading waterfall—and it's miles away from the island's busy resorts. The little-known gem on ʻĪao Valley Road is just a short drive from artsy Wailuku town and the warm beaches of Pāʻia, and just a two-minute drive from ʻĪao Valley State Park.
80 ʻĪao Valley Road, Wailuku, iaovalleyinn.com.
7. Sun Yat-Sen Memorial Park
Few travelers venture into Kula past Grandma's Coffee House, and if they do, it's to head to the island's winery. But even fewer pull over at Sun Yat-Sen Memorial Park. Resting high above the island on the slopes of Haleakalā, the park is a tranquil place to relax, set up a picnic, or just take in the vistas of the Valley Isle in solitude. The park also has a fascinating connection to the Chinese Revolution of 1911—a piece of history that few may know about.
13434 Kula Highway, Kula. The gates to the parking lot are open from 7 a.m-7 p.m.; there are no restrooms at the park.