A New Look at the Freshly Renovated Halekūlani
Some quick thinking saved the historic Waikīkī hotel a year's worth of waiting.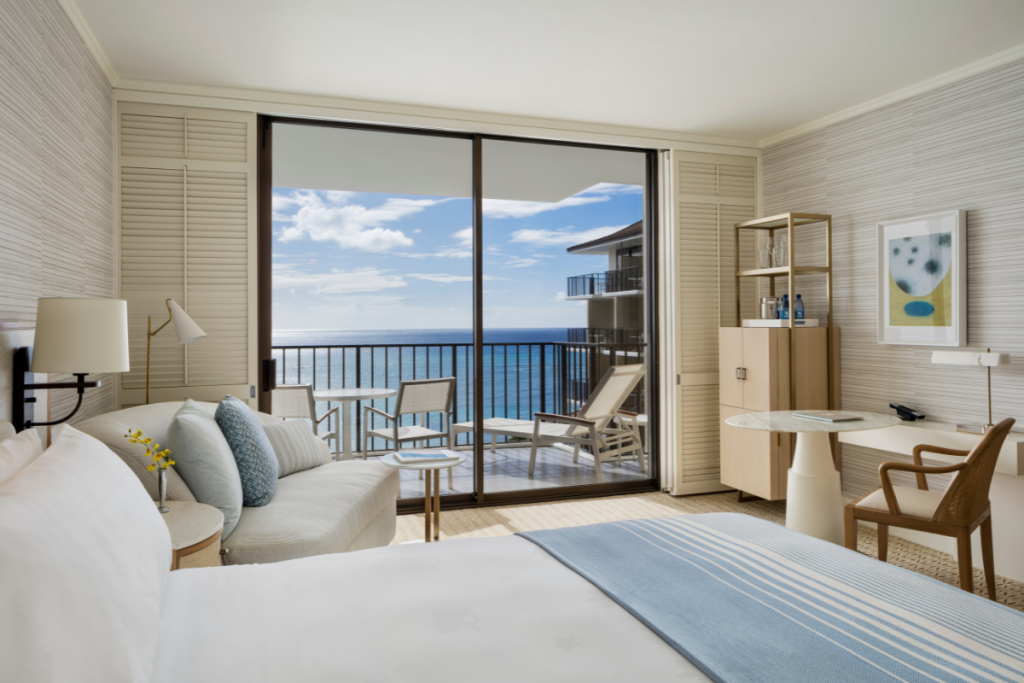 Although much of Hawai'i shut down in early 2020 due to COVID, many hotels on O'ahu were open again within a few months, albeit with physical distancing, limited group sizes, and other assorted mandates.
However, one of Waikīkī's most sophisticated destinations—the Halekūlani—remained closed through the end of the year and well into the next; it only just reopened last October. For close to 18 months, locals and visitors alike eagerly waited to once again experience sunset hula and mele (music) at House Without A Key; to enjoy another meal at La Mer, Hawai'i's only Forbes 5-Star and AAA Five-Diamond restaurant; or to relax with after-dinner cocktails and jazz at Lewers Lounge.
When Halekūlani Waikīkī reopened in October 2021, guests were delighted to rediscover all of their old favorites, and found some new ones, too. So why the long wait? Turns out, since closing, Halekūlani had gone through a complete transformation that went beyond COVID, with renovations spanning not only guest accommodations but the physical infrastructure as well.
"In 2018, we recognized that we would need significant renovations on everything from utilities to electrical to plumbing, so we started on a diligence study. The original plan was to close the hotel in 2021. Then COVID happened," says Halekūlani chief operating officer Peter Shaindlin.
Shaindlin and his team knew the restoration process—which also included a revitalization of Halekūlani's iconic gatehouse, porte-cochere, and a double-pitched hip roof designed by famed Hawai'i architect C.W. Dickey—would take close to a year to complete.
"Then we thought, wait a minute: If we work on this during 2020 while the hotel is closed—because what else are we gonna do while we're closed?—we could reopen in 2021. Otherwise COVID closes us for a year or however long, then we'd have to close again anyway for another year just to renovate," Shaindlin says.
All of the guest rooms were refreshed with new furniture, fabrics, wall coverings and cabinetry while still adhering to the hotel's signature "seven shades of white" aesthetic philosophy, which regards each room as an elegant frame to accentuate sweeping vistas of Diamond Head and the Pacific Ocean.
"When you're in a guest room in Hawai'i, you're not going to spend all your time in the room. So we want it to be nice but we also want to draw your eye from the room to the land, sea and sky outside," says Shaindlin.
Downstairs, House Without A Key was bolstered with a shaded alfresco oceanfront bar and an exhibition-style glass kitchen to allow for behind-the-scenes peeks at the restaurant, as well as views of live performances and sunsets across the water. Public spaces have also been rejuvenated, with more indigenous flowering plants incorporated into the landscaping. Walk through the gardens throughout the property and you may spot rare dwarf rainbow plumeria or the King Kalākaua spider lily. Artworks by renowned Hawai'i and Pacific artists, which had always been in abundance throughout the hotel but uncategorized, have since been specifically documented and curated for guests to formally experience. (Explore part of Halekūlani's art collection online.)
Premier suite guests at Halekūlani also have the opportunity to take part in Inspired Living, a new program that connects visitors with one-of-a-kind art and cultural experiences.
"We have a guest here now whose day job is being a finance guy but his passion is jazz. With Inspired Living, maybe we get him tickets to the next Hawai'i Symphony jazz show. Or arrange for him to spend an hour with pianist and music director Tommy James in Lewers Lounge, just the two of them talking about music or playing music together," Shaindlin says. "If you like to cook, how would you like to cook duck à l'orange at La Mer with chef de cuisine Alexandre Trancher? Inspired Living is about helping to get you more inspired about your passions, whatever they might be. Hey, we can make that happen, too."
"A hotel should be a living experience, not just a temporary residence. At the Halekūlani, there are constantly new surprises for our guests, whether you're 25 or 75 years old," adds Shaindlin. "As the world gets crazier, there's still a place where you can have that mai tai by the water, enjoy the jazz, and clear your head. The core of Halekūlani has been the same for 105 years; we're still your retreat in Waikīkī."
For more information or to make a reservation, visit Halekūlani or call (808) 923-2311.