Discover These Charming Walkable Towns in Hawaiʻi
You'll want to hit these streets on your next vacation to the Islands.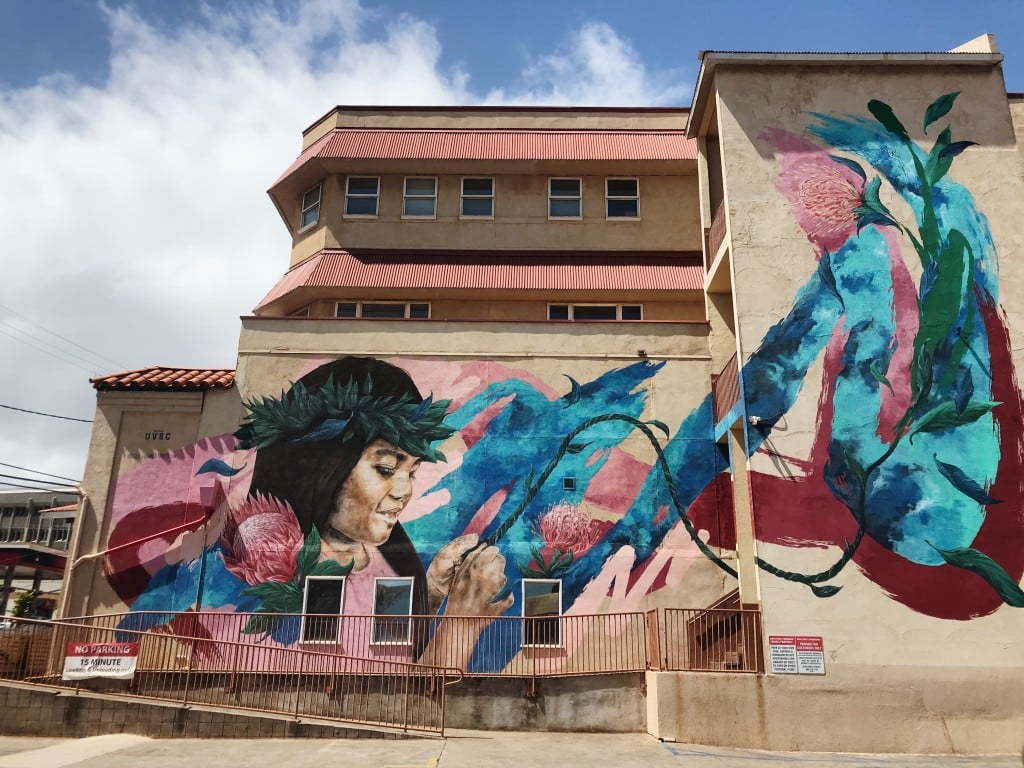 While a car will take you to the far corners of any island, sometimes the best way to discover an area is by foot. From historic surf towns and colorful art districts to former plantation neighborhoods, Hawaiʻi is home to many great walkable regions. And you'll quickly notice an afternoon can easily slip away when exploring them.
Below, find a walking guide to funky Wailuku town on Maui, followed by four other guides from around the state.
Wailuku
On the road to ʻĪao Valley, Wailuku is a town that's often breezed through. But if you take the time to walk through the neighborhood, you'll fall in love with its quirky personality. Among the bright historic structures lie unique antique stores, chic boutiques, cozy coffee shops and breathtaking murals.
1. Wailuku Coffee Co.
Situated in the heart of the town, this cozy, coffeehouse is the perfect place to soak in Wailuku. Inside, the rustic walls are adorned with artwork by local artists, perfectly reflecting the creative energy of the town. And coffee connoisseurs will surely be impressed with the Wailuku Coffee Company's smooth coffee and espresso, which can be paired with fresh pastries or hearty sandwiches. 26 N. Market St., (808) 485-0259, wailukucoffeeco.com
2. Sandell Artworks
Just 10 steps from Wailuku Coffee Co., David Sandell's art gallery is filled with the artist's eccentric and playful work. While you can expect to find landscapes art in many local galleries, Sandell recreates island scenery in a colorful fashion, marrying pop art with familiar Maui subjects. You'll also find paintings of '60s icons including the Beatles and the Rolling Stones. The artist has originals and prints in various sizes for purchase. 34 N. Market St., Wailuku, (808) 249-2456
3. Shikeda Bento Pâtisserie
View this post on Instagram
Shikeda Bento Pâtisserie is among the newest eateries in the neighborhood offering modern bentos, classic onigiri and exquisite French-inspired pastries. In this unassuming restaurant, local favorites have a contemporary twist: mochiko chicken with pickled daikon and braised pork belly with corn pico de gallo. The same creativity put into its bento is also reflected in its pastries, as seen in the li hing mango choux au caquelin, an indulgent cookie-topped cream puff. The casual joint is open from 11 a.m to 2:30 p.m. or until they sell out. Tip: The shop often sells out by noon, so get there early! 2050 Main St., Wailuku, (808) 500-2556, shikedamaui.com
4. Paradise Now
Around the corner from Shikeda Bento Pâtisserie is a vintage-inspired boutique filled with apparel and home décor by local artists. From unique souvenirs to eco-conscious clothing, you'll find more than one item you'll want to take home. 7 N. Market St., Wailuku, (808) 205-2807, shopparadisenow.com
5. Request Music
At the intersection of Market and Main Street, this nostalgic record and comic book shop is helping keep vinyl alive on Maui. Request Music is a longtime Wailuku fixture with an impressive selection of vinyl records, rare comics and posters. And make sure to make your way to down to the basement for more music throwbacks. 10 N. Market Street, Wailuku (808) 244-9315, requestmusichawaii.com
Ready to keep walking? Here's four more walking guides that will take you throughout the Islands.
Oʻahu
Picturesque beaches, delicious brunch spots and chic boutiques are all within walking distance in this East Oʻahu town.
Maui
There's an undeniable youthful energy emanating in Maui's North Shore hub. Here, you'll see more sarongs worn than shoes, more yoga studios than banks. Free love, good vibes, whatever you want to call it, you can find it here in Pā'ia.
Hawaiʻi Island
You don't need a car to experience this luscious Hawaiʻi Island district filled with gardens, museums and local fish markets.
Kauaʻi
As the inspiration for the Disney film "Lilo & Stitch," you won't want to miss Kauaʻi's Biggest Little Town.