Fresh! Tasty! Local! Recipes from the new "Hawaii Farmers Market Cookbook"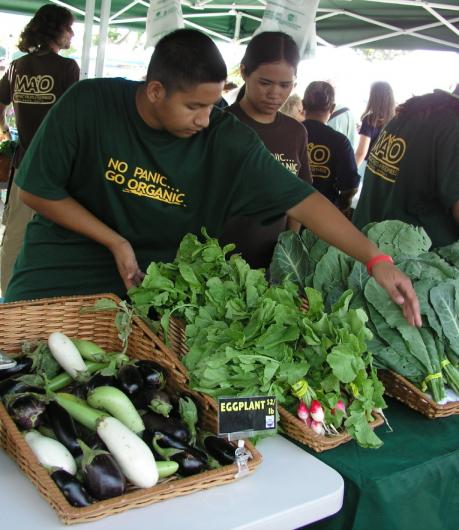 When gathering the best ingredients for making a meal you can't beat buying local. And no matter where you are in the world, farmers markets are a great place to start looking.
In Hawaii, dozens of weekly farmers markets have sprung up in communities statewide in recent years making it convenient to skip a trip to the supermarket and opt for fresh-off-the-farm Island-grown vegetables, herbs and fruits. The growing popularity of farmers markets here is really just the home menu extension of the Hawaii Regional Cuisine movement, whose chefs successfully convinced residents and visitors to expect Island-grown ingredients on restaurant menus.
The Hawaii Regional Cuisine movement was founded on the common practice of Island chefs going straight to the farmers for the best and freshest ingredients for their restaurants. Hawaii farmers, in turn, got into the habit of seeking out chefs' opinions on the kinds of produce they should grow to sustain the movement's success as well as their own.
Some of the best Hawaii farmers markets are sponsored by the Hawaii Farm Bureau Federation, which requires that vendors only sell locally-grown or produced products. Literally thousands of residents and visitors wake up early each Saturday morning to attend the Farm Bureau's largest farmers market at Oahu's Kapiolani Community College. But you can also find satellite Farm Bureau markets throughout the week on Oahu, Kauai and the Big Island—from urban Honolulu to smaller communities such as Kailua, Keauhou-Kona and Mililani.
What to do with these ingredients one you get them to your home or Hawaii vacation rental?
The new Hawaii Farmers Market Cookbook Volume 2—The Chefs' Guide to Fresh Island Foods gathers more than 75 recipes emphasizing use of locally-grown ingredients, submitted by 18 of Hawaii Regional Cuisine's top chefs. The chefs were given a couple of key rules for their recipes: Make them home cook-friendly, with ingredients that could be found at most Hawaii farmers markets (and, by extension, most farmers markets or specialty food stores, period).
The chefs, in turn, crafted some lively recipes for the cookbook, compiled by the Hawaii Farm Bureau Federation and published by HAWAII Magazine sister company Watermark Publishing. Among these:
• Ahi Ceviche with Purple Sweet Potato Chips, by Haliimaile General Store owner/executive chef Beverly Gannon
• Lilikoi Bars, by Sam Choy's Breakfast, Lunch and Crab owner/executive chef Sam Choy
• Mom Kodama's Portuguese Sausage Patties, by Sansei Seafood Restaurant and Sushi Bar owner/executive chef D.K. Kodama
• Asian Braised Short Ribs, by Pavilion Café at the Honolulu Academy of Arts executive chef Mike Nevin
• Sauteed Bean Sprouts and Smoked Meat, by Alan Wong's Restaurant owner/executive chef Alan Wong
You can purchase a copy of The Hawaii Farmers Market Cookbook—Volume 2 direct from Watermark Publishing, at $15.95 per copy, here. If you plan to be on Oahu over the next two weeks, click here for a schedule of book signings with chefs featured in the cookbook.
Better yet, start cooking now!
On the pages ahead, HAWAII Magazine shares two recipes from the new Hawaii Farmers Market Cookbook: Hamakua Mushroom Stew from Chef Mavro Restaurant chef de cuisine Kevin Chong, and Choy Sum and Sausage Stir-Fry from Le Bistro owner/executive chef Alan Takasaki.
Try them out! Bon appetit!
Hamakua Mushroom Stew
Kevin Chong, Chef de Cuisine, Chef Mavro Restaurant

2 maitake mushroom clusters
6 ali'i mushrooms
½ cup honshimeji mushrooms
1½ tablespoons olive oil
3 tablespoons chopped bacon
1½ tablespoons minced shallot
1½ tablespoons minced garlic
12 sundried tomatoes, soaked in water and drained
1 cup beef broth
2 tablespoons unsalted butter
2 teaspoons roughly chopped tarragon
2 tablespoons chopped tubular chives
3 tablespoons chopped Italian parsley
Sea salt and freshly ground white pepper

Trim the bases of the mushrooms. Break the maitake mushrooms into bitesized pieces and cut the ali'i mushroom into bite-sized pieces.


Heat a large sauté pan over high heat. Add the olive oil and mushrooms and brown them without stirring too much. Add the bacon, shallot and garlic; reduce the heat and cook for 3 minutes. Add sundried tomatoes and beef broth and simmer for 3 minutes. Turn the heat off and whisk in the butter. Add tarragon, chives and parsley; add salt and pepper to taste. Serve over creamy-soft polenta or noodles, preferably freshly made.

Serves 4.

Chef Kevin's tips:

• I like to use white peppercorns because they're less harsh and spicy but still add a lot of flavor.
• When you're chopping herbs, don't chop them too finely. If they're "rough chopped," they won't discolor or bruise, and there will be more flavor.
• For polenta, use vegetable stock and milk in equal portions for a creamy texture. Add some butter-sautéed shallots, too.
Choy Sum and Sausage Stir-Fry
Alan Takasaki, Owner/Executive Chef, Le Bistro

6 ounces Italian sausage
¾ pound choy sum
½ cup olive oil
½ cup tomato purée
2 fresh sprigs of thyme
1 cup water
4 teaspoons minced parsley
½ cup grated Parmesan cheese
1 cup baby arugula
Pinch of chili pepper flakes
Kosher salt and freshly ground black pepper

Remove casing from the sausage and smash the meat, breaking it into small pieces.

Wash choy sum and cut into 2½-inch pieces.


In a sauté pan, heat olive oil over high heat. Add sausage and cook until it is browned. Add choy sum, tomato purée, thyme, chili pepper and water and cook until choy sum is tender and a sauce forms.

Season with salt and pepper. Add parsley, cheese and arugula and toss well. Transfer to a serving bowl.

Serves 4.

Chef Alan's tips:

• All-green choy sum is often steamed and drizzled with oyster sauce—a perfect preparation. But choy sum is terrific when combined with meats in a stir-fry. Using it with Italian sausage and tomatoes is a great combination; serve it on top of pasta or rice.
• Instead of tomato purée, you could use cherry tomato confit. Place tomatoes in a shallow baking pan, drizzle generously with olive oil and roast for 2 to 3 hours at 250°F. Tomatoes should be shriveled and soft; the flavor will be concentrated and delicious.