Hotel dedicates tribute area to memory of renowned Hawaii artist-historian Herb Kane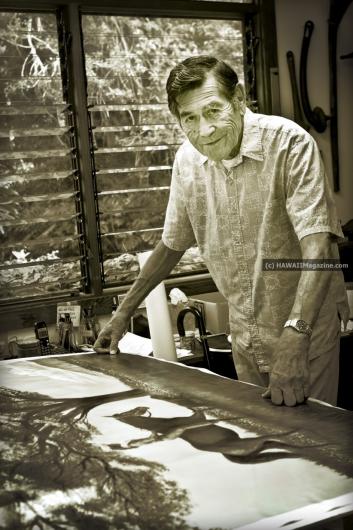 A dedication ceremony was held today at Waikiki's Outrigger on the Beach hotel for a lobby area now serving as a tribute to Herb Kawainui Kane, a leading figure in the Hawaiian Renaissance — that revival of long-suppressed and neglected cultural identity expressed in music, language, hula and construction of Hawaiian voyaging canoes, which got under way in the 1970s.
In the beachside hotel, Kane's paintings of Hawaiian history and legend, which are both sweeping and detailed, have long graced the lobby. The new tribute area is intended to serve as a place "where islanders and travelers can gather to relax, reflect and share what's unique about Hawaii, inspired by art, artifacts, books and treasured memories," hotel officials said in a written statement.

Kane (pictured, right) died in March at his longtime Big Island Home. He was 82. Born in Minnesota, and raised on the Big Island, in Hilo and Waipio Valley, and also in Wisconsin, Kane is best known for his vast canvases, which won him international recognition. His artwork illustrates seven U.S. postage stamps, including one, issued in August 2009, which commemorates the 50th anniversary of Hawaii statehood. Kane was also a founder of the Polynesian Voyaging Society, designer of the Hokulea as well as its first skipper. (The traditional double-hulled voyaging canoe is best known for its inaugural 1976 voyage from Hawaii to Tahiti without modern navigational instruments.)
On the Big Island, another Kane exhibit — the largest collection of its kind in any Hawaii hotel — is slated for a reinstallation by the end of the month. Some 40 signed and numbered, limited-edition giclees, along with a lobby mural, were removed from the walls of the King Kamehameha's Kona Beach Hotel when the March 11 tsunami hit the Kailua Village area.
In addition, at Hawaii Volcanoes National Park, Kane's well-known painting of Pele is now on display in a retrospective exhibit titled Gods & Goddesses: Honoring the Art, Life & Voyage of Herb Kane. The exhibit will be displayed at the park's Volcano Art Center Gallery through the end of July.
(The July/August issue of HAWAII Magazine features an interview with Kane from October, 2010.)