How to eat like a local: Kauai
On the Garden Isle, you can get anything from health-conscious vegan dishes to traditional Filipino plate-lunch affairs.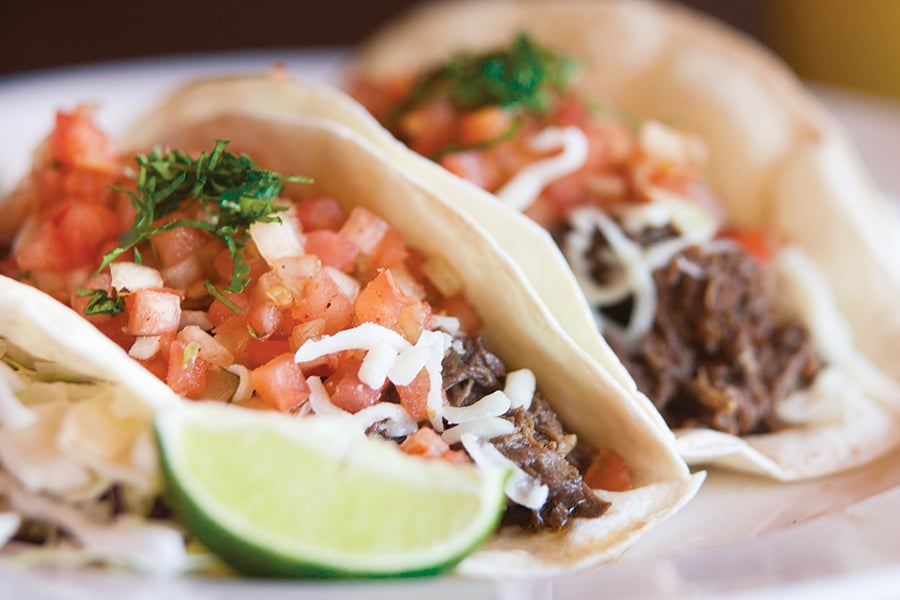 Vegan desserts. Harlequin cocktails made with fresh juice. Filipino comfort foods such as pork adobo and pancit noodles. Kauai's got a little something for everybody, and if you're having trouble deciding what to get, take a look at the list below and try not to get too hungry.
Eat Healthy Café
After passing Wailua River heading north, look for Eat Healthy Café on the left of Kuhio Highway—a delightful, cream-colored building with an even cuter interior. Everything we've tried on the menu tastes fresh, as would be expected from vegan chef Hollan Hamid. We love her samosas—puff pastries filled with purple sweet potato and topped with banana chutney—but it's her colorful range of acai bowls that keep the locals coming back daily. 4-369 Kuhio Hwy., Kapaa, Kauai, eathealthykauai.com.
Kauai Juice Co.
Follow the beautiful and glowing people to Kauai Juice Co., which offers cold-pressed, organic and locally sourced juices such as the earthy Beetle Juice with a base of beet, carrot and kale, and the Alii, a sweeter, zingy concoction of carrot, apple, turmeric and ginger. Try the kombucha, too—here, the fermented fizzy drink comes in flavors including strawberry guava and lilikoi lychee. Multiple locations, kauaijuiceco.com.
Kauai Community College's Farmers Market
Go early to the Kauai Community College farmers market for the best selection of exotic fruit. Depending on the season, you might find juicy lychee, spiky rambutan, magenta dragonfruit, and some of the sweetest pineapple and mango ever. Fuel up at Midnight Bear Breads with a fresh-baked loaf or pastry. Saturdays 9:30 a.m. to 1 p.m., 3-1901 Kaumualii Hwy., Lihue, Kauai, kauaicommunitymarket.org.
Verde
Where do we begin with this must-visit Kapaa spot? Lovely dish presentation. Check. Good ingredients and a cheeky inventiveness with regard to Mexican cuisine? Check. Next? Order the cheesy, saucy wonders that are Verde's stacked enchiladas and sopapillas, some chicken posole and the garlic shrimp burritos or tacos. Now eat. In Kapaa Shopping Center 4-1101 Kuhio Highway, Kauai (808) 821-1400, verdehawaii.com.
The Local Kauai
Fuel up at The Local Kauai in Kapaa, where a comforting menu of deviled eggs, grilled sweet corn, fried chicken and a burger are made with primarily Kauai-grown ingredients. Wash it all down with fresh juice cocktails in colors as vibrant as the island itself. 4-1380 Kuhio Hwy., (808) 431-4926, Kapaa, Kauai, thelocalkauai.com.
Mama Lucy
The hot line from which you build your Filipino plate lunch at this Lihue takeout eatery doesn't skimp on selections—more than 16 on our last visit. Mama Lucy's presents all the expected comfort foods (pork adobo, pancit noodles, pork guisantes) and raises its game with deep cuisine dishes we're more likely to take an "if it looks good, eat it" approach with. 4495 Puhi Road, Kauai, (808) 245-4935.
Kiibo Restaurant
A menu of solid, simple Japanese favorites has made Kiibo a longtime favorite of Lihue residents. We'll give up frills like modern décor and good lighting—both lacking at Kiibo—for a warm kettle of veggie-packed pork or chicken sukiyaki, served with a side of ahi sashimi, any night. 2991 Umi St., Kauai. (808) 245-2650.
La Spezia
Kauai friends recommend this cozy, casually elegant Koloa eatery for its reasonably priced, modern Italian dishes, stocked with quality ingredients and clean flavor. Don't miss the pancetta pasta with sweet peas, garlic and crisp pancetta in a sublime truffle-lemon cream sauce, or an order of potato gnocchi in truffle brown butter. 5492 Koloa Road, Kauai, (808) 742-8824, laspeziakauai.com.
Koloa Fish Market
Where others do poke bowls, Koloa Fish Market does a poke bento. Envision a see-through rectangular bento container substituting for the standard plastic bowl, with your choice of multiple daily poke varieties blanketed over a thinner-but-wider layer of rice (for a better poke-to-rice ratio) and topped with furikake. The poke here is darn good, too. 5482 Koloa Road, Kauai, (808) 742-6199.
Aaron's Kitchen
Kauai's other local favorite for homestyle Filipino food offers almost as many selections as Mama Lucy's, but leans more toward familiar dishes. That's not a complaint. With a hot line regularly stocked with tasty Filipino faves such as chicken adobo, sari sari and pinakbet vegetables and beef afritada stew, all scooped up in generous portions, no one leaves hungry. 3611 Hanapepe Road, Kauai, (808) 335-0949, aaronskitchenvalletta.com.