How to Spend a Day on Oʻahu's North Shore with $40
Grab brownies for breakfast, watch the pros and practice yoga at sunset: There's plenty to do on Oʻahu's iconic North Shore, even on a budget.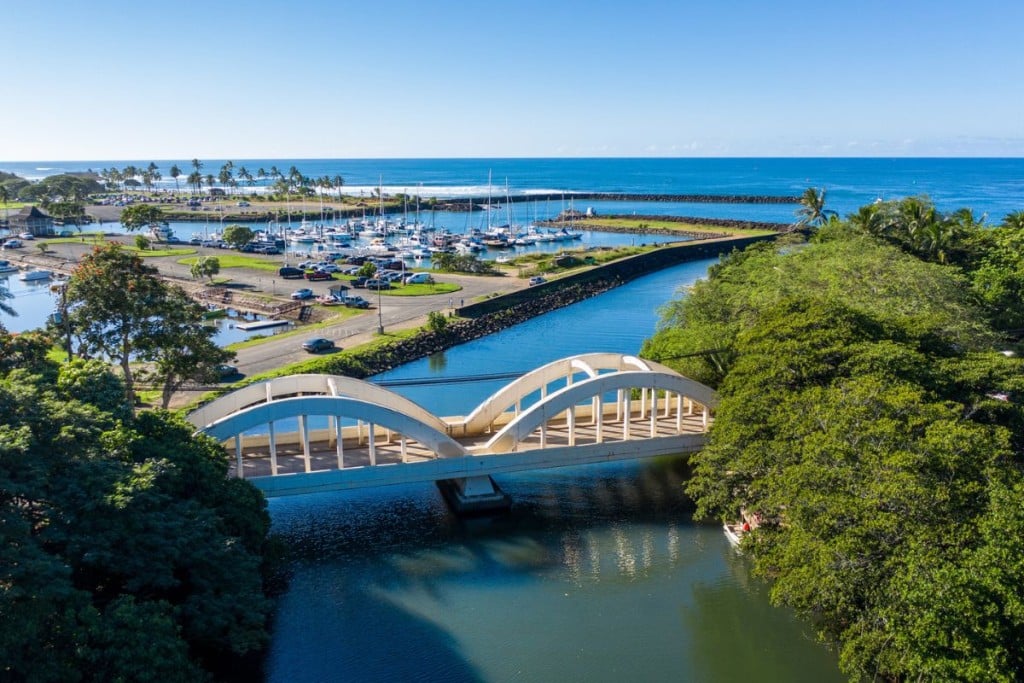 Oʻahu is more than the bustling streets of Waikīkī. Venture about an hour away to explore the North Shore and you'll discover a legendary strip of beaches that attracts the world's best surfers. Premier competitions are held here every winter, drawn by its large swells. The place is often referred to as the mecca of surfing, and during the winter, it's best if mere mortals leave the monstrous waves to the pros. Just sit back in the sand and enjoy the show! During the summer, the surf is usually much smaller with conditions suited for beginners. You can also experience terrific snorkeling when the sea is calm. But whatever the month, there are plenty of spots to visit on the North Shore, and along the way, too. From walking through a botanical garden in Wahiawā to strolling the streets of Haleʻiwa, here's how to create an exceptional day on the North Shore with only $40.
8:30 a.m. For breakfast, indulge at Kilani Bakery ($10-$14)
If you're driving to the North Shore through Central O'ahu, it's easy to drive past the small town of Wahiawā, but that would be a mistake. For breakfast, you'll want to stop at Kilani Bakery. It might not serve the most conventional morning meals, but its pastries sell out fast and you don't want to miss them. The local shop is known for its brownies dusted in powdered sugar as well as Chantilly cupcakes, doughnut sticks, long johns and epic lemon meringue. Grab a bag of sinfully good brownies for $10 or a four-pack of Chantilly cupcakes for $14.
705 Kilani Ave., Wahiawā
9 a.m. Walk around Wahiaw
ā
Botanical Garden (Free)
The 27-acre Wahiawā Botanical Garden is a bit of a secret gem. It's nearly double the size of Downtown's Foster Botanical Garden but not as well-known, and it's not even close to being as Instagram-famous as the lush Hoʻomaluhia Botanical Garden on the Windward Side. With fewer visitors, it's a treat to stroll on the shady paths under towering trees and beside native flora. And because the garden is at a higher elevation than others, the temperatures are cooler too. One more reason to visit: Admission is free.
honolulu.gov/parks/hbg/honolulu-botanical-gardens, 1396 California Ave., Wahiawā
10 a.m. Find your way out of the giant pineapple maze at Dole Plantation ($8.75)
From Wahiawā Botanical Garden, drive 10 minutes to the historic Dole Plantation. Along with no entry fee, there's a handful of activities that can be enjoyed at no cost. But for $8.75, you can test your navigation skills in a giant pineapple maze. Back in 2008, Dole Plantation's maze was declared the largest of its kind in the world. Although it no longer holds the title, it's still one of the few permanent botanical mazes in the U.S. The labyrinth of tropical flora has about 2.5 miles of walking paths that wind across 3 acres. It takes an average of 40 minutes to solve.
doleplantation.com, 64-1550 Kamehameha Highway, Wahiawā
11:30 a.m. Watch professional surfers at
ʻEhukai
or snorkel at Shark's Cove (Free, $8)
From November to February, the lineup on the North Shore is stacked with professional surfers ready to drop in on massive waves. The rest of us get to watch the exciting spectacle from the beach. Here, waves reach heights of 30 feet and more—dangerous for even the most experienced (and brave) surfers—so, follow ocean caution signs and check with lifeguards if you have any questions. ʻEhukai Beach Park, with its famous Banzai Pipeline, offers a front-row seat for the action. The beach is known for its barreling waves and is the surf break for international contests like the Triple Crown of Surfing and the Billabong Pipeline Masters. And unlike other sports events, you don't have to pay for a ticket to watch: Throughout the winter, you can set up a seat on the beach and watch the best of the best for free.
However, between May and September, the waves turn to ripples. The calm conditions are a sign of summer and are ideal for beginner surfers and swimmers. If you're on the North Shore during the summer, use this time to explore the island's spectacular underwater ecosystems. For half a day (4.5 hours), Surf N Sea rents snorkel equipment for only $8. The package includes a mask, a snorkel and a pair of fins. Once you grab your gear, head to Pūpūkea Beach Park to snorkel at Shark's Cove. You'll find a large set of tide pools where you can swim over spectacular rock formations and watch as the humuhumunukunukuāpua'a and other marine creatures go swimming by.
1:30 p.m. Grab a hearty lunch from Waialua Bakery & Juice Store and explore Haleʻiwa ($10)
Lunch is well-deserved after solving an enormous maze and spending a few hours at the beach. So, head back into Haleʻiwa Town for lunch at Waialua Bakery & Juice Store. The deli whips up hearty sandwiches, all of which are under $10. And you can add a chocolate chip mac nut cookie for just $1. After your midday meal, walk around Haleʻiwa and check out the rad surf shops, beachy boutiques and eccentric art galleries that make the town unique.
thewaialuabakery.com, 66-200 Kamehameha Highway, Haleʻiwa
3:30 p.m. Enjoy an icy treat from Kaimana Shave Ice ($5)
Like Wahiawā Botanical Garden, Kaimana Shave Ice is also a lesser-known treasure. The family-run business serves some seriously tasty shave ice, and you won't have to deal with the crazy long lines at other places down the street. But what makes the shop's shave ice so great is the syrup. Kaimana Shave Ice makes its syrups from whole natural ingredients, right in the shop. The result: ultra-fine, melt-in-your-mouth shave ice with strong but not overly sweet flavors. And it's only $5 for a standard shave ice.
www.facebook.com/kaimanashaveice, 66-519 Kamehameha Highway, Haleʻiwa
4 p.m. Rest on the sand at Sunset Beach
Nicknamed Sunset Beach, Paumalū is a 2-mile stretch of sandy shore just past ʻEhukai Beach Park. It's also known for its large winter waves. The length of the beach makes it easy to find a spot on the sand to lounge and rest after a busy day. And the beach lives up to its moniker: The sunset views here are breathtaking.
5:30 Practice yoga at Farm to Barn Café & Juicery (Donation-Based)
We understand if you choose to spend the rest of the day at the beach—we have. But if you're looking to squeeze in an activity during the last hour of daylight, Farm to Barn Café & Juicery hosts donation-based sunset yoga. The classes are held on the eatery's lawn, Monday through Thursday at 5:30 p.m. and on Friday mornings at 8. Make sure to check the café's Instagram account for updates or cancellations.
farmtobarncafe.com, 66-320 Kamehameha Highway, Haleʻiwa