It's Tiki Time at These 5 Hawai'i Tiki Bars
Your average tiki bar probably has more in common with nostalgia for mid-century Americana than any real particular place in the Pacific. But throughout Hawai'i, five tiki hotspots—ranging from spooky to kitsch to iconic—are doing things right.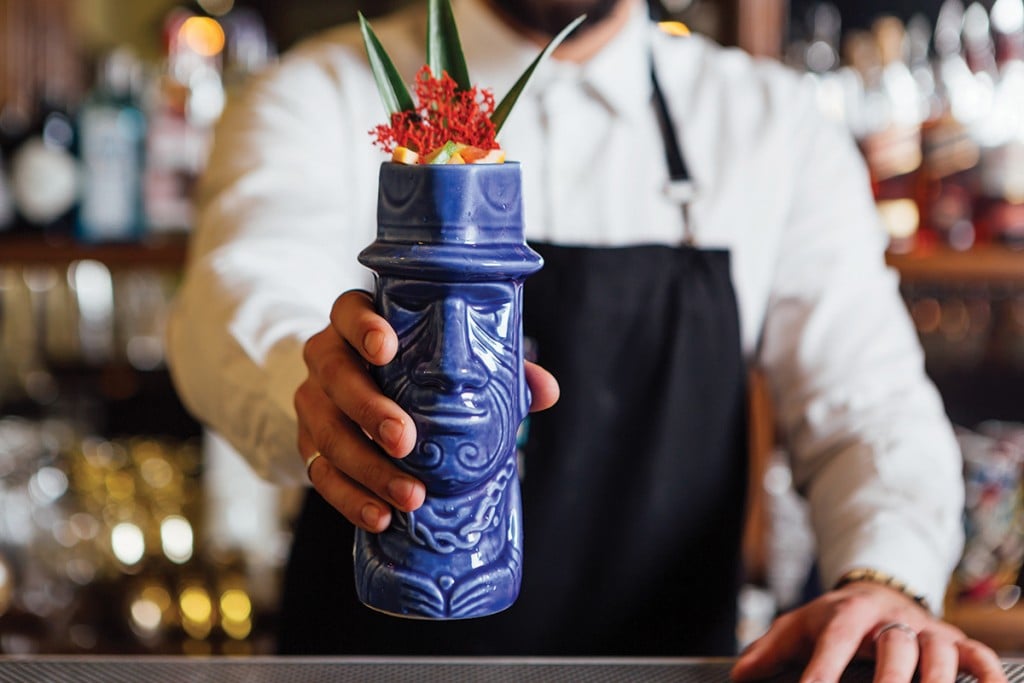 On Hawai'i Island, wooden totems greet you at the entrance to Don's Mai Tai Bar, the largest open-air oceanfront watering hole in Kona. These tall, carved columns look out over the ocean, just a few feet away from the circular main bar made of wood and stone. Above your head is a thatched grass roof and on the counter in front of you is a fruity blended beverage made with three kinds of rum plus grapefruit juice and fresh limes (reportedly named after an 18th century British Royal Navy admiral named Edward "Old Grog" Vernon). Or maybe you're enjoying the deceptively strong Beachbum's Zombie, featuring a mix of light rum, dark rum, absinthe, 151-proof liquor, falernum liqueur, bitters and other (classified) ingredients almost guaranteed to turn you into its namesake. Or possibly you're just sipping one of over a half-dozen different types of mai tais on the menu.
Drinks aside, you feel a cool breeze on your face and arms and hear the gentle sounds of an 'ukulele as you check out your fellow bar patrons, many of them wearing aloha attire as colorful as their cocktails.
You're in Hawai'i, soaking up the tropical tiki subculture inspired by the mysterious allure and perceived exoticism of Oceania that has persisted in various forms for hundreds of years, since the first European sailors arrived in the Pacific. Although the word "tiki" can be traced to New Zealand, Tahiti, and the Marquesas Islands, where it refers to images of gods and spiritual figures, the tiki subculture's roots in the United States emerged largely in the early 20th century.
SEE ALSO: Get Your Tiki On With These 3 Iconic Hawaiʻi Cocktails
In 1933, drifter Ernest Raymond Beaumont Gantt opened a small bar in an aging Hollywood tailor's shop that he dressed up to look like an island-style rum shack. "If you can't get to paradise, I'll bring it to you," Gantt reportedly said. He called his bar Don's Beachcomber (later, Don the Beachcomber), and officially changed his name to Donn Beach. Meanwhile, in Oakland's Golden Gate District in 1937, Victor Jules Bergeron Jr. also opened a small bar with tropical flourishes; within a few years, he had expanded the one location into a chain, with each bar named after what had become Bergeron's new nickname: Trader Vic. (Both men claim to have invented the mai tai.) After World War II, soldiers in the Pacific Theater returned home with stories, souvenirs and even significant others, spreading the buzz nationwide about fantastical foreign lands marked by wild abandon.
"The farther away you got from Hawai'i and the islands of Polynesia, the more seemingly exotic it all became," says Lloyd Kandell, co-founder of the neo-exotica musical group Don Tiki. A local ad man by day and "Fluid Floyd" (Kandell's alter ego who hosts live shows for his 16-plus person band) by night, Kandell is a raconteur who knows American tiki culture, even educating the likes of the late Anthony Bourdain when the famed chef and TV personality visited Hawai'i for an episode of "No Reservations" in 2008. Don Tiki emerged in 1997, at the height of the '90s swing revival in the U.S., and went on to release five albums filled with songs combining jazz and swing melodies, tribal rhythms, vibraphones and bird calls.
"What's important to understand is there are two types of tiki: There are ancient and authentic tiki, the kind you might see at Bishop Museum, which is critical to preserve and has meaningful significance to Native Hawaiians and other Pacific cultures," Kandell says. "Then there's the pop culture tiki, which got big in the 1950s and brought a sense of adventure and fun to buttoned-up safe suburbs across America, where people just want to relax and enjoy tropical drinks. We respect that difference."
One tiki bar that straddles the line between old-school heritage and modern hospitality is Tahiti Nui, located in the surf town of Hanalei on Kaua'i's north shore. In 1962, "Auntie" Louise Teupootehereii Hauata Marston, a descendant of Tahitian royalty, moved to Kaua'i with her husband, a U.S. Air Force lieutenant colonel, and opened a small diner that mostly served sandwiches, island souvenirs and beer. One day in the early '70s, Marston organized what would become a weekly potluck, with locals bringing in dishes such as steamed kālua pig and freshly pounded poi. She sang and strummed Hawaiian, Tahitian and American tunes on the guitar while everyone ate, and people were charged only for drinks. In time, the potluck grew into a full lū'au held every Wednesday evening, while the impromptu musical jam sessions evolved to include elaborate hula and Tahitian dances. (More recent guests have included actors George Clooney and Beau Bridges, who filmed a scene in the 2011 movie, "The Descendants", at Tahiti Nui.)
Over 50 years later, "The Nui," as it is known to locals, still serves sandwiches and beer. But the food menu has grown to include higher-brow entrees, like macadamia and coconut-crusted catch-of-the-day sautéed in a cilantro lime sauce and served with grilled bok choy; and dry-aged rib-eye steak (from Kaua'i's own Makaweli Meat Co.), covered in sautéed mushrooms, crispy onions and a Gorgonzola cream sauce. Drinks range from microbrews and wine to tiki-inspired cocktails, including Pele's Passion, made with tequila, triple sec, passion fruit, li hing mui crack seed powder, cayenne pepper, fresh jalapeño, cilantro, lime and lemonade; and the "world famous" Tahiti Nui Mai Tai, made from an original—and secret—recipe.
For a different but equally immersive tiki experience on Maui, head to the South Shore Tiki Lounge on the Kīhei coast; over the years, the open-air Valley Isle retreat has been voted best bar seven times by readers of the Maui Time Weekly. It's a kitschy hotspot a block away from the beach, complete with stickered surfboards dangling from the weaved bamboo ceiling, taxidermied puffer fish with barbs out along the bar, plus sepia prints of old Hawai'i and vinyl records mounted on the wall. Here, the food and drinks are homegrown, with free-range beef from Maui Cattle Co. and freshly caught fish. Visitors are treated to live music on the patio every day during happy hour while sipping cocktails, such as piña coladas made extra creamy with puréed fresh Maui pineapple; or the Sneaky Tiki, a punch made with Malibu passion fruit rum and tropical juices, topped with the obligatory paper umbrellas.
Arguably the most famous tiki bar in the Islands can be found on O'ahu ("one of the few remaining old-school original, non-ironic tiki bars left in Hawai'i," according to Bourdain): La Mariana Sailing Club, a private marina and clubhouse that's tucked away on industrial Sand Island Access Road along Ke'ehi Lagoon. If you don't know where to go, it's easy to miss La Mariana amid all the warehouses in the area. But once you locate the ramshackle-looking building near the water and step inside, you'll find yourself immersed in another world.
"It has that authentic quality that I think most people hope for. There's a grotto, a waterfall, aquariums, tiki figures, glass fishing floats in netting and views of the water," says Kandell. "La Mariana is a real version of the so-called 'Polynesian paradise' seen in movies from the 1930s and '40s."
La Mariana was also the maiden name of a real woman—Annette La Mariana Nahinu—who built a sailing club in the mid-1950s with her husband, New Zealander Johnny Campbell, as a way to provide affordable slips for sailors in Hawai'i. (When La Mariana opened in 1957, the initial membership fee was $2 and the monthly slip for boat owners was just 50 cents.)
More than half a century later, this tropical hideaway has become an unofficial depository of tiki culture, filled with pieces accumulated from other famous spots that closed following tiki's decline in the late '60s: puffer fish lamps from Trader Vic's, rattan chairs from Don the Beachcomber, hand-carved tiki from the Sheraton Waikīkī's former Kon Tiki Room.
"Tiki has seen a revival but I think its pop identity continues to evolve," Kandell says. "At events like the annual Tiki Oasis, the world's longest-running and biggest tiki convention, we're now seeing the addition of different subcultures, like surf memorabilia, tattoos, rockabilly music and so on. These trends from the 1950s and '60s that people might've been too young for the first time are being revisited in new ways."
For a preview of what the future might hold for tiki bars, look no further than Downtown Honolulu for a perfect example. Past the slightly sketchy Smith Street intersection in Chinatown on O'ahu is the Skull & Crown Trading Co., a horror-themed tiki bar with decor that includes floral wallpaper, fishing buoys and human skulls. Shrunken heads in glass jars watch you at the bar and if the flaming signature cocktail, The Skull & Crown (a blend of Plantation O.F.T.D. Overproof dark rum, Bacardi and El Dorado 8-year rums, grapefruit and lime juice, grenadine, and cinnamon), is too hot to handle, don't worry: Every 15 minutes or so, the ambient exotica music is replaced by the sounds of thunder and rainfall and the lights flicker to resemble lightning. Skull & Crown is definitely the creepiest destination on this list. But it might also be the most accurate.
"Our goal was to create an authentic, 1900s-era Honolulu trading company. So there are no TVs, all the music is from the early 20th century, and we even burn sandalwood incense each day before we open because there was a huge sandalwood trade in Honolulu happening at that time and it's what you might've smelled in the area," says co-owner Noa Laporga, who has a background running both a visual effects prop company as well as spooky attractions. He and his partner, Angelina Khan, also organize and direct the Haunted Plantation every Halloween at the historic Hawai'i Plantation Village in Central O'ahu. Laporga was born on O'ahu and is of Native Hawaiian descent.
"Some of the stuff in [Skull & Crown] is random or maybe a little twisted. Sometimes people are surprised, but I don't see anything wrong with it. Being from here, I'm only doing this to have fun and to create something different," says Laporga. "If people understand that a place like this is a form of escapism, then hopefully it encourages them to learn about what Hawai'i is really like outside the tiki bar."
We'll drink to that.
5 Iconic Tiki Bars in Hawaiʻi
Don's Mai Tai Bar, Royal Kona Resort, 75-5852 Ali'

i

 Drive, Kailua-Kona, Hawai'i Island, (808) 930-3286, royalkona.com/dining 
Tahiti Nui, 5-5134 Kūhiō

 Highway, Hanalei, 

Kaua'

i

, (808) 826-6277, thenui.com 
South Shore Tiki Lounge, 1913-J S. Kīhei

 Road, 

Kīhei

, Maui, (808) 874-6444, southshoretiki.com