Mauka Makai restaurant is one of Kaanapali, Maui's newest
The signature restaurant at the Westin Nanea Ocean Villas uses ingredients from the mountains and ocean around Maui.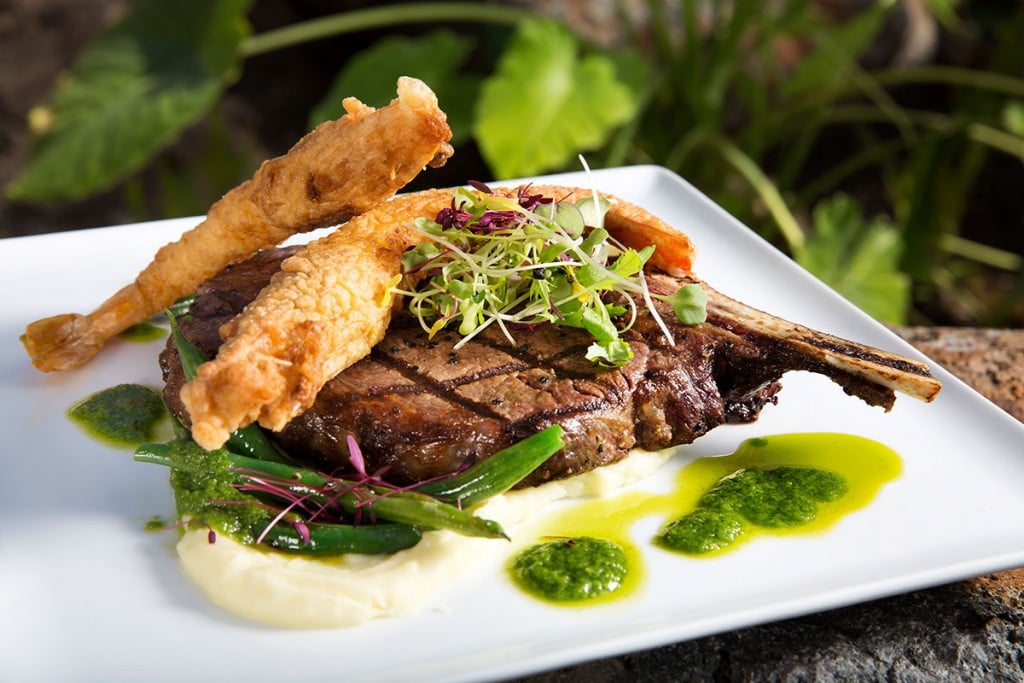 In Hawaii, you'll often hear locals use the words mauka (toward the mountain) or makai (toward the ocean) when it comes to giving directions. In the case of Mauka Makai, the signature restaurant at the Westin Nanea Ocean Villas, it's located makai of Honoapiilani Highway on Maui, and its menu concept is more inclusive. The restaurant opened in May of this year and is one of the newest restaurants on the island.
Like the name implies, Mauka Makai features local ingredients sourced from the mountain to the sea. It was inspired by the ancient way of life of Native Hawaiians, who sourced their food and resources from within an ahupuaa (traditional land division). The restaurant's executive chef Ikaika Manaku and his team work with local farmers and ranchers across Maui, as well as Kauai, the Big Island and Oahu. Take a look at the dinner menu and you'll see tomatoes, spinach and cheese from Kula, beets from Kaanapali, and asparagus from Anuhea Farms in Makawao. And of course, there's local, fresh-caught seafood, such as the ahi, shutome (broadbill swordfish) and Kona lobster.
For a dish that was inspired from mauka to makai, get the pork and ahi pupu (appetizer). It's shichimi-seared ahi atop which crispy pork belly sits. Savor each bite with Maui onion jam, Yamasa caramel and Sriracha honey.
Winning entrees include the 15-ounce grass-fed prime strip loin with hapa potato puree, candied heirloom carrots and Maui asparagus. For something lighter, order the pan-roasted shutome with roasted local vegetable nage or the roasted kukui-nut seared ahi.
Cocktails include handcrafted creations like the lavender lychee martini, made with Maui's Ocean Organic Vodka, lavender bitters and lychee juice or the hibiscus margarita made with Patron Silver Tequila, fresh-pressed lime and house-made hibiscus syrup.
The open-air restaurant sits next to the resort's pool. The restaurant's decor is a nod to Hawaiian fishing traditions with net-shaped light fixtures and fish and wave motifs on the back walls. There's also an outdoor fireplace.
Nearly every table gives you a view of the ocean. The best time to go for dinner is in early evening so you can catch one of Maui's spectacular sunsets as you sip on a cocktail.
Mauka Makai is also open for breakfast, giving you another reason to come back again—first thing in the morning.
45 Kai Malina Pkwy., Kaanapali, Maui, (808) 662-6300, westinnanea.com/maukamakai.