New International Market Place to save this iconic 100-year-old Waikiki banyan tree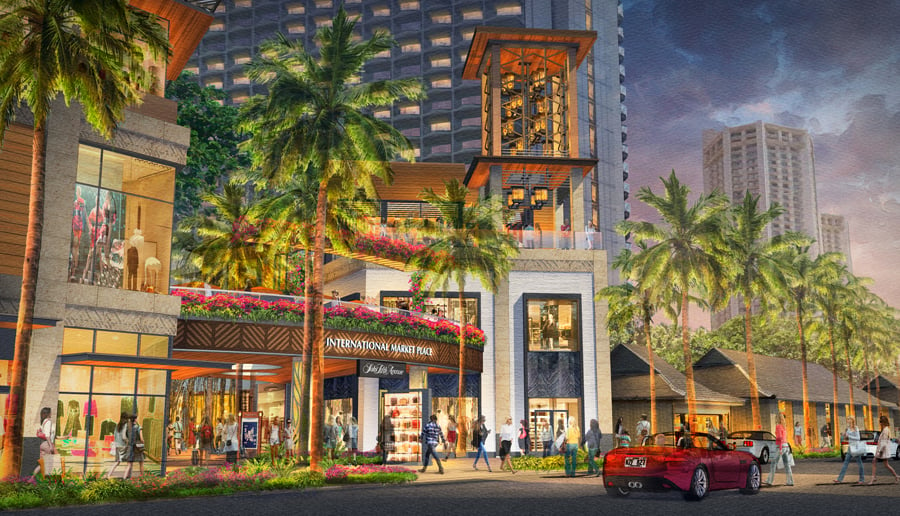 The final piece of the 3,000-ton steel structure that makes up the new International Market Place was lifted into place on Monday, October 26, 2015, in a ceremony celebrating the milestone. The piece was a 21,000-pound fire tower that will one day light up the storefront with its 13 gas lanterns, and serve as a "beacon that attracts visitors and kamaaina (local residents) alike," says general manager Michael Fenley. The International Market Place revitalization project is more than halfway done and on target for an August 25, 2016 grand opening.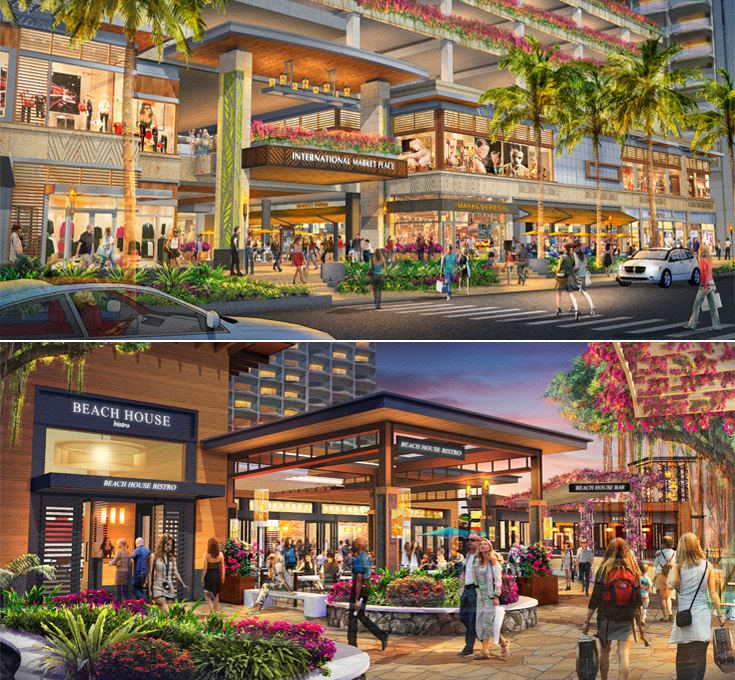 For many, the International Market Place conjures up fond memories of a bygone era—treehouses amid a giant banyan tree, bridges, pools and tikis on the grounds surrounding it. If you were lucky, you even got a chance to see Duke Kahanamoku sitting in a peacock chair outside his popular Duke Kahanamoku's restaurant and club, where Don Ho famously played in the '60s and '70s. Hollywood celebrities flocked to the International Market Place—it was the place to be and be seen.
But, after Don Ho left, Duke Kahanamoku's club closed and other businesses came and went, things were different. Though the memories and its prestige lived on, the International Market Place was never the same as it once was or was originally intended to be. Shopping carts took over its landscape, a food court was added and it quickly lost its luster.
The large steel structure that has taken its place winds a path around the large banyan tree, still standing proud after all these years. "The tree is a Waikiki icon," says Fenley. "It has been here for well over 100 years old and we felt it extremely important to protect, not only keep, but protect, the tree. We have someone watching the tree, literally every day, ensuring its health, telling us what we can do, what we should do and what we can't do."
At the base of the banyan tree, plans have been made to erect a bronze sculpture of Don Ho to pay tribute to his years spent playing music in Waikiki. There are also going to be many design elements to honor Queen Emma, whose history is tied to the land. Etchings of the Queen's song will be seen in the glass elevators, her favorite water lilies will be floating in the pond and there will be a healing garden, representing the Queen's desire to care for the Hawaiian people.
Unbeknownst to many visitors who have walked through its pathways over the years, the International Market Place's land owner is the Queen Emma Land Company, and revenue from it goes to the Queen's Medical Center—a nonprofit acute care medical facility, founded by Queen Emma and King Kamehameha IV in 1859. So, while the International Market Place has always been known as a destination for travelers, it actually serves more than one purpose.
With all of the anticipated improvements, Fenley hopes visitors will look forward to the new Market Place once it opens. "This is a revitalized International Market Place. It is a new experience, it is a different experience," he says. "The Grand Lanai with seven to 10 chef-driven restaurants will once again make the International Market Place the hub of gathering and dining and entertainment for Waikiki. It hasn't been that way for quite some time; it used to be that way. Our Grand Lanai will reestablish the International Market Place as that hub."