Our 10 Essential Experiences on Maui
From snorkeling with honu (Hawaiian green sea turtles) to sipping wine made from Maui-grown grapes, here are our must-dos for your next vacation to the Valley Isle.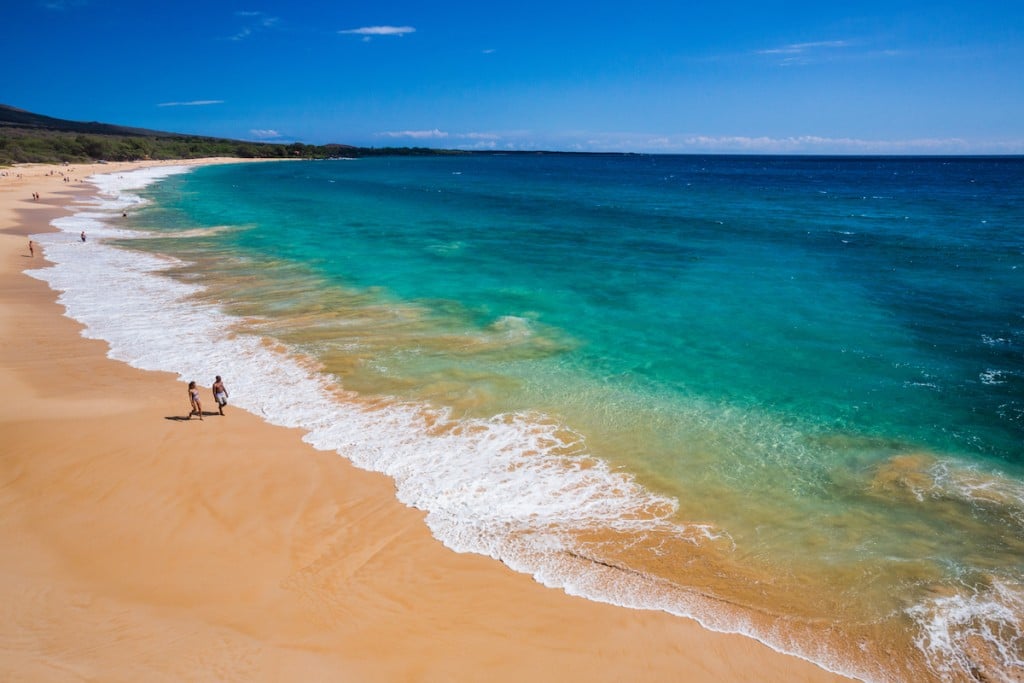 Maui has something for everyone. Hikers can trek through the otherworldly Haleakalā National Park, couples can stroll along Mākena Beach at sunset, families can snorkel near honu (Hawaiian green sea turtles) at Maluaka Beach (aka Turtle Town).
Here are 10 essential experiences every traveler should have while on the Valley Isle.
1. Catch Sunrise (or Sunset) on Haleakalā
Haleakalā National Park is one of the most popular visitor destinations on Maui—and rightfully so. Spanning more than 30,000 acres of public land, this park boasts a stunning array of landscapes, from Mars-like red deserts to lush waterfalls in its Kīpahulu section near Hāna. At 10,023 feet above sea level, it also makes a great spot for viewing sunrise—or sunset—above the clouds. Sunrise was described by writer Mark Twain as "the most sublime spectacle I have ever witnessed." Enough said. Both sunrise and sunset viewings now require reservations, though the park is open for hiking and exploring 24 hours a day. If you visit at sunset—which we highly recommend—stay for the stars, too.
2. Go Whale Watching
Every winter—from about November through May—between 10,000 and 12,000
koholā
(North Pacific humpback whales) migrate to Hawaiʻi's warm waters to play, mate and give birth—and Maui is one of the best places to view them. The shallow Auʻau Channel between Maui and Lānaʻi is one of the best whale-watching spots in the world. While you can see these majestic giants from shore, the best way to view them is from a boat. The
Pacific Whale Foundation
offers eco-friendly whale-watching excursions led by naturalists. Whales have great cultural significance for Native Hawaiians; they appear in Hawaiian legends and in ancient petroglyphs.
3. Drive to Hāna
The drive to Hāna is, on its own, an experience. The 52-mile drive along Hāna Highway (HI-360) from Kahalui to Hāna along Maui's rugged eastern coastline boasts 620 curves and 59 one-lane bridges. The winding road leads you through rainforests and past waterfalls—many of which you can hike to—toward the charming town of Hāna, which feels like old Hawaiʻi. Stop for banana bread at a roadside stand along the way. (Trust us!) Once in Hāna you can hike to Fagan's Cross with views of the seaside town, browse Hasegawa General Store for unique souvenirs or walk along the black-sand beach in Waiʻānapanapa State Park (you need reservations).
READ MORE: Your Checklist to Driving the Road to Hāna
4. Sip Maui Wine
For more than 40 years, grapes have been growing on the slopes of Haleakalā on Maui. MauiWine farms 23 acres at ʻUlupalakua, at an elevation of 1,700 to 1,850 feet. It cultivates six grape varietals that the company uses for its wines. Its cellar, winemaking facilities and tasting rooms are housed in historical buildings, refitted from the former Rose Ranch estate. Here, you can sample MauiWine's unique vinos while overlooking stunning views of the island. Try the Hula o Maui, which is made from 100% Maui Gold pineapples and produced in the Traditional Method (Methode Champenoise) of making Champagne. It's one of the most unique sparkling wines you'll ever taste.
5. Snorkel at Molokini
Molokini, a crescent moon-shaped islet 3 miles off Maui's southwestern coast, is one of the best snorkeling spots in Hawaiʻi—and the only way to get there is by boat. Since it's hard to get to, the waters are pristine and teeming with more than 250 species of tropical fish.
6. Explore Upcountry Maui
Spend a day in the quaint—and cooler!—Upcountry Maui towns of Makawao and Kula. Visit Surfing Goat Dairy, pick seasonal fruits at Kula Country Farms, grab cream puffs at T. Komoda Store & Bakery, wander around Aliʻi Kula Lavender Farm or eat at any number of cafés and eateries in the area. (La Provence is a fave.) Upcountry Maui—particularly Makawao—is the land of paniolo, or Hawaiian cowboys, which started in the 19th century when King Kamehameha III invited vaqueros from California to teach locals how to wrangle cattle.
7. Take in a Lūʻau
Any visit to Hawaiʻi should include a lūʻau, and Old Lahaina Lūʻau in Lahaina has been entertaining visitors with live music, hula and authentic Hawaiian and local food since 1986. The three-hour-long program includes a feast with kālua pig cooked in an unground oven, poi, haupia, ʻahi poke and specialty cocktails and local beers.
8. Walk Around a Farmers Market
There are dozens of farms on Maui, growing everything from dragonfruit to persimmon. Wander one of the island's many farmers markets and find locally grown produce, honey, jams, breads and other Hawaiʻi-made goodies.
9. Eat Maui Specialities
You can't go to Maui without trying some of the dishes unique to the island. Dry mein—get this from Sam Sato's—is a noodle dish tossed in a sauce that's served on the side. (It's similar to saimin but drier.) Hāna is known for its banana bread, made fresh daily using locally grown bananas. And Tasaka Guri Guri Shop serves something called guri guri, a frozen dessert that's a cross between sherbet and ice cream. It's a must on Maui!
10. Visit ʻĪao Valley State Monument
Just west of Wailuku is a peaceful, 4,000-acre park home to one of Maui's most recognizable landmarks, the 1,200-foot ʻĪao Needle. This area has historical significance; it was here in 1790 that King Kamehameha I fought with Maui's army in his quest to unite the Islands. There's a paved path leading to a viewing area, where you can see ʻĪao Needle and the valley below. NOTE: As of Aug. 1, 2022, ʻĪao Valley State Monument will be closed until Jan. 15, 2023 for the final phase of the slope stabilization project and parking lot improvements.