Our 10 Favorite Malasadas to Celebrate Mardi Gras in Hawaiʻi
Since Fat Tuesday is synonymous with malasada day in the Islands, why not taste as many of these deep-fried doughnuts as you can?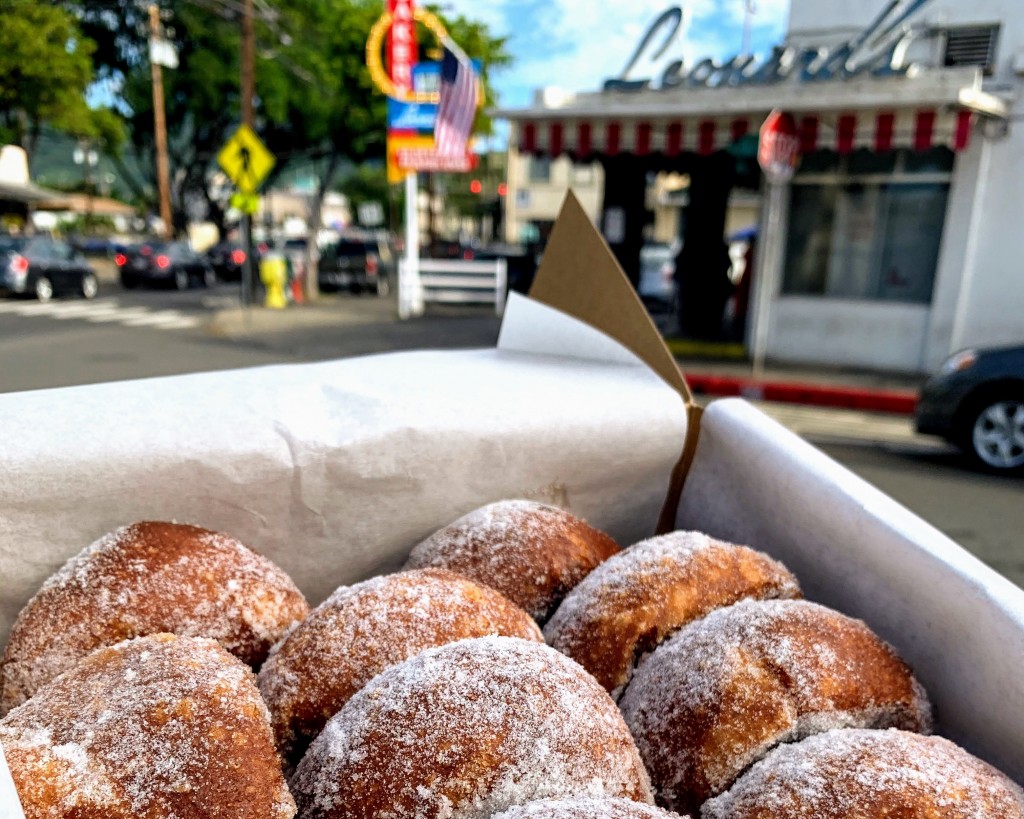 Mardi Gras, also known as Fat Tuesday, is when we stuff ourselves with guilty pleasures before Ash Wednesday, the day that marks the start of Lent and what feels like an endless 40-days of fasting. In Hawaiʻi, devouring copious amounts of malasadas on Fat Tuesday is a local tradition. The deep-fried doughnut represents the blend of cultures and local cuisine only found in the Islands.
Thought to be a specialty of São Miguel, an island in the Azores archipelago that was settled by the Portuguese in 1427, the malasada is a symbol of the unique marriage of cultures comprising Hawaiʻi. With the arrival of Portuguese plantation laborers from the Madeira and Azores islands in 1878 also came traditions and culinary customs that evolved to take on new forms. In Portugal, you can find filhó, a similar deep-fried dessert covered in sugar and cinnamon. And over in Brazil, these round balls of fried dough are drizzled with honey.
Yet, there's no pastry that completely resembles a malasada. The perfect malasada has a golden, crispy exterior and soft, fluffy interior—and of course, a healthy coat of sugar. Today, bakeries put their own culinary twists on the pastry, turning them into ice cream sandwiches or stuffing them with fillings. While you can order a dozen malasadas at local pastry shops year-round, Fat Tuesday is a special occasion to take a trip to our favorite bakeries.
1. Leonard's Bakery, Oʻahu
View this post on Instagram
Surprisingly, malasadas were hard to find in local bakeries—that is until 1953, when Leonard Rego opened Leonard's Bakery on Oʻahu. The grandson of Portuguese immigrants, Rego started offering the traditional Portuguese pastry the day before Lent on Shrove Tuesday. With a recipe passed down from his grandmother, Leonard's Bakery is one of the most popular businesses for warm malasadas on any day. Generous in size, the golden-brown malasadas have a light and fluffy interior. Along with the classic sugar-dusted doughnut, Leonard's also offers malasadas with fillings including haupia (coconut) and macadamia nut.
933 Kapahulu Ave., Honolulu
2. Pipeline Bakeshop and Creamery, Oʻahu
It's malasada galore at Pipeline Bakeshop and Creamery in Kaimukī, a growing neighborhood east of Waikīkī. You can get a traditional malasada, or get one coated in cinnamon sugar, coffee sugar or li hing sugar. And that's just the beginning of the many iterations of malasadas. Coined malafrozada, Pipeline incorporates malasada bits into a smooth ice cream. There's also malamode, a warm malasada stuffed with ice cream, although they describe it as a malasada wrapped in ice cream. Regardless, the bakery is raising the bar when it comes to malasadas.
3634 Waialae Ave., Kaimukī
3. Agnes Bake Shop, Oʻahu
After closing its doors in 2018, the popular Kailua bakery is back, and just down the road from its original spot. For nearly 50 years, Agnes' Portuguese Bake Shop made arguably the most authentic Portuguese malasadas in the state. While the bakery has relocated to the Agnes Bake Shop food truck, they continue to follow their original recipe. Rest assured, loyal customers can order their favorite old-school malasada: Crispy exterior, soft inside and covered in white sugar.
5 Hoʻolai St., Kailua
4. T. Komoda Store & Bakery, Maui
You're going to want to get to T. Komoda Store & Bakery early because these malasadas sell out fast. Opened in 1916, the historic bakery is a local institution and among the oldest family-run stores in the Valley Isle. Famous for their cream puffs and doughnut sticks, Komoda malasadas are just as notable. With fluffy dough that's deep-fried to crispy perfection, you can order a classic or guava-filled malasada and you can never go wrong.
3674 Baldwin Ave., Makawao
5. Donut Dynamite, Maui
Known for its vibrant rainbow of flavorful brioche doughnuts, Donut Dynamite also prepares delicious malasadas with an assortment of fillings, such as chocolate mousse, lilikoʻi (passion fruit) and black raspberry. Although, it's difficult to beat the classic. Donut Dynamite also recently unveiled a malasada ice cream sandwich. Their deep-fried malasadas are stuffed with doughnut-inspired ice cream flavors including bacon maple and Maui vanilla bean. Did we mention the ice cream is made in-house with chunks of actual Donut Dynamite doughnuts?
1246 Lower Main St., Wailuku
6. Home Maid Bakery, Maui
The decades-old Home Maid Bakery is a beloved island establishment with a great menu that reflects the fusion of cultures in Hawaiʻi. As a result, the bakery offers delicious culinary creations that have been uniquely influenced in the Islands including manju, mochi, and of course malasadas. Every day you can find hot, classic malasadas at Home Maid Bakery.
1005 Lower Main St., Wailuku
7. Punaluʻu Bake Shop, Hawaiʻi Island
On a 4-acre tropical estate, the Punaluʻu Bake Shop is considered the southernmost bakery in the U.S. At this charming bakery, you can order the classic malasada along with various fillings. The bakeshop fuses the Portuguese doughnut with inspiration from the Islands, so you can try guava, taro or mango malasada—and who says you're limited to just one!
95-5642 Māmalahoa Hwy., Nāʻāleh

8. Tex Drive-In, Hawaiʻi Island
The Tex Drive-In stands out from the rest of the other bakeries with their distinctly square-shaped malasadas. Their deep-fried pastries are large and pillowy and can be ordered plain or filled with an assortment of flavors such as haupia, mango, Bavarian cream and pineapple. While on Hawaiʻi Island, you'll certainly want to make a stop at Tex Drive-In.
45-690 Pakalana St., Honokaʻa.
9. Kauaʻi Bakery, Kauaʻi
At Kauaʻi Bakery, it's easy to keep eating malasada after malasada because they're just so light and fluffy. And these pastries are so good, that in 2021, for the first time in our Readers' Choice history, Kauaʻi Bakery dethroned Leonard's Bakery for the Best Malasada.
3-2600 Kaumuali'i Highway, Suite 1526, Līhu'e
10. Aloha Sweet Delites, Kauaʻi
On your way to Waimea Canyon, you're going to want to stop at the family-operated Aloha Sweet Delites. Just right off the highway, the unassuming business has been around for more than 50 years and has nailed the art of making malasadas. The family business is popular for its bakery case filled with local sweets and signature cream malasadas. The deep-fried pastries are light and airy, and not overly sweet.
1-2550 Kaumualiʻi Hwy., Kaumakani