The Best Islands in Hawaiʻi in 2023
Here's a ranked list of the best Hawaiian Islands to visit, according to our 2023 Readers' Choice Awards.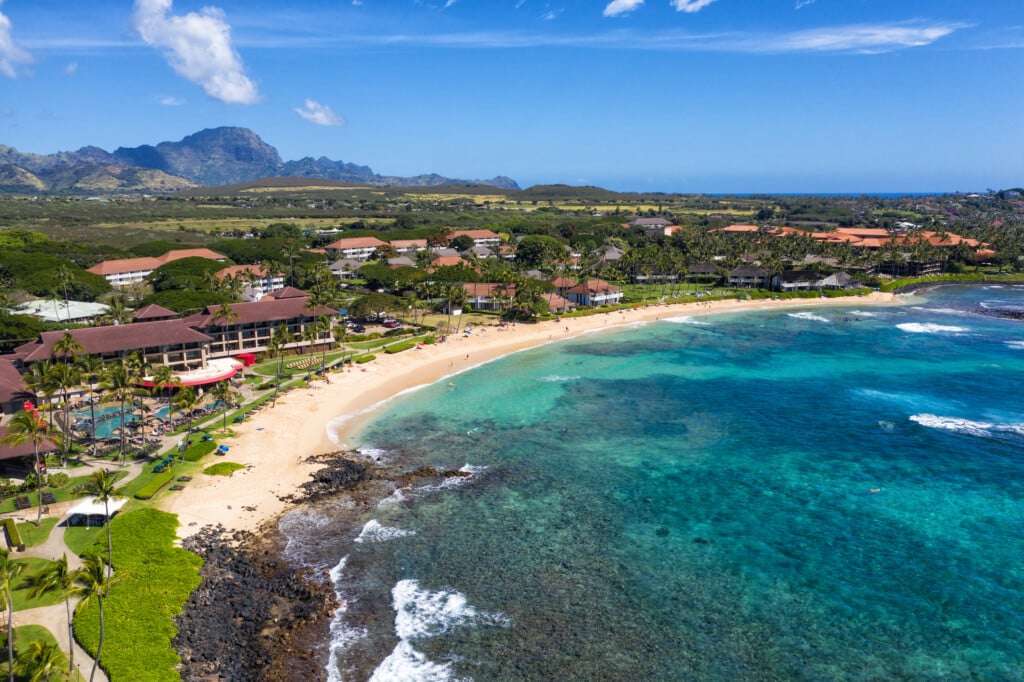 HAWAIʻI Magazine's annual Readers' Choice Awards are back, with our biggest category of the year—best island. It goes without saying that all of the Hawaiian Islands are pretty dang amazing, but the readers have spoken—by voting!—and the results are in. From Molokaʻi to Lānaʻi, Kauaʻi and Oʻahu, here are the best islands in Hawaiʻi according to our readers, and what makes them the best according to us.
1. Kauaʻi
The Garden Isle reclaims its number one spot on this year's Readers' Choice Awards after being overtaken by Maui last year. Known for its verdant greenery, the stunning Nāpali Cliffs and its eclectic towns and communities, Kauaʻi is a great place for first-time Hawaiʻi visitors to check out or returning travelers looking to experience something new. Encapsulating the best Hawaiʻi has to offer in outdoor activities, there are boundless adventures you can have on the Garden Isle, like kayaking through the Wailua River or learning to surf by the idyllic Hanalei Pier.
Kauaʻi has also fully recovered from the massive rains and floods that tore through the island's northern coastline communities, and businesses, hotels and more are ready to once again welcome visitors with open arms. And with new properties like 1 Hotel Hanalei Bay opening on the north shore, as well as reliable choices like the Grand Hyatt Kauaʻi Resort & Spa in Poʻipū, there's an accommodation to match every type of traveler and budget on Kauaʻi.
2. Maui
Home to the Road to Hāna, black sand beaches, Upcountry Kula and various other world-class attractions, Maui very deservedly comes in at the penultimate spot on this list. A visitor favorite—especially as an alternative to Oʻahu—Maui is the best of both worlds when it comes to Hawaiʻi travel. The Valley Isle features epic outdoor scenery and lowkey island communities while also having nightlife and more energetic cities and towns, like Lahaina, where visitors and locals can cut loose. And a day trip up Haleakalā is a must, with a summit altitude of over 10,000 feet above sea level and unforgettable sunset views.
3. Oʻahu
Hawaiʻi's most-visited island, Oʻahu is often a visitor's first exposure to Hawaiʻi, and it makes a grand impression. From city sights to coastal views and jaw-dropping ridgelines, the Gathering Place is one of the best places to start with if you're new to Hawaiʻi travel. Honolulu and Waikīkī are two of the most bustling districts in the state and will keep visitors entertained late into the night with various bars, malls and clubs. Of course, the North Shore of Oʻahu is every surfer's paradise, while the golden sands of Waikīkī Beach are a great place to lay out your towel and get much-needed rest and relaxation.
4. Hawaiʻi Island
Often referred to as the Big Island, Hawaiʻi Island is exactly that—big. The largest of the major Hawaiian Islands and the youngest, Big Island is truly where authentic local culture and old-school Hawaiian hospitality thrive. There's a sense of old aloha that you get when driving through the many lowkey and laidback communities that dot the Big Island, such as Hilo, Kohala and Puna, that you won't find anywhere else. And if you're really looking to get away from it all—people, cell service, those annoying work emails—then finding a nice secluded beach on the Big Island is your best bet for total isolation.
5. Molokaʻi
There's getting away from it all, and then there's going to Molokaʻi, where there are zero traffic lights and, surprisingly, a few great places to get breakfast, lunch and dinner. The island itself is great for hikers, and Hālawa Valley, on Molokaʻi's east side, will drop jaws with its ruggedly handsome views. If beaches are more your calling, Pāpōhaku Beach is among Molokaʻi's biggest, at 3 miles long and 100 yards wide.
6. Lānaʻi
Lānaʻi gives visitors a level of solitude and Island-style living that's a step above the other islands, sans Molokaʻi. If you're looking to shift out of the fast lane and unwind, little Lānaʻi's got your back. Although accommodation options are slim, the Four Seasons Resort Lānaʻi, recently named the No. 1 hotel in the nation by U.S. News, offers luxurious suites, while Hotel Lānaʻi in Lānaʻi City provides a more down-to-earth bed-and-breakfast appeal that matches the island's general attitude. Grab a bite at the homey Blue Ginger Café and set out to explore Lānaʻi's many seaside cliffs and cultural sites.