6 Day Trips for Travelers Staying in Waikīkī
Explore Oʻahu beyond Waikīkī and discover the spots that locals love.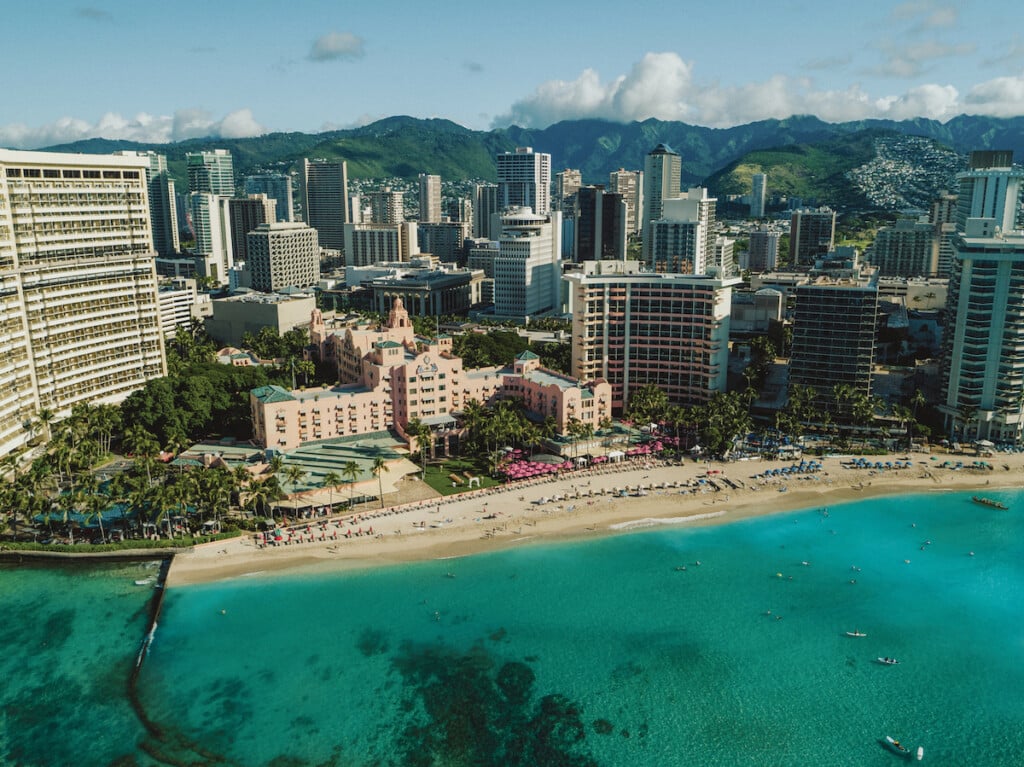 Most visitors to Oʻahu end up staying in Waikīkī—and for good reason. The beachside neighborhood offers a wide variety of accommodations—from high-end oceanfront resorts to cozy boutique hotels to cheap hostels—and tons of things to do. But if you're looking to ditch the crowds—and you should!—get in a car (or hop on the city bus) and explore the diverse neighborhoods outside Waikikī. Trust us, you won't be disappointed.
Kaimukī & Mānoa
About a few miles outside of Waikīkī are two residential areas with vibrant shopping and dining scenes. Located mauka (mountain-side) of Lēʻahi (aka Diamond Head), Kaimukī is a bustling little town with some of Oʻahu's best restaurants and shops. "Top Chef' alum Lee Anne Wong's Koko Head Café offers innovative takes on brunch classics, Mud Hen Water by noted local chef and champion of Hawaiʻi ag Ed Kenney features creative dishes showcasing local ingredients, and Pipeline Bakeshop & Creamery serves cake bombs, housemade ice creams and fluffy malasadas made to order. Da Shop is a great indie bookstore with a curated collection of books by Hawaiʻi-based authors and lots of keiki (kids) books, too. A couple of miles north of Kaimukī is Mānoa, a sleepy neighborhood that's worth a visit. Hike to Mānoa Falls in the back of the verdant valley or walk along 7 miles of hiking trails at Lyon Arboretum, a 250-acre public botanical garden. Grab breakfast—and definitely some scones!—at the historic Waioli Kitchen & Bake Shop, poke bowls at Off the Hook Poke Market and handcrafted truffles made from Hawaiʻi-grown cacao at Choco Leʻa.
East Honolulu to Waimānalo
East Honolulu is full of outdoor adventures. There are several trails that meander to the top of the Koʻolau Mountains, including the 5-mile roundtrip Wiliwilinui Ridge Trail; this trail can take a few hours, and you're rewarded with sweeping views of Waimānalo and the island's windward coastline. More ambitious hikers can head up the popular Koko Crater Stairs, remnants of an old railroad track, to the to of a 1,208-foot volcanic tuff cone. There are several great beaches on this side of the island, too, including the protected Hanauma Bay (ideal for snorkeling; must make reservations) and Sandy Beach (bodysurfing for experts only, but sunrise here is breathtaking). On the southeastern end of the island is the Makapuʻu Lighthouse Trail, a 2-mile roundtrip trek along a paved road that offers unobstructed views of windswept cliffs and the Pacific Ocean. (This is also a great place to see migrating humpback whales in the winter.) Continue north on Kalanianaʻole Highway and you'll be in Waimānalo, a rural community with farms, horse ranches and one of Oʻahu's best beaches.
Kailua
You can spend the entire day in Kailua on Oʻahu's windward side. It's a walkable neighborhood, packed with a variety of shops and restaurants—and arguably the island's best beaches. Kailua Beach spans nearly 3 miles, and it's great for long walks, swimming, fishing and kayaking. Nearby Lanikai Beach is more secluded—though more crowded—but it offers postcard-perfect views of the twin Mokulua Islands offshore. There are a lot of dining options here, from breakfast spots to restaurants great for date nights. Get authentic malasadas—crispy on the outside and soft on the inside—from Agnes' Portuguese Bake Shop, central Texas-style barbecue from Easy 'Que and eclectic cocktails and pūpū from The Boardroom. On Thursday nights the Hawaiʻi Farm Bureau runs a lively farmers market, with fresh produce, locally made jams and sauces, and vendors serving hot food. Hike to the top of Kaʻiwa Ridge (aka Lanikai Pillbox Trail) to see Lanikai Beach and the Mokulua Islands from above, then get shave ice from Island Snow.
North Shore
The drive to Oʻahu's North Shore—and we suggest you follow Kamehameha Highway up the coast—is part of the experience. Stop at roadside stands selling fresh corn and coconuts in Kahuku and hit up the various shrimp trucks along the way. Get direct-from-the-farm fruits and veggies from Kuilima Farm or take a farm tour and have lunch at the family-run Kahuku Farms. The 7-mile stretch of beaches on the North Shore is a surfer's paradise, especially in the winter when north swells bring in monster surf to this coastline. The waves die down in the summer, making the beaches here—especially Waimea Bay—great for swimming and snorkeling. (But always check with lifeguards before heading out.) Get a bird's-eye view of the coastline from the top of the ʻEkuhai Pillbox Hike, a mile-and-a-half hike above Sunset Beach. Snorkel at Shark's Cove or, for the most adventurous, go diving with sharks with One Ocean Diving. Haleʻiwa is a fun beachy town with lots of shops and eateries, including the famous Matsumoto Shave Ice.
Wahiawā
About 30 miles northwest of Waikīkī is the rural town of Wahiawā. If you're heading to the North Shore via Interstate H-2, you'll drive right past it. This neighborhood in the island's central valley is worth a visit. Walk around the 27-acre, city-run Wahiawā Botanical Garden, home to more than 60 different types of trees, ferns and tropical flora. Stop for coffee at Green World Coffee Farm, which grows (and roasts) its own coffee beans on 7 acres. Check out the 400-acre Lake Wilson, a freshwater lake with year-round bass and catfish fishing. You can also rent bamboo poles and fish at Fishing Farms Hawaiʻi, where you can take whatever tilapia you catch—or have the farm cook it up for you. Visit Hawaiian Vinegar Co. to sample mocktails made from the handcrafted vinegars that support local farmers. Have lunch at Shige's Saimin Stand, which still makes its own noodles in the kitchen, and grab brownies and doughnuts at Kilani Bakery. You can't visit Wahiawā without stopping at Dole Plantation, where you can enjoy fresh Dole Whip and get lost in one of the world's largest outdoor botanical mazes. If you have time, see the Kūlaniloko Birthing Stones at the intersection of Whitmore Avenue and Highway 80. But be respectful; this is a very sacred site.
West Side
About 45 miles west of Waikīkī is a part of Oʻahu many visitors miss—and really shouldn't. There are so many fun things to do out west, including the Wet 'n' Wild Hawaiʻi waterpark—it even hosts a lūʻau!—and the Hawaiian Railway Society, where you can take a 2-hour ride on a historic train. Ko ʻOlina boasts sprawling resorts, too, like Aulani, a Disney Resort & Spa and the luxe Four Seasons Resort Oʻahu, fronting by public lagoons great for snorkeling and swimming. There are gorgeous, uncrowded beaches, here, too, including Keawaʻula Beach (aka Yokohama Bay) and Mākaha Beach, a famous surfing spot. Hikers can trek to a series of pillboxes above Māʻili on the Puʻu O Hulu Trail or the top of the tallest peaks on Oʻahu, Mount Kaʻala. There's also the coastal trail traversing remote Kaʻena Point, one of the last intact sand dune ecosystems in the main Hawaiian Islands.