11 Noodle Dishes You'll Find in Hawaiʻi
Here's your primer to some of the many noodle dishes you'll see in Hawaiʻi.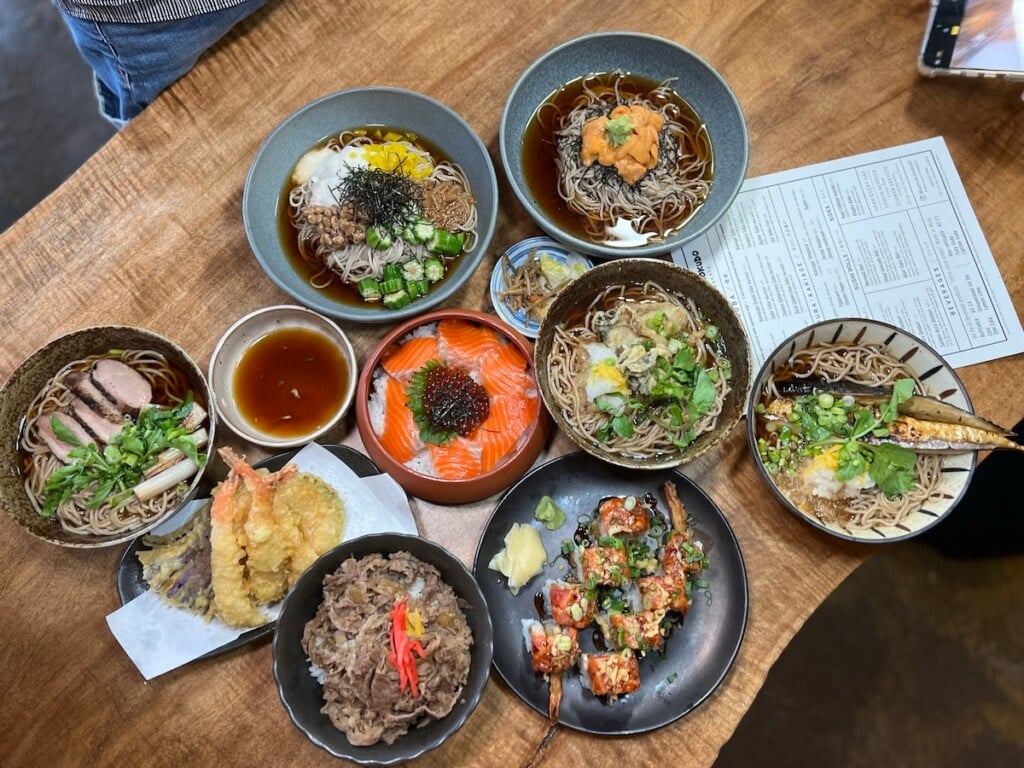 In Hawaiʻi we love our noodles. You'll find noodle dishes everywhere, from cold somen salad at 7-Eleven shops to chicken long rice on Hawaiian lūʻau plates. Here's your primer to the different kind of noodle dishes you'll see on restaurant menus, in grocery stores and at potlucks in the Islands.
Saimin
Saimin is a unique noodle dish only found in Hawaiʻi. Pronounced sigh-min, it's a combination of two Chinese words—sai meaning thin and min, which means noodle. The dish dates back to the plantation era in Hawaiʻi—late 1800s—when workers from various ethnic camps would gather to eat, bringing with them various ingredients to share. What makes saimin different from other Asian noodle dishes like Japanese ramen is its noodles, which are darker in color, curly and slightly chewy.
You can find saimin all over the Islands—even at 7-Elevens. Some of our favorites include Shige's Saimin Stand in Wahiawā on Oʻahu, where the noodles are still made in the kitchen, and Hamura's Saimin Stand in Līhuʻe, Kauaʻi, which was recognized by the prestigious James Beard Foundation as one of America's Classics in 2006.
Dry Mein
Dry mein is a style of saimin where the noodles are served dry and the broth in a separate bowl. The broth—or dashi in Japanese—tends to be more concentrated. You dip the noodles into the broth before eating them. It's a noodle dish found only on Maui—and Sam Sato's in Wailuku is famous for it. This family-run shop gets its noodles from a Maui noodle manufacturer.
Ramen
Ramen is everywhere—in Hawaiʻi and around the world. (There are ramen shops in France and Russia.) Ramen is a Japanese noodle soup dish that comes in thousands of variations: noodles can be thick or thin, curly or straight. Even the broth can range in flavors and intensities. Hawaiʻi boasts dozens of ramen shops—many rooted in Japan—each with its own unique ingredients and flavors. Wagaya Ramen in Honolulu, for example, serves tonkotsu ramen, the broth made from organic chicken and kurubuto pork bones simmered for days to create a thick, fatty, flavorful dashi. Ramen Nakamura in Waikīkī is famous for its oxtail ramen, served with a side of grated ginger and shoyu for dipping.
Soba
Soba noodles are a type of Japanese noodles made from buckwheat flour, giving them a nutty flavor and heartier texture. You'll see these noodles in hot or cold soup dishes, in salads and in stir-frys. (Although buckwheat itself is a gluten-free grain, most soba noodles are made with some wheat flour to give it the right amount of gluten to keep the dough together. Meaning soba noodles are not gluten-free.) There aren't many soba-specific shops in Hawaiʻi, thought two recently opened on Oʻahu: Shingen in the Stix Asia Food Hall in Waikīkī and Kaimukī Shokudo in Kaimukī. Both eateries serve various tempura—sides of deep-fried seafood and vegetables—to go along with their soba.
Udon
Another popular Japanese noodle is udon, a thick noodle typically made from wheat flour and served in soups—like ramen—with a variety of broths. Udon is often served cold in the summertime—or year-round in places like Hawaiʻi—with a dipping sauce on the side. Fans like the noodles' chewier texture and versatility; they are served in a variety of ways, dunked in curry and miso broths to stir-fried with shoyu and veggies. You often see these noodles in shabu shabu (or hot pot). Marugame Udon, with locations in Waikīkī and Downtown Honolulu, is a popular spot to get udon; it serves Sanuki-style udon, characterized by its square shape and flat edges. Udon Yama, another vendor in Stix Asia, makes its Sanuki-style udon noodles right in the shop.
Pho
Pho is a Vietnamese noodle dish consisting of rice noodles in a hot broth—usually beef-based—with spices and fresh herbs like Thai basil and cilantro. You'll find this restorative and fragrant noodle dish in most Vietnamese restaurants in Hawaiʻi. One place to try pho is the acclaimed The Pig & The Lady in Chinatown on Oʻahu—it also runs a stall at local farmers markets—which serves its signature pho with spiced beef broth, fresh rice noodles and aromatic herbs. (It also features a vegan version and a pho French dip.)
Cake Noodle
View this post on Instagram
Cake noodles are super addictive—crispy chow mein noodles smothered in a thick, savory sauce often served with meat or veggies. You'll find cake noodles on most local Chinese restaurants—and likely nowhere else in the world. Try the one from On On Chinese Restaurant in Kapahulu on Oʻahu topped with just about anything, including roast duck.
Pad Thai
View this post on Instagram
Pad Thai is a popular stir-fried noodle dish that originated in Thailand but can be found all over the world, including in Hawaiʻi. (It's also surprisingly easy to make; see the recipe below.) The dish usually consists of stir-fried rice noodles, eggs, tofu, tamarind pulp, fish sauce, dried shrimp, garlic, shallots and either shrimp or chicken. Thai Mee Up, a popular food truck on Maui, is known for its pad Thai, which is served with either shrimp, chicken or tofu. If you're visiting Hawaiʻi Volcanoes National Park on Hawaiʻi Island—and craving Thai food—stop at Thai Thai Bistro & Bar.
Chicken Long Rice
View this post on Instagram
Go to any lūʻau or potluck featuring Hawaiian food and you'll find chicken long rice. This dish is made from vermicelli noodles cooked with pieces of chicken thighs, fresh ginger and green onions. For many of us growing up in Hawaiʻi, this is true comfort food. The family-run Helena's Hawaiian Food in Kalihi on Oʻahu has been making a classic version of this humble dish since it opened in 1946. (The restaurant earned the James Beard Foundation Regional Classic Award in 2000.) And Waiāhole Poi Factory—just past Kāneʻohe on Oʻahu's Windward Side—serves chicken long rice alongside other Hawaiian favorites. One certain days you can watch the owners' son, Liko, hand-pounding taro into poi on one of the tables outside.
Japchae
View this post on Instagram
Go to any Korean take-out restaurant and you'll see japchae as one of the sides—or banchan you can order. Japchae is a savory dish of stir-fried glass noodles mixed with vegetables. Some restaurants, like Choi's Kitchen in Honolulu, serve it as a main dish. Others, like Won's Korean BBQ on Maui, offer it as a side dish.
Pancit Bihon
View this post on Instagram
It's not easy to find pancit bihon in Hawaiʻi—and this Filipino noodle dish is worth seeking out. Pancit bihon consists of rice noodles, shrimp (or chicken) and vegetables, quickly stir-fried in a wok. It's often served with calamansi—or lime—on the side; the freshly squeezed juice punches up the flavors. Max's Restaurant, which has a location in Kalihi on Oʻahu, serves several variations of pancit, including miki bihon, which uses a blend of rice and egg noodles.